CARNIVAL OF MADNESS in Cleveland, Ohio With Photos!


By Geoff Ketler, Cleveland Contributor
Wednesday, August 21, 2013 @ 4:23 PM


| | | |
| --- | --- | --- |
| | | "Rock n' Roll is not just some genre – it is a way of life." – Brent Smith |
It was an unseasonably cold day in August, but The Carnival of Madness was in town to heat things up. This year's incarnation featured, as it always does, SHINEDOWN and they brought with them SKILLET, IN THIS MOMENT, SEVENDUST (filling in for PAPA ROACH on a few early dates), and WE AS HUMAN. As we made our way into the venue we were greeted by several "carnies" including performers twirling fire, walking on stilts, and cracking whips. It was all part of the carnival atmosphere that was promised. It wasn't just a concert…it was an experience.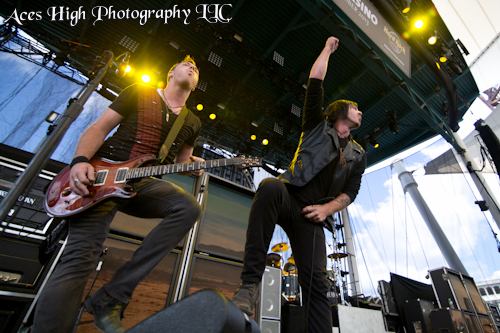 Hailing from Nashville, TN, WE AS HUMAN was first on the bill and with a late afternoon start of 5:00 pm there was only a small crowd of people that had managed to get there early enough to get down front and greet the band as they hit the stage. By the end of their set however, the crowd had started to pack it in. WE AS HUMAN ended their set with "Strike Back" – a heavy tune that included crowd participation which really got the place energized. With only a 20-minute time slot, WE AS HUMAN managed to grind out four songs and whip up some excitement in the audience before heading to their merch table to greet fans and sign autographs.
Setlist:
"Sever"
"Dead Man"
"Zombie"
"Strike Back"
On next was SEVENDUST as they filled in for PAPA ROACH, who would join the tour at a later date. SEVENDUST is one of those bands that you hear once and then they are instantly recognizable. They are the type of band that I never get tired of hearing. SEVENDUST opened with "Decay" off of their most recent release Black Out the Sun, which got a huge response from the crowd. The band had announced their arrival and mobs of people began leaving the vendors and heading into the pit. SEVENDUST was as tight as ever. Highlight of the set was hearing "Praise" – a great track off of their 2001 release Animosity and of course the fan favorite "Face to Face".
It is obvious that every member of SEVENDUST is very talented but I want to point out that drummer Morgan Rose is a complete freak. If you have seen them live before, you know exactly what I am talking about. There are few drummers that can steal the spotlight and captivate an audience during their respected band's live performance…Mike Portnoy, Neil Peart, and Tommy Aldridge come to mind. Morgan Rose does it all; backing vocals, spinning sticks (with both hands simultaneously), throwing sticks, standing while playing, etc. I even saw him do a few high kicks where he managed to kick his foot straight up in the air from behind his drum kit while still sitting and playing. He is a one-man show. Later that evening it was announced that SEVENDUST would be signing at the merch booth. SEVENDUST is known for being very fan-friendly and proved it once again by meeting and greeting with anyone and everyone before SHINEDOWN's set. All of the members of the Atlanta-based band are class acts and some of the nicest dudes you will ever talk to.
Setlist:
"Decay"
"Denial"
"Till Death"
"Praise"
"Got a Feeling"
"Angel's Son"
"Pieces"
"Face to Face"
After a rather lengthy set change, due to the various props and setups, it was time for IN THIS MOMENT to take the stage. As the intro for "Rise With Me" played two masked and lingerie-clad women made their way to either side of the center stage riser. Lead singer Maria Brink was last to step out on stage. She took her place on the riser made of heads, torsos and arms as the band went into "Adrenalize". The choreographed show that was put on by Maria and the two dancers in lingerie along with their various wardrobe changes and props was interesting to see and very entertaining but it didn't come without a price – the setlist. "Rise With Me" is essentially an intro so not including that, IN THIS MOMENT performed six songs in their 45-minute set. I really feel as though maybe leaving out a wardrobe change or two and adding a song or two would have been more suitable. There were large pauses between songs in order to achieve the desired setup, but hey it is only the second show of the tour and I am sure the kinks will get ironed out one way or another.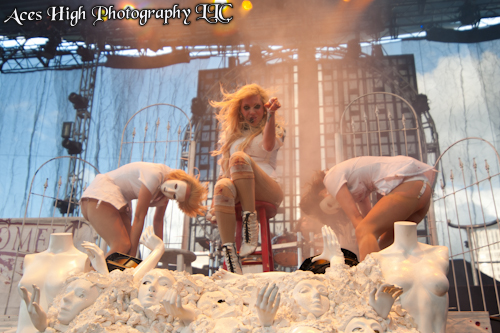 Setlists and timing aside, the band performed great and the crowd ate up the stage show put on by Maria and the dancers. The set was mostly comprised of songs off of their most recent release Blood but the highlight for me was hearing "Blazin'", off of their 2010 release A Star-Crossed Wasteland. It is just an attitude-driven, crunchy, up-tempo metal song that really got the audience going.
Setlist:
"Rise With Me"
"Adrenalize"
"Blazin'"
"Whore"
"Burn"
"Beast Within"
"Blood"
I was really interested in seeing SKILLET. Here is a little history for you. The first time I saw SKILLET was in the gymnasium of a Mennonite High School in the heart of Amish country in Wayne County, Ohio. No Joke. Fast forward ten years and the group has come quite a ways since then and have had a few lineup changes as well. The Christian rockers opened up with "Whispers in the Dark" after an intro performed by a string duo; a cellist and a violinist. The strings would return for several songs periodically throughout the set to perform intros and add atmosphere and depth to the set.

What was most impressive was the lead and backing vocals of drummer Jen Ledger. She sounded spot on at all times. What was also amazing was the explosive energy of the husband and wife duo, Korey and John Cooper. From the first note of the opening song John was like a jackrabbit on crack. He never stopped moving-frantically calling for the crowd's attention. His efforts didn't go unnoticed either as the audience was often screaming the lyrics right back at him. The group closed out their set with their hit "Monster" off of their 2009 release Awake followed by "Rebirthing". SKILLET is often referred to as one of the hardest working bands in the industry. They seem to never stop touring and their perseverance is paying off. In ten years time I watched them go from a school gym to being billed second from the top on a huge national tour.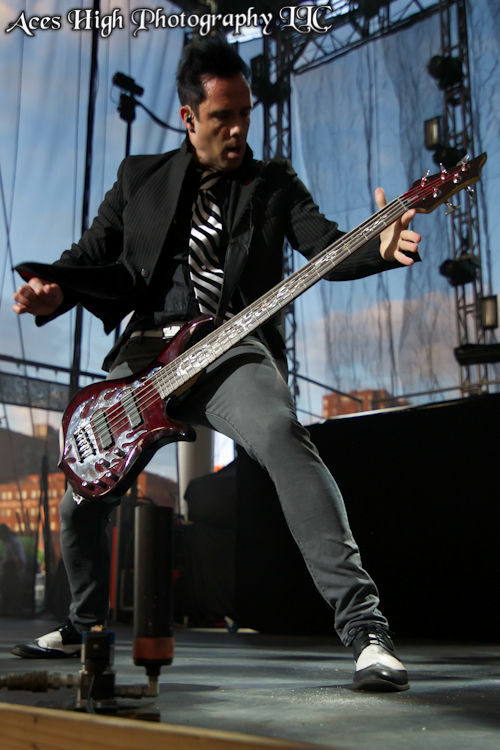 Setlist:
"Whispers in the Dark"
"Hero"
"Sick of It"
"Comatose"
"Rise"
"Awake and Alive"
"The Last Night"
"Not Gonna Die"
"Circus for a Psycho"
"Monster"
"Rebirthing"
As SKILLET's set came to a close, a large black curtain dropped in front of the stage displaying the big SHINEDOWN "S" logo. Like I mentioned before, the fans were offered an opportunity to meet SEVENDUST to help pass the time that was allotted to setting up for the headliner. I anxiously waited outside of the photo pit as we were instructed to not enter until after the curtain was dropped and carried out by the road crew. SHINEDOWN kicked things off with "I'm Not Alright" which included the carnival performers on stage twirling fire batons and what not. After the song concluded vocalist Brent Smith acknowledged the performers and instructed them to take a bow.

SHINEDOWN'S set was peppered with explosions and pyro and it seemed to happen when you would least expect it. I know I was caught off guard for at least two explosions where I literally jumped. No expense was spared when it came to pyrotechnics. The back drop included a large circular video screen that rose above the massive drum riser.

Brent Smith commanded the crowd's attention. If this SHINEDOWN thing doesn't work out, he would make a great motivational speaker. At one point Brent spoke about why coming back to Cleveland was so important to him. He wanted to include the home of the Rock n' Roll Hall of Fame in the tour. He talked about how some people in the industry feel that rock n' roll is dead and that the thousands that had gathered on that chilly evening on the banks of the Cuyahoga River in front of him there had proved otherwise. He said; "Rock n' Roll is not just some genre – it is a way of life" which was welcomed by roars from the audience.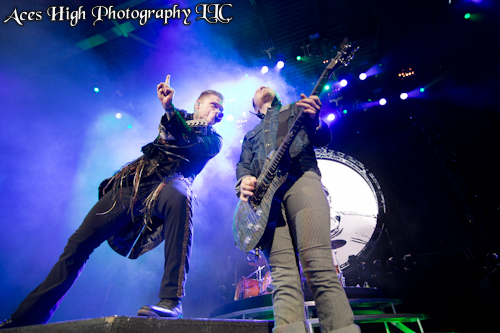 SHINEDOWN went on to play an immaculate set highlighted by the fast-paced "Devour" and the melodic "The Crow & The Butterfly". Brent Smith's vocals were solid throughout the entire night. They ended their set with "45" which was quickly followed by an extensive encore that included the hit "Sound of Madness" and the cover of LYNYRD SKYNYRD's "Simple Man" among others. Altogether it was a great night to be a fan of hard rock and metal. This particular lineup offered a delightful variety of modern hard rock for the fans and is definitely worth the price of admission…don't miss this tour when it comes to your town.
Setlist:
"I'm Not Alright"
"Enemies"
"Devour"
"Unity"
"The Crow & The Butterfly"
"Adrenaline"
"I'll Follow You"
"Diamond Eyes" (Boom-Lay Boom-Lay Boom)
"If You Only Knew"
"Amaryllis"
"45"
Encore:
"Sound of Madness"
"Second Chance"
"Simple Man" (LYNYRD SKYNYRD Cover)
"Bully"
Check out these great photos from the show! All Photos By Geoff Ketler & Steve Keller/Aces High Photography

Please log in to view RANTS




YNGWIE J. MALMSTEEN, GLENN HUGHES In Worcester, MA With Photos!

ALICE COOPER Road

RAT ROD Four On The Floor

GIRLSCHOOL WTFortyFive?

DANKO JONES Electric Sounds

AVATAR, ORBIT CULTURE, THE NATIVE HOWL In Houston, TX With Photos!

THE DEAD DAISIES In Hollywood, CA With Photos!

KILL DEVIL HILL Seas Of Oblivion

THE DEAD DAISIES In Ottawa, Canada

MAMMOTH WVH In Santa Ana, CA

UADA Crepuscule Natura

BARONESS Stone

KAMELOT, BATTLE BEAST, XANDRIA In Houston, TX With Photos!

CRYPTOPSY As Gomorrah Burns

RAY ALDER II

GHOST, AMON AMARTH In Houston, TX With Photos!

U.D.O. Touchdown

DETHKLOK Dethalbum IV