Jerry Cantrell
Degradation Trip


By Sefany Jones, Contributing Editor
Thursday, June 20, 2002 @ 8:13 PM


| | | |
| --- | --- | --- |
| | | (Roadrunner) |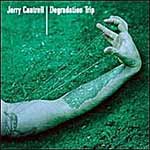 Are you sad, lonely, depressed, or just plain disenchanted with life? I have the perfect album for you! It's Jerry Cantrell's latest release, Degradation Trip, also known as "The Album To Slit Your Wrists By." Cantrell's sophomore release, which follows up the debut of Boggy Depot, is a collection of chilling, hauntingly soulful accounts of his inner being. Cantrell spent a good three to four months in 1998 locked up in his home, isolated from the rest of the world, and by his own account, went completely out his mind. Like a mad scientist, he conjured up a plethora of melodies, riffs, lyrics… concepts. Whatever state of mental anguish he was experiencing, produced over 25 songs, of which 14 were selected for this album. The rest will show up on the next album, probably next year. Naturally, Cantrell is known from his days as guitarist/co-vocalist/co-songwriter in Alice In Chains, which broke big during the so-called "grunge" era. Well, if "grunge" is sorrowful, desperate, tormented music, then I guess it would only be fair to put this in such a category. But this album is beyond "grunge" in its maturity, so let's not slap a label on it like that: it's in its own category. It's dark, bittersweet, melodic rock. It's not peppy, party rock and roll, that's for sure. What it is, however, is an extremely mature, deeply thoughtful, spiritually riveting trip up his spine, down his throat to the pit of his stomach and through his mangled soul. If have yet to hear the first single off Degradation, "Anger Rising," then you must be locked away in your home. "Anger Rising" is about as hooky and outgoing as any of the songs get. Well, I suppose "Locked On" is right up there, with its churning axe hooks. In general, though, the album breaks all standard songwriting molds: it flows at its own melodic pace, weaving ribbons of helplessness and distress with heart wrenching sadness. And yet, it's not the "poor me" take on things. It's bare-boned truth. It's rock-bottomed soul intertwined with stellar musicianship. Eerie bass lines are provided courtesy of Robert Trujillo, and unconventional drumming by Mike Bordin provides the ghostly rhythm, especially on such tunes as "Psychotic Break," "Bargain Basement Howard Hughes," "Castaway" and most certainly "Chemical Tribe." Degradation Trip is a frighteningly powerful and mournful album, with the utmost integrity, of a musician who writhes in a quagmire of his own personal agony and misery, clawing his way out of the depths of purgatory long enough to share his insights. It's real, it's raw, it's pure -- it's even strangely an occasional glimpse of sunshine through the otherwise gray, smoldering skies of Seattle. ****




Please log in to view RANTS

If you don't have a username, click here to create an account!






WARRIOR SOUL Rock 'N Roll Disease

WHITESNAKE Flesh & Blood

CHEAP TRICK In Houston Photo Gallery

MICHAEL SCHENKER FEST In Worcester, MA

SLAYER, LAMB OF GOD, AMON AMARTH & CANNIBAL CORPSE In Columbia, MD

SUNN0))) Life Metal

Head Bangin' Radio Book

VENOM INC. In Ottawa, Canada

VIXEN In New Bedford, MA

ARCH/MATHEOS Winter Ethereal

A NEW REVENGE Enemies & Lovers

RINGWORM "Death Becomes My Voice"

AMON AMARTH Berserker

SOTO Origami

OVERKILL, DEATH ANGEL, MOTHERSHIP In Cleveland, OH With Photos!

POSSESSED Revelations Of Oblivion

STEEL PROPHET The God Machine

THE DAMNED THINGS High Crimes

CRADLE OF FILTH In Dallas, TX

ANTHEM Nucleus

DIAMOND HEAD The Coffin Train

MIKE TRAMP Stray From The Flock

HALESTORM In Salt Lake City, UT With Photos!

ALLEGAEON Apoptosis

FALLUJAH Undying Light

JOHN 5, JARED JAMES NICHOLS In Anaheim, CA With Photos!

L.A. GUNS In New Bedford, MA

...AND JUSTICE FOR ART – Stories About Heavy Metal Album Covers – Volume 2

THE END MACHINE In Los Angeles Photo Gallery

TRUTH CORRODED Bloodlands

THE IRON MAIDENS In Houston, TX Photo Gallery

THE RAVEN AGE In Paris, France With Photos!

ENFORCER Zenith