SOUL SIGN
Life In The Dark
Grand Mercy Records

News Monkey's Note: Yes, this CD was released in 2011, but was just given to our contributor in the past week and I thought the review was worth passing on....

Musical tastes are funny. Case in point: I knew within the first few notes of the first song I was going to enjoy this disk. This is simply a hard rock/heavy metal record, not thrash, not industrial, not black or death metal, not hardcore just pure great metal at its finest.

A super group of sorts with a who's who of musicians, this LA based group delivers the goods. The first track is "I'm Bleeding" and from the opening riff to the bridge to the chorus its all that is right in music.

The second song is "Breaking Down Ourselves" and the vocals are a little Dave Mustaine style of sneer but not over board just a little similar. I really like it a lot. The vibe is just that damn good.

"Sign Of Your Soul" is a slower, groove oriented song with the lyrics intermixing with the music and a very soulful almost sad self realization message.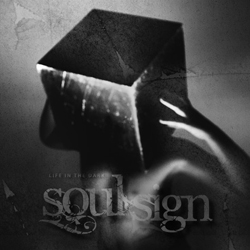 You don't see this next part that often but a bass solo and that is what "Between The Lines (N279N3 )" is. When you have an amazing bass player like Bjorn Englen, you need to let him shine once in a while.
It is followed up by "Out Of Obsession". This a very cool rock number with hints of blues, metal and classical music, mixed and blended to form a margarita for the ears. Even the closing notes are unique.
To speed thing up a bit we have "You (Control)", which has a quicker pace in the beginning but slows to a nice groove with the line "You take my soul from me". I think we have all dated someone like that!
I think we are onto a path as the next song is "In Pain". Okay, maybe the songs are not all a happy, feely type of song, but the music is good. The guitar work on this song really shines but the clean and dirty (distorted) guitar solos really stand out.
I think a little IRON MAIDEN influence is in the opening of the song "Life", but just at the beginning. The rest of the song is a smooth mixture of intricate guitars, lyrics, drums and bass over many layers like a Picasso painting set to music.
The title alone of "Human Evil" brings many thoughts to one's head. This song brings to light what is wrong with mankind. I can see this on a soundtrack for a movie.
The opening bass line in "Dream" is very good. With some bluesy style guitars coming in with the vocals I can see laying in bed with a beautiful girl just listening to this song late at night just looking into each others eyes.
The last track is "In The Presence Of You", an acoustic number reminding you of the best of classic hair bands when they went soft. I can see the arena filled with fans lifting their lighters, I mean cell phones in the air.
**** Out Of 5
SOUL SIGN is:
Mike Cancino - Drums
Jan Mengleing - Guitars
Mark Boals - Vocals
Bjorn Englen - Bass
To learn more about this band and to keep up with all things SOUL SIGN, please go to their official website:
http://www.soulsign.us/