SAXON, FOZZY & HALCYON WAY Live In Houston, TX With Photos!


By Larry Petro, News Monkey
Monday, September 30, 2013 @ 4:17 PM


| | | |
| --- | --- | --- |
| | | Oldschool NWOBHM Legends Bring Their Sacrifice Tour To The House Of Blues |
Oldschool was the name of the game as the mighty British act SAXON came to town to obliterate the House Of Blues in Houston, Texas along with American acts FOZZY and HALCYON WAY. I had been waiting months for this show and my patience was not in vain.

SAXON, like so many bands nowadays, had a VIP/Meet-N-Greet experience availble that one could purchase for $50. Not too bad for an iconic band like SAXON, but would it be worth it? The answer was a resounding YES! By virtue of my interview with frontman Biff Byford several months back, which you can still read HERE, I, along with my concert compadre Stephen, were on the list as guest VIPs.

I had been given a time of 5 pm at the venue for the meet and greet and we arrived a bit early, around 4:30 or so, to find noone else at the outside of the venue. Odd, I thought, were we at the right place? Indeed we were, as another couple showed up about 10 minutes after we did. By the time 5 o'clock rolled around there were about 10 of us waiting as we could hear the band still soundchecking inside. Penny, the Merchandise/VIP Hostess came out to greet us and smoke a quick cigarette before taking us in. Even though I don't think it was part of the package, she took us in and let us watch the remainder of the band's soundcheck, which was a very cool bonus. I could tell by how the band sounded during this check that we were in for a fantastic night of British metal.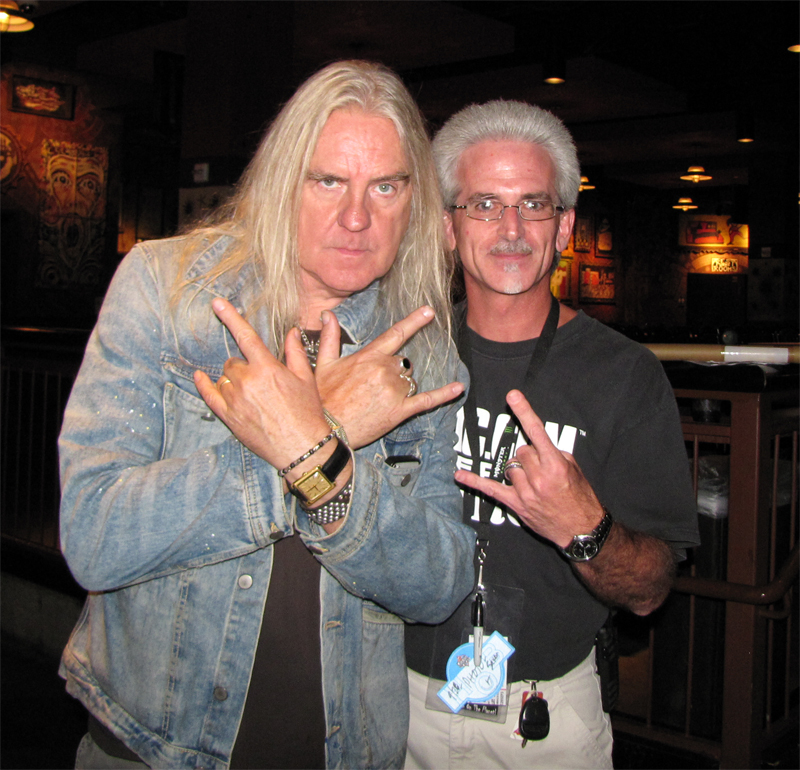 Once, the soundcheck was over, Biff announced that he had to do a quick interview and would be back by 5:30. So, while we were waiting, guitarist Paul Quinn had come out and was hanging out with us, chatting about the tour and how it was going so far. He proceeded to sign everything we had (instead of the normal 1 or 2 items only) and happily took photos. It was then that Penny suggested we all go over to the hallway running alongside the stage where there was not only more light (a huge wall of windows) but we could also chat better with the band as FOZZY had started to perform their soundcheck by this time and it was starting to get loud. Once we got to this location the rest of the band showed up and once again took their time and signed anything and everything, including a nice photo card of the band that was around 6" x 9". When it came time for photos, Biff suggested that we all go back into the venue to take pics because it would be more 'rock-n-roll', instead of being in this well lit hallway with the large metal stairwell on the opposite side. My buddy Stephen noted to Biff that it was a 'metal' stairwell, to which Biff responded, "it's not heavy enough". So we returned to the inside of the venue and all of lined up for a group photo with the band taken by Penny, presumably for the website, and then we all had the opportunity to get a group shot with the band and then could take individual photos as well, which we all took adfvantage of. The entire experience was fabulous, the band was in great spirits and we weren't rushed in the slightest. If you still have an opportunity to do this package, it was WELL worth it! Interestingly enough, it was mentioned during our chat that the band would be doing an acoustic/orchestra album soon and, as I was writing up this review, I received the official press release for it in my email!
We still had about an hour or so after the meet and greet before the doors officially opened so we headed down to the House of Blues restaurant (which is on the street level, the venue being on the third floor) for some dinner. While we and a couple other of our friends were seated at our table, Biff and the rest of the band had also come down for some food and he made a pass by our table and said 'Bon Appetit!' before joining the rest of the guys at their corner table. After eating, we made our way back up to the venue and waited with the other VIPers to be the first to be allowed entrance, another cool bonus.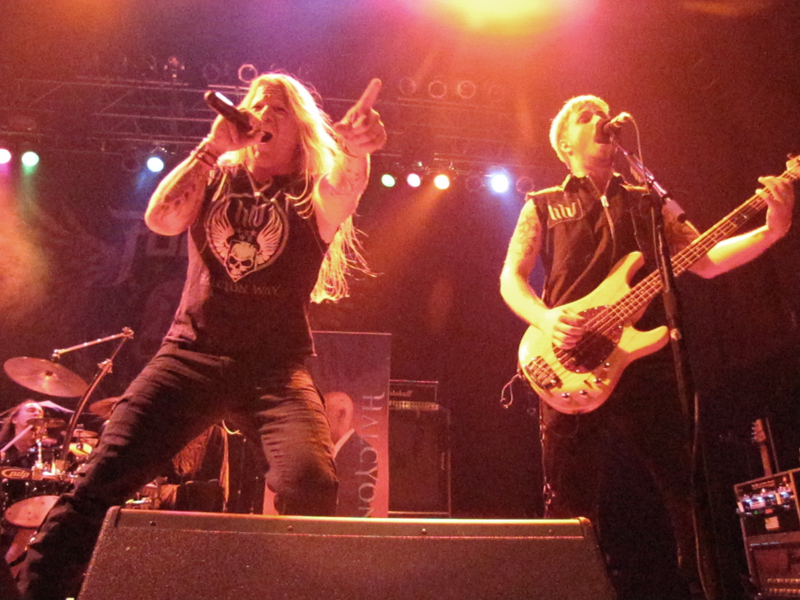 At 7:45, Atlanta-based metallers HALCYON WAY took the stage, opening their 6 song, 30 minute set with "Rise To Revise", from the 2010 album Building The Towers. The band was incredibly energetic and put on a fantastic set, which also included the latest video track from the band, "Web Of Lies", from their forthcoming new album, Conquer. The band is in the final stages of mixing the album and so a release date has not yet been confirmed. We photographers were allowed the standard 3 song opportunity and for this band, it meant nearly 20 minutes in the barricade!. The band finished off their impressive set with "Desecration Day", also off of the aforementioned Building The Towers release. For most of the rest of the show the band hung out at the merchandise area signing autographs, taking pics and chatting it up with the fans. Unfortunately for me, I had taken my KNAC.COM poster back to my vehicle after the meet and greet and the only thing I had for them to sign was my ticket, which they most graciously signed. If you're going to any of the remaining shows on this tour, make sure you get there early to catch these guys!
http://www.halcyonway.com
https://www.facebook.com/halcyonway
https://www.twitter.com/halcyonway
Setlist:
"Rise To Revise"
"Inversion"
"Age Of Betrayal"
"Web Of Lies"
"On Black Wings"
"Desecration Day"
After a very brief set change, at 8:30, it was time for FOZZY, the hard rock/metal act fronted by WWE wrestler Chris Jericho. Now, this band has been around since about 1999 and I honestly had never heard any of their material until recently and wasn't really sure if this band was truly legit or another spoof band, ala STEEL PANTHER. It turns out that both were true. The band played as a spoof through the first couple of albums before deciding to go with all original material with the 2005 album All That Remains. Now, these guys are not only legit, but they're a damn good band! With a sound that is very reminiscent of something from the 80's, the band kicked out the jams during their 45 minute set. After the intro song, "Have A Drink On Me" by AC/DC, the band started things off with "Spider In My Mouth", the first track off of the band's latest release, Sin And Bones. In true wrestling showmanship form, Jericho came out dressed in sunglasses and what appeared to be a black leather blazer decked out with rhinestones on the lapels, arms and elbows. The band played a great set and despite having multiple albums under their belts, they chose to comprise their set nearly entirely of songs from the Sin And Bones release, pulling 6 of their 8 songs from it, including the title track, "Sandpaper", "She's My Addiction" and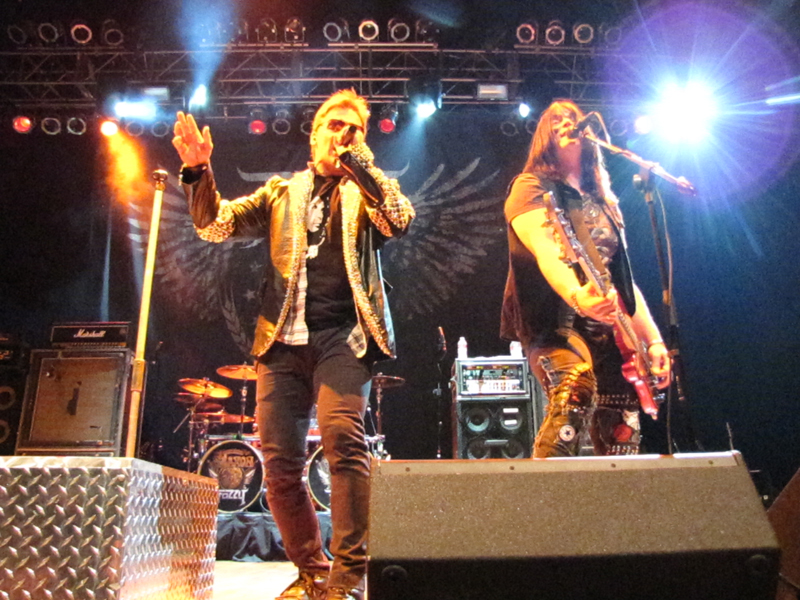 show closer "Blood Happens". The only 2 songs played that weren't from that album were "God Pounds His Nails", from 2010's Chasing The Grail, and the hit "Enemy", from the All That Remains opus. If the set they played on this night is any indication of the band's true talent, then I must go out and purchase this new album.

http://www.fozzyrock.com
https://www.facebook.com/fozzyrock
http://www.twitter.com/fozzyrock

Setlist:
"Spider In My Mouth"
"Sandpaper"
"She's My Addiction"
"God Pounds His Nails"
"Shine Forever"
"Sin And Bones"
"Enemy"
"Blood Happens"
Following the final set change, at 9:45, the lights dimmed and the opening strains of "Procession" filled the air and the intimate crowd of a few hundred went nuts. Even though the band had played to a crowd of around 3,000 the night before in San Antonio, the fractional crowd in Houston made their voices heard as the band exploded into their nearly 2 hour show with the title track of their latest release, Sacrifice. The crowd was immedately and permanently put on notice that SAXON certainly still has what it takes to chew up and spit out any lesser band that's out there today. One thing I was most impressed by was the fact that I had checked the previous 4 shows' setlists and they were all different, something that is almost unheard of in this day by any band. Huge points to SAXON! The band had the pedal to the heavy metal on this night, going right from "Sacrifice" into "Power And The Glory" and then "Night Of The Wolf", also off of Sacrifice. For a band that's been around for nearly 40 years you might think that their age would show onstage. Not so. In fact, they ran circles around other bands I have seen that are half their age. The great mood we saw during the meet and greet certainly carried over to the show as the band was having a great time and fed off of the crowd's frenzy. This was certainly a night for fist pumping and head banging as SAXON rolled through a selection of hits that included "Heavy Metal Thunder", "Dogs Of War", Motorcycle Man" and "Wheels Of Steel". And of course, who can forget about the all time classic SAXON tracks, "Dallas 1 p.m.", "747 (Strangers In The Night)" and the anthemic "Denim And Leather". And even though he may be approaching the Geritol years, vocalist Biff Byford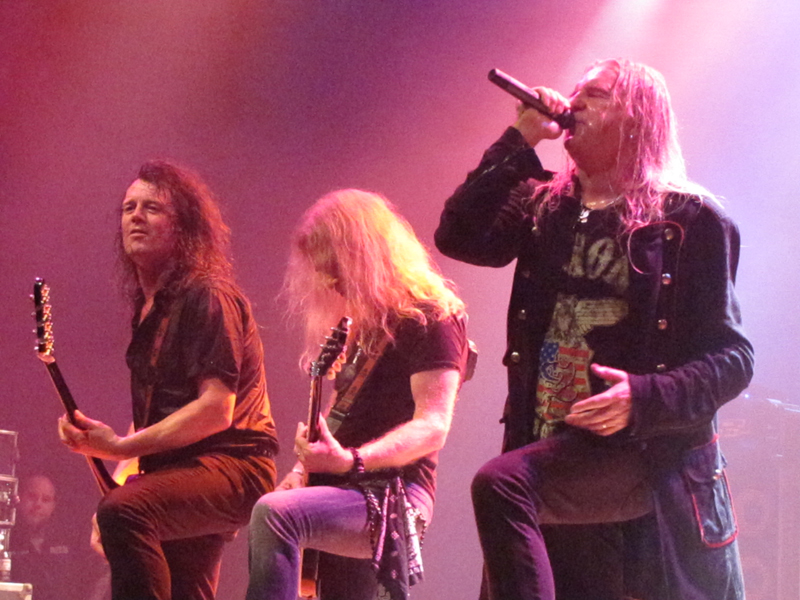 shows no signs of slowing down. He could be seen repeatedly throughout the show banging his head and swinging those blonde and now mostly grey locks around. To say that this band kicked ass is a complete understatement. No ballads here, no slowdowns and no rest for the weary. They absolutely brought it for the entire show, and even though they played about an hour and three quarters, it seemed much longer. The band came back for 3 encores, "Crusader", "Strong Arm Of The Law" and "Princess Of The Night". If you didn't catch them in your town, then you truly missed out on quite possibly one of the best shows of the year. If you're lucky enough to have them coming on one of the few remaining dates, then you must go to this show!

http://saxon747.com
https://www.facebook.com/saxon
https://myspace.com/planetsaxon

Setlist:
"Procession"
"Sacrifice"
"Power And The Glory"
"Night Of The Wolf"
"This Town Rocks"
"Made In Belfast"
"Heavy Metal Thunder"
"Dogs Of War"
"The Eagle Has Landed"
"Motorcycle Man"
"Guardians Of The Tomb"
"Dallas 1 p.m."
"747 (Strangers In The Night)"
"Denim And Leather"
"Wheels Of Steel"
Encores:
"Crusader"
"Strong Arm Of The Law"
"Princess Of The Night"
Check Out Some Photos From The Show!
All Photos By The News Monkey, Larry Petro




Please log in to view RANTS

If you don't have a username, click here to create an account!






BLACK LABEL SOCIETY, PRONG And OBITUARY In Portland, OR With Photos!

GEMINI SYNDROME 3rd Degree - The Raising

DORO/WARLOCK Triumph And Agony Live

BETWEEN WORLDS Between Worlds

ALCATRAZZ V

BEHEMOTH Sventevith (Storming Near the Baltic) Reissue

ALICE COOPER, ACE FREHLEY In Nashville, TN With Photos!

CARNIFEX Graveside Confessions

BLOOD RED THRONE Imperial Congregation

GUS G. Quantum Leap

BILLY IDOL The Roadside EP

AVATAR, MAGIC SWORD In Houston, TX With Photos!

APRIL WINE, MONKEYJUNK At The Ottawa Bluesfest

MINISTRY Moral Hygiene

CRYPTA Echoes Of The Soul

SKILLET In Houston, TX With Photos!

Immortal Axes: Guitars That Rock Book

IRON MAIDEN Senjutsu

GRINDER BLUES El Dos

GEORGE LYNCH Seamless Review #2

IN THIS MOMENT, BLACK VEIL BRIDES In Houston, TX With Photos!

WARLANDO Festival 2021 Photo Gallery

KISS In Ridgefield, WA With Photos!

LAURENNE/LOUHIMO The Reckoning

TREMONTI Marching In Time

ROCKLAHOMA 2021 Day 3 Photo Gallery

ROCKLAHOMA 2021 Day 2 Photo Gallery

ROCKLAHOMA 2021 Day 1 Photo Gallery

CARCASS Torn Arteries

SETH La Morsure de Christ

GEORGE LYNCH Seamless