STRYPER No More Hell To Pay


By Larry Petro, News Monkey
Tuesday, October 22, 2013 @ 6:44 PM


| | | |
| --- | --- | --- |
| | | |
STRYPER
No More Hell To Pay
Frontiers Records




Ask any casual metalhead where Christian Metal began and you might get a few responses of bands like PETRA, RESURRECTION BAND, or even Sweden's JERUSALEM. But for this reviewer, for all intents and purposes, Christian Metal began with STRYPER. And now, 30+ years later, those Holy Rollers are still championing the cause.

With the release of No More Hell To Pay, the band's 8th original studio effort, STRYPER is serving notice that they are still leading the charge and holding high the banner that few others are worthy to touch, let alone carry.

No More Hell To Pay is a great collection of feel-good metal, 12 songs that rock you with a purpose. From the opening track "Revelation", there is no doubt that this is STRYPER. All the elements that the band has incorporated into their sound over the past 30 years are there; catchy guitar hooks, great harmonies, thundering bass and drums and the ever present piercing screams of frontman Michael Sweet.

The first video the band released, the title track of the album, "No More Hell To Pay", was a really good choice, and just happened to be the song that this reviewer was wearing out on my flash drive from repeated listens. It's just got that groove that sticks in your head. And if there was any doubt as to how Michael's voice is holding up after all these years, it is completely quashed with the shrills he lets loose with just before each chorus. It literally gave me goosebumps. A great mid-tempo tune that provides the listener with a very accurate representation of what the album contains.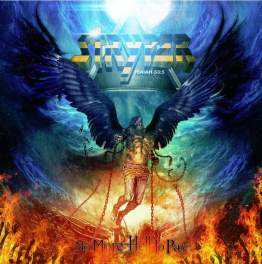 There are certainly more uptempo tracks to be had here as well, including the track that follows "No More Hell To Pay", "Saved By Love" and the final track on the album, "Renewed", which seems to follow a pattern of the band putting really kick ass songs at the very end of their releases.
One surprise on the CD was in the inclusion of a cover of the DOOBIE BROTHERS classic 1976 hit, "Jesus Is Just Alright". I remember hearing that song a lot when I was younger, but had no clue what the title actually was, so it certainly didn't snap when I first looked over the track list of this album. As soon as the first words were uttered, however, the light bulb instantly lit and the connection was made. The guys in STRYPER did a masterful job covering this tune! Other notable tracks include "Legacy", "Te Amo" and "Sympathy".
The guitar work by both Sweet and Oz Fox on No More Hell To Pay is impeccable, with both gentlemen trading out ripping solos on different songs, so much so, that it's hard to tell who's doing what solo on each track. And being produced by Michael himself, he certainly knew how to get the best sound out of the backbeat of bassist Tim Gaines and his brother, drummer Robert Sweet.
Michael Sweet certainly was not very far off when he stated that this could very well be STRYPER's heaviest music to date. It is certainly heavy, and to this reviewer, has the same kind of groove that Reborn, STRYPER's "comeback" record, had.
STRYPER is indeed back to "Rock The Hell Out Of You"!
Tracklist:
"Revelation"
"No More Hell To Pay"
"Saved By Love"
"Jesus Is Just Alright"
"The One"
"Legacy"
"Marching Into Battle"
"Te Amo"
"Sticks And Stones"
"Water Into Wine"
"Sympathy"
"Renewed"
4.8 Out Of 5




Please log in to view RANTS

If you don't have a username, click here to create an account!