KILL DEVIL HILL
Revolution Rise
Century Media Records 2013






KILL DEVIL HILL ,the super group that contains such illustrious former members of PANTERA, BLACK SABBATH, DIO, DOWN and HEAVEN AND HELL, is back with their latest release, Revolution Rise.

This is one I have been looking forward to for a long time now. I had the amazing opportunity to see KILL DEVIL HILL twice last year and I was impressed to say the least. The band is now back with their sophomore effort and the tightness of the group runs like a well oiled machine. By some strange coincidence this write up is coming out the day of the albums release so anticipation ran high in our offices for this one.

The album opens up with "No Way Out" , within the first few notes I knew I was not going to be disappointed. An in your face down and dirty heavy metal song with all the right aggressiveness needed. This band has the ability and talent to overplay but the wisdom to know when not to!

Up next is "Crown of Thorns". I have heard other songs with this title before (Mother Love Bone) so I was more than curious to see their take on the subject. The time on the road and the brotherhood of being in a band together really has made the magic come together. Dewey's vocals really have grown by leaps and bounds on this release with him feeling comfortable in the spotlight. I am giving fair warning, keep your eyes open, this band is going to make huge waves in the industry.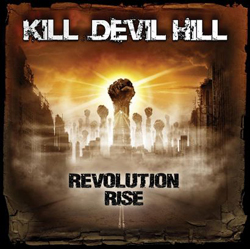 The quick paced "Leave it All Behind" is the third track on the disk. Rex's bass lines are a subtle melody that plays beneath the music showcasing years of talent and creativity. Mark's guitar solos are wise and unique.
Why ask "Why"? Because that is the next song on the record. A song about liars in all forms of relationships.
The doom inspired "Wake Up the Dead" with elements of classic doom style metal with modern styling. I like this song a lot.
"Long Way From Home" will remind listeners of classic metal song that first got them interested in metal. This is one of the most radio friendly songs on the record and I would not be shocked if I heard it on the airwaves any minute.
"Where Angels Dare To Roam" takes you into a horror film and makes you glad you bought a ticket to the show. The hooks and grooves really shine in this song. Vinnie's years of being a top notch drummer really are showcased on this song.
"Stained Glass Sadness" really showcases the bands versatility. This is one of the most creative songs I have heard in a while, metal meets jazz meets rock!
"Endless Static" is up next and is a quick paced song that keeps your blood pumping.
The soft melody of "Stealing Days" really has soft and tender lyrics. "This fate is not chosen for me" along with groove style of playing.
Last on the record but the farthest from least is the epic "Life Goes On" with almost ten minutes it is a mini series of a song with a rise and then a fall then a rebirth again.
I don't do this often but - 5.0 out of 5.0
KILL DEVIL HILL is:
Dewey Bragg on vocals
Mark Zavon on guitars
Rex Brown on bass
Vinnie Appice on drum
To find out every thing KILL DEVIL HILL please go to www.killdevilhillmusic.com