JACKYL Live in Akron, OH With Photos!


By Geoff Ketler, Cleveland Contributor
Tuesday, November 5, 2013 @ 5:03 PM


| | | |
| --- | --- | --- |
| | | Moonshine And Dynamite Collided As JACKYL Wrecked The Rock Factory In Akron |
The stage was set…"For Those About to Rock…" blared over the speakers, JACKYL was back and they brought with them plenty of Jesse James Outlaw Bourbon to go around. Call me lame, but the 9:00pm start time for the headliner was a welcoming sight – it was a Sunday evening and the work week was just around the corner. The band took the stage to the opening licks of "Red Neck Punk" before quickly shifting gears and going straight into the crowd participation-demanding "My Moonshine Kicks Your Cocaine's Ass". Jesse James Dupree sprinted on stage in his American flag - emblazoned pants. His hands grasped the whip hanging from his microphone. He had that crazed look in his eyes; something that has never changed over the years.

JACKYL has always had a certain wit to them that no other band has had. Jesse James Dupree has no reservations when it comes to songwriting. He can always get a point across whether it is subliminally or bluntly put. It is always good to see a band that has had huge success over the decades, but still doesn't take itself too seriously. The Worley Brothers, Jesse, and bassist Roman Glick had as much fun up on stage as all of us out in the crowd.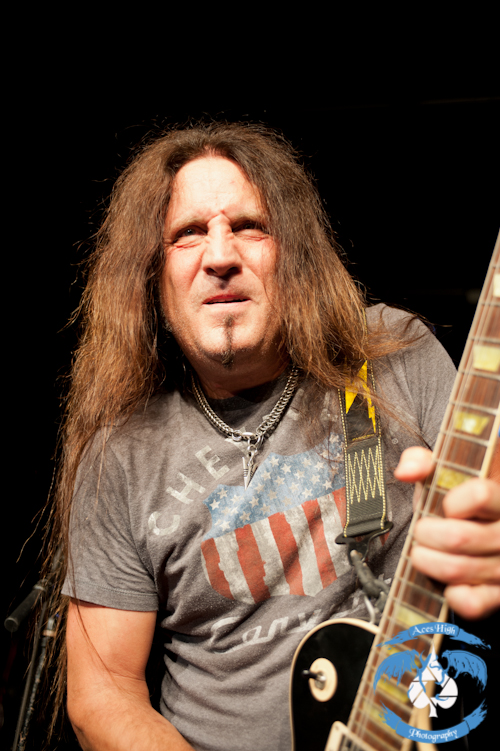 JACKYL played a high-energy, but predictable set that mostly concentrated on their first self-titled album. They played two songs off of their most recent release Best In Show; "Screwdriver" and "Encore". There really weren't any surprises except for the fact that Jesse managed to get the crowd to serenade him with old songs from Hee-Haw on not one, but two occasions. Guitarist Jeff Worley was as crazy as ever. His antics only added to the high-octane performance. Towards the end of the set I would literally have to cover my camera gear to prevent Jeff from shaking sweat all over it when he headed in my direction. As always, JACKYL ended their set with their anthem of sorts, "The Lumberjack". The entire front row of the audience was immediately coated with sawdust as Jesse began carving up a barstool at center stage. The fumes from the chainsaw filled the air. The set ended with Jesse ceremoniously firing his gun/mic stand up into the air.
Before the set was over, Jesse did plug the hit show that he has become a major part of, Full Throttle Saloon. New season begins the first week of December on TruTV. It was a night of raw, pure energy. JACKYL never seems to slow down. After their set, the band members all headed out to their merch table to take pictures, sign autographs, and shake hands. It was the perfect ending to a great night of rockin'.
"So who is going home and bumpin' uglies tonight? Say 'Hell yeah!'" – Jesse James Dupree
Setlist:
"Redneck Punk"
"My Moonshine Kicks Your Cocaine's Ass"
"Mental Masturbation"
"Encore"
"Screwdriver"
"Secret of the Bottle"
"Down On Me"
"I Stand Alone"
"When Will It Rain"
"Dirty Little Mind" / "Better Than Chicken"
Encore:
"She Loves My Cock"
"The Lumberjack"
Check Out More Pics From The Show!
All Photos By Geoff Ketler/Aces High Photography

Please log in to view RANTS




YNGWIE J. MALMSTEEN, GLENN HUGHES In Worcester, MA With Photos!

ALICE COOPER Road

RAT ROD Four On The Floor

GIRLSCHOOL WTFortyFive?

DANKO JONES Electric Sounds

AVATAR, ORBIT CULTURE, THE NATIVE HOWL In Houston, TX With Photos!

THE DEAD DAISIES In Hollywood, CA With Photos!

KILL DEVIL HILL Seas Of Oblivion

THE DEAD DAISIES In Ottawa, Canada

MAMMOTH WVH In Santa Ana, CA

UADA Crepuscule Natura

BARONESS Stone

KAMELOT, BATTLE BEAST, XANDRIA In Houston, TX With Photos!

CRYPTOPSY As Gomorrah Burns

RAY ALDER II

GHOST, AMON AMARTH In Houston, TX With Photos!

U.D.O. Touchdown

DETHKLOK Dethalbum IV