FATES WARNING
Darkness In A Different Light
Insideout Music - 2013
http://www.fateswarning.com





It has been nine long years since FATES WARNING released a new studio album. You'd hardly be in the position to be chastised by the group's fanbase if you didn't at least wonder if the band still had it in them to turn out an album that would hold up against the rest of their back catalog.

Rest assured that if you did have those fears, they are allayed pretty much from the second that "One Thousand Fires" damn near explodes out of your speakers to open the disc. The song is a solid heavy rocking song that blazes brightly throughout. Drummer Bobby Jarzombeck shines throughout the disc as he lays down some brutally efficient work behind the kit to give just the smidge more of metallic power to fuel the songs.

"Firefly" was another high energy track, but it also slowed the pace down in spots too. On the four song bonus disc included with the release, there is an extended cut of this song. Singer Ray Alder was quoted in press clippings about how his lyrics for this song were quite personal to him.

Speaking of the bonus disc, of the four songs included two of them were live tracks taken from the band's 2009 appearance at Progpower in Atlanta Georgia. Both "One" and "Life in Still Water" sounded great here.

I know that most reviews about progressive metal/rock bands like FATES WARNING are expected to have something to say about the complicated musical arrangements or off the charts mind-blowing chord progressions. But in all honesty, what really impressed me was how the band takes all that technical stuff that I can barely understand in the first place and places it inside simply and powerfully pure metal SONGS! They don't get lost on their musical journey and forget to write songs instead of far flung musical odysseys to nowhere. In fact, a number of the songs on this album just end abruptly instead of meandering endlessly onward.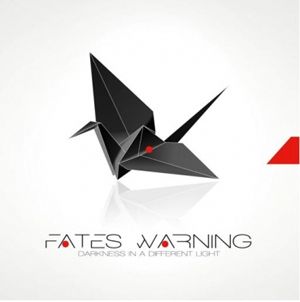 But that isn't to say their lengthier songs don't come off well either. "And Yet It Moves" is a 14 minute epic that opens with a spare soft guitar before a heavier guitar oriented arc kicks in. At times, the heavier soundtrack is pummeling the listener but it a good way. There are a number of stylistic changes over the course of the songs but it never once feels like the song is dragging.
The song "Lighthouse" brings the pacing of the album to a far slower vibe and spends its time with Alder's vocals in a stark and sparse manner. The closing outro is the only time that the song might be seen as venturing towards being described as "heavy".
Guitarist Jim Mattheos is joined by the returning Frank Aresti and boy do they make the combo on this album. Along with the always outstanding bassist Joey Vera, there is some really amazing guitar work here. One example is the song "I Am". It's one of the best tracks on the disc. It is a ballsy rocker with a great lyrical passage in the verse "In silence I breath again / I flow and descend / I'll take what I deserve but can you help me understand / why should I deserve a solitary word?" You should also check out "Into The Black" to get your heaping helping of technically sound and crafty guitar licks.
Ex-DREAM THEATER keyboardist Kevin Moore wrote the lyrics for "O Chloroform".
While the band hasn't been prolific in putting out new material, it doesn't mean their creativity has been left to fester. In fact, they put forth quite a bit of musical creativity throughout the disc. The biggest overt sign of this is the song "Falling". On the first disc, the song is a 90 second change of pace track that features Alder's voice and a slow acoustic guitar as a companion. It is a very matter of fact delivery that is also refreshingly appealing.
On the bonus disc, the song is recast as "Falling Further". It's the same lyrics but the entire musical soundtrack is changed from slow ballad to an expansive and fiery rocker with a huge sound.
The selling point on the song is that both versions work marvelously. That kind of creativity will always impress the hell out of me.
It may have been a long time in coming, but Darkness In A Different Light shows that new work from FATES WARNINGg will always be worth the wait. The album is hugely entertaining and successful on every possible level.
4.5 Out Of 5.0