The last time I got to see Jon Oliva in any fashion was back in May of 2001, when his band SAVATAGE and FATES WARNING played a dive called the 19th Hole just north of Houston. I don't recall that he even played here since that time, and if he had then I must have missed it. So when I saw that he was bringing his Storytellers tour to Houston I was stoked at the chance to see the man who was the mastermind behind the band SAVATAGE as well as TRANS-SIBERIAN ORCHESTRA. What type of show he would perform was the only unanswered question of the evening.

Opening things up on this evening was Dallas based rockers SECRETS OF BORIS. They were okay, certainly nothing to write home about and quite honestly, I spent the majority of their set outside on the patio enjoying a beverage and perusing messages on my cell phone.

https://www.facebook.com/secretofboris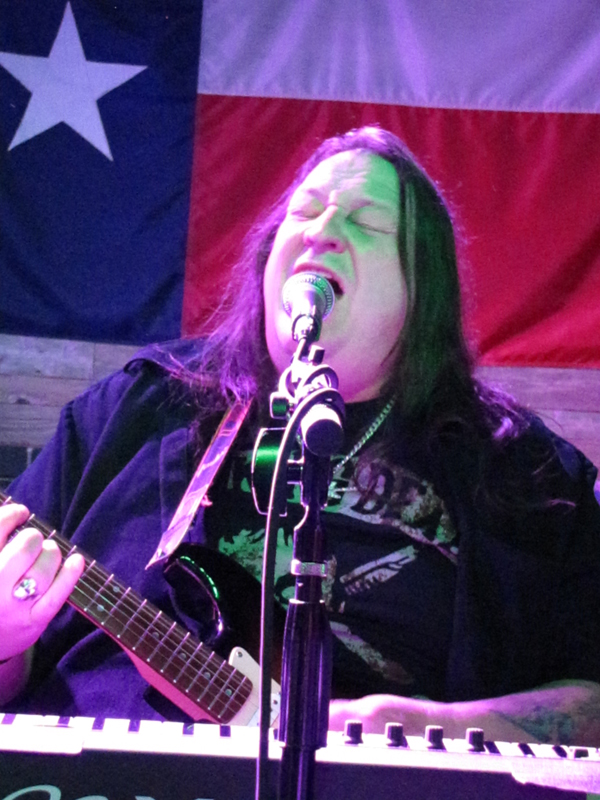 At about 9:45, the stage was set and it was Jon Oliva time. Much to my surprise the venue was not very populated for this show. I always like to see a good turnout for a show but at the same time enjoy it when there's a smaller crowd because it feels more intimate, and on this particular night intimate was the one word that could describe the performance. The entire show was an intimate, mellow and sometimes emotional trip through Jon's career in music and was a dedication to the loss of people close to him.
The stage was set very simply as the band consisted only of drummer Chris Kinder (Thanks Chris!), bassist Jason Jennings and Oliva, who positioned himself behind a keyboard for the evening with a small rack of electric and acoustic guitars set to his right from which he would occasionally grab one. The band kicked off their nearly 2 hour show with a couple of tracks, "Father Time" and "Ten Years", from Jon's latest release, Raise The Curtain, a collection of songs created from demos and other odds and ends of his late brother Criss Oliva, who was killed in a 1993 car accident caused by a drunk driver. In fact, as Jon noted, "Father Time was the first song that he and his brother wrote together.
Being dubbed the Storytellers tour, a story or two in the context of the show was certainly the case as Jon would interject a story between almost every song the band performed. Some funny and some that pulled at your heart strings. It was done in such a way that you felt like Jon was sitting in your livingroom just reminiscing about his past. As one would expect, the majority of the show centered around SAVATAGE material and it was quite refreshing to hear some of those songs done in a more subdued manner. He played tracks like "Out On The Streets" from the album Fight For The Rock, "Summer's Rain" from 1989's Gutter Ballet and set closer "When The Crowds Are Gone".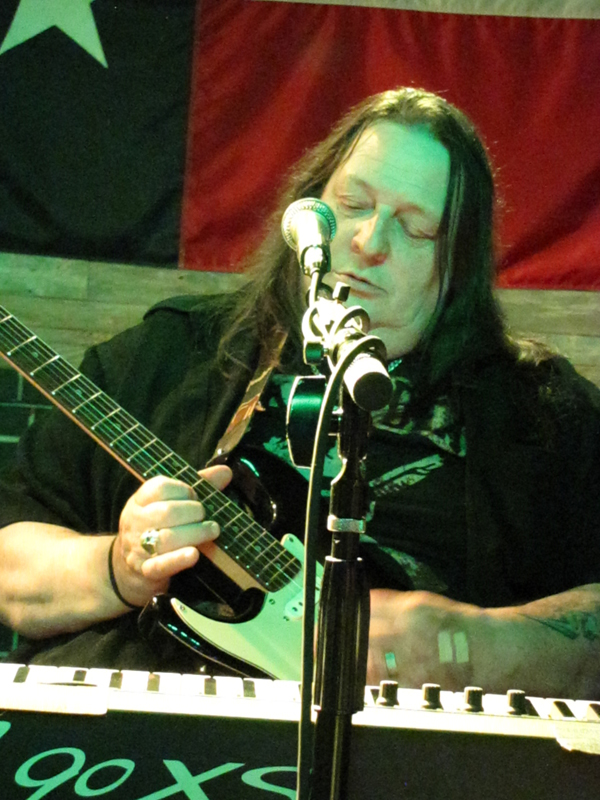 The band also incorporated 3 medleys of SAVATAGE material into the set, one for Streets, which included the original version of "Jesus Saves", one for Edge Of Thorns, playing the songs "Miles Away", "Sleep" and "All That I Bleed", and the last being a medley from Handful Of Rain, which Jon stated was more of a solo album than his actual solo material. Songs performed from that one included the title track, "Chance" and "Alone You Breathe".
Jon also paid tribute to JON OLIVA'S PAIN guitarist Matt LePorte, who passed away in 2011, by playing a trio of JOP songs: "Walk Upon The Water", "Fly Away" and "Look At The World". It was prior to this song that Jon related one of the funnier stories of the evening. He had just gotten his driver's license and he and Criss were driving around when "Killer Queen" by QUEEN came on the radio. As Jon told it, the conversation went something like this:
Criss: "We should totally rip off that song!"
Jon: "I think there might be some legalities involded with that."
Criss: "Fuck that! What are they gonna do, sue us? We have no money."
Jon: "Give me 24 hours and I'll see what I can come up with."
And that's how "Look At The World" was born. Near the end of the set the band performed the track "Someone/Souls", during which they used actual tapes of Matt Laporte's guitar work on this song that he had done prior to his passing. It was a very nice moment in the show. Actually, there were times throughout the show that Jon became emotional. Quite frequently you could see him looking to the heavens as if he was 'seeing' his brother and singing directly to him, even at one point nearly coming to tears. I think this tour was very therapeutic for Jon and allowed him a bit of closure for the tragic events he has endured in his life.
Of course, the entire evening was not all sadness and reflection. There were some very lighthearted moments as well, like the QUEEN story I just mentioned. He also told the story of how when the band was recording the album Sirens in London and how the piano he used on "Lady In Disguise" was the actual one that was used for the BEATLES recording of "Hey Jude", a band that Jon is a huge fan of. He recalled how much his hands were shaking as he touched the revered instrument. Another memorable tale was of SAVATAGE touring with TESTAMENT in Dallas and how everyone was outside of a club there getting shitfaced drunk and a fight broke out, during which Jon got clocked in the head. TESTAMENT's Chuck Billy then proceeded to throw a full bottle of vodka through this bar's very large, plate glass window, completely shattering it, then Chuck and his band took off. When paramedics showed up to treat Jon, he remembers grabbing them by the throat and bashing their heads against the side of the tour bus. Rock stars, I tell ya.
For me, the best information of the night was when Jon revealed that he and his brother used to communicate by cassette tape (remember those?) when coming up with song ideas. Along with riffs and song ideas on the tapes, they would insult each other. Criss would tape a riff and then send it to Jon saying, "Here's a riff I came up with. See what you can do with it, dickhead". Jon would respond with his own tape, "See what you think of this, asshole". He mentioned that he still has all of these tapes (box set material maybe?). He also took time to poke fun of a local Houston rag called the Music News, which had totally butchered an advertisement for his show in the issue that just happened to be in stands at the club. The ad stated "Jon Oliva of Trans-Siberian Railroad". As if that wasn't bad enough, the picture in the ad was that of former SAVATAGE member Paul O'Neil!
It was a most enjoyable evening to say the least. And while after most rock shows, the band retreats to the dressing room to chill, clean up, shower, change clothes or what have you for 30 minutes to an hour afterwards, this was not the case with Jon and his band. As soon as his set was finished he walked off the side of the stage and came out into the club area to hang out, sign autographs, take pictures and chat with his fans. It was fun watching him make different gestures and faces as he took pics with the fans, as evidenced by the one I took with him.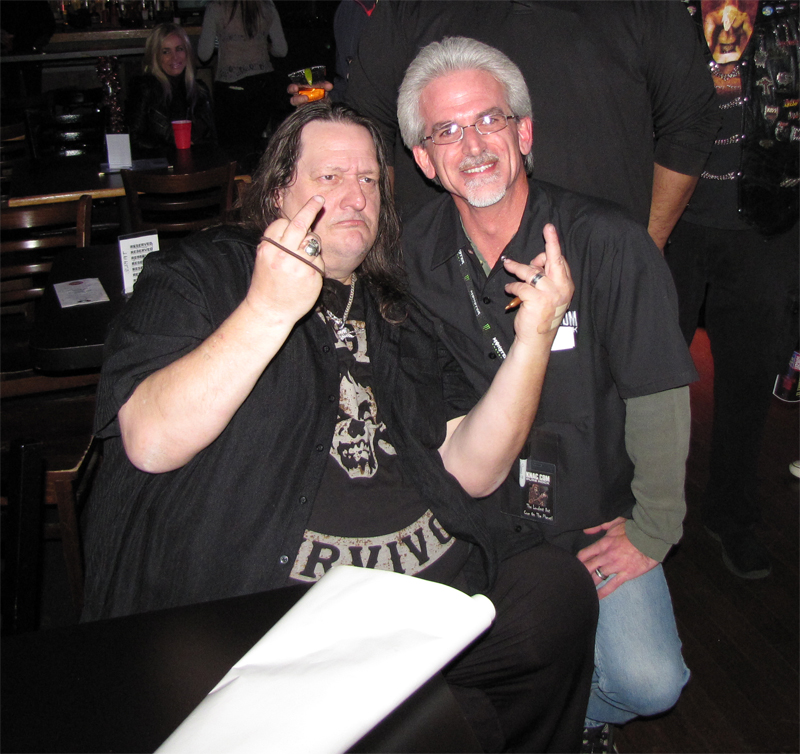 The Houston show was the next to last on this tour so I'm sure he's now enjoying the time off, but he did mention a couple of things prior to the show's end that were worth repeating. He stated that there would be another round of dates in 2014 (Storytellers Second Leg?), and a new JON OLIVA'S PAIN album, so some good news there for fans of that project.
www.jonoliva.net
https://www.facebook.com/JonOlivasPain
Jon Oliva Setlist:
"Father Time"
"Ten Years"
"Out On The Streets"
"Lady In Disguise"
"Summer's Rain"
Streets Medley
"Jesus Saves"
"Strange Reality"
"Tonight He Grins Again"
"If I Go Away"
"Hey Bulldog" (BEATLES Cover)
Edge Of Thorns Medley
"Miles Away"
"Sleep"
"All That I Bleed"
"Look At The World"
"Walk Upon The Water"
"Fly Away"
Handful Of Rain Medley
"Handful Of Rain"
"Stare Into The Sun"
"Castles Burning"
"Chance"
"Alone You Breathe"
"Someone/Souls"
"Can't Get Away"
"When The Crowds Are Gone"
All Photos By Larry Petro