ICED EARTH Plagues Of Babylon


By Damian J. Cousins aka "The Maestro", Dallas Contributor
Friday, January 3, 2014 @ 3:47 PM


| | | |
| --- | --- | --- |
| | | |
ICED EARTH
Plagues Of Babylon
Century Media Records





Some of you may think I'm crazy, but I was never really a big ICED EARTH fan. I thought the music was top-notch, but the vocals always killed it for me. And while they've had a more than capable who's who of singers in the band, the vocals always seemed somewhat out of place, at least to me. Why that is I don't know, but something was just off. Until Stu Block. Him I liked right away, and 2011's Dystopia was a very good record in my opinion. So with that in mind, I was more than a bit curious as to what ICED EARTH could accomplish with him behind the mic for round two. And after my third listen, I can safely say that this new album, Plagues of Babylon, is every bit as good as its predecessor.

The title track "Plagues of Babylon" is the perfect way to open things up, Jon Schaffer and Troy Steele's guitars setting the fire that burns white-hot for nearly eight minutes. Then "Democide" takes us on a galloping ride, Block's voice barking out lyrics with fierce abandon as drummer Raphael Saini and bassist Luke Appleton provide the rumble upon which the dueling guitar leads soar. I wouldn't be surprised if this is the opening salvo on the upcoming tour, because these songs are made for it. I wasn't sure where "The Culling" was going at first listen, but this one wound up growing on me by the next spin of the disc. First single "Among the Living Dead", featuring guest vocals from Hansi Kürsch (BLIND GUARDIAN), is one of those tunes that clearly means business and the guitar runs late in it help to make it a sure-fire winner.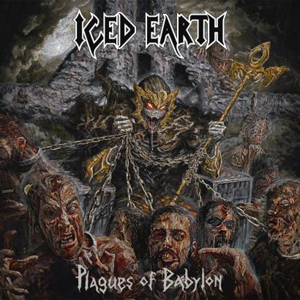 If it's possible, Stu Block actually sings with more authority on this album. You can tell he's grown a lot more comfortable, not that he wasn't before, but he has definitely come into his own, and the results speak for themselves. "Resistance" is a perfect example of this, and he takes the mic with authority, especially late in the song. Another winner shows up in the form of "The End", a seven-minute epic that's almost like IRON MAIDEN on steroids. It's extremely well-written, with good pacing and a great riff throughout. I can't even do the solo justice; let's just say it's awesome and call it a day. Now, on "If I Could See You Now" and "Spirit of the Times" it feels like Block's clean, ballad voice is even stronger than on Dystopia and these two songs are a great way to shake things up a bit. On "Cthulhu" the soft intro totally belies the ferocity of what's to come, and was another favorite for me.
Really the only songs I wasn't wild about were "Peacemaker" and "Parasite"; they were good, just not great. The album ends with a star-studded cover of "The Highwayman", featuring Schaffer, Russell Allen (SYMPHONY X, ADRENALINE MOB), Block, and Michael Poulsen (VOLBEAT) singing in that order, each of them taking a verse, and it's a fucking great version, I loved it! All told, Plagues of Babylon is the perfect follow-up to Dystopia, and I think that ICED EARTH fans are gonna go absolutely mental for this record. I'm really impressed and I'm not a die-hard, so there you go. I'm also pretty anxious to hear these songs live in Dallas come April, too.
4.0 Out Of 5.0

Please log in to view RANTS