STONE SOUR, POP EVIL, STOLEN BABIES Live In Cleveland With Photos!


By Geoff Ketler, Cleveland Contributor
Sunday, January 26, 2014 @ 6:41 PM


| | | |
| --- | --- | --- |
| | | Sold-Out Show At The House Of Blues |
Blizzard conditions and sub-zero temperatures did nothing to tame a ravenous capacity crowd that gathered at the Cleveland House of Blues Friday night. The show had been sold out weeks in advance-a rare occurrence for a rock or metal show in NE Ohio. It had been a while since I could get out to a show, so I had been anticipating this for weeks now. Cabin fever was setting in. My first concert of 2014 was finally about to begin.

Up first was the unclassifiable STOLEN BABIES. The trio brought a polka meets doom metal meets Danny Elfman's nightmares vibe with them. The outstanding vocal performance of Dominique Lenore Persi accompanied by her accordion skills served up a beautiful overtone to the otherwise creepy atmosphere. I really felt like I was watching a performance of an upcoming Beetlejuice movie soundtrack. Rani Sharone often switched between bass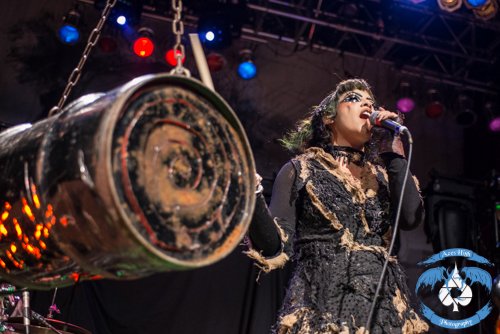 and guitar between songs as his twin brother Gil set the pace behind the drum kit. The interesting set captivated the audience as it was performed to perfection.
http://stolenbabiestheband.com/
Setlist:
"Push Button"
"Civil Disguise"
"Splatter"
"Filistata"
"Tall Tales"
"Mousefood"
"Never Come Back"
Up next was the chart-climbing POP EVIL. This would be the fourth time since last September that POP EVIL made an appearance in my neck of the woods. Hailing from Grand Rapids, Michigan; they are no strangers to the Midwest. The band wasted no time getting in the groove as they opened with "Deal With the Devil". POP EVIL has to be one of the most energetic and hard working live acts I have seen. They are always entertaining and relentless on stage.

POP EVIL ripped through a ten song set that included their hits "Boss' Daughter", "Torn 2 Pieces", and, of course, "Trenches". Vocalist Leigh Kakaty described "Trenches" as having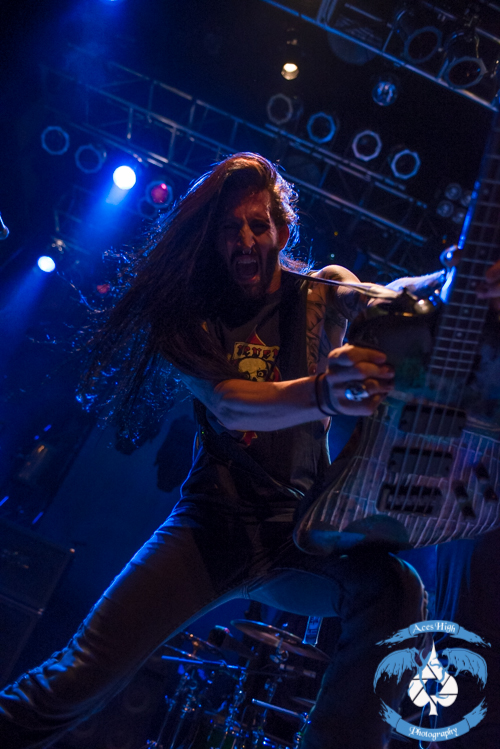 changed their lives forever. He said "What do you do when the Super Bowl calls?" Now if we could just get the Super Bowl to feature a decent band rather than the usual garbage during halftime, ugh…that's a topic for another day. Altogether it was the typical, leave it all on stage performance from POP EVIL that flowed without a hitch.
http://popevil.com/home/
Setlist:
"Deal With the Devil"
"Divide"
"Hero"
"Flawed"
"Torn 2 Pieces"
"Goodbye My Friend"
"Sick Sense"
"Boss' Daughter"
"Last Man Standing"
"Trenches"
After a quick set change, the lights went down. It was that moment that all of us concert-goers know so well. The headliner of the night was about to take the stage. As I stood in the photo pit waiting for the lights to come up, guitarist Josh Rand positioned himself in front of me and began the intro to "The House of Gold and Bones". Opposite of Josh was Christian Martucci filling in for James Root. It was previously announced that James and STONE SOUR had mutually agreed that James would be busy writing and recording for the new SLIPKNOT album and thus not on this tour. Josh Rand handled the majority of the leads, but Christian Martucci had plenty of opportunities to show what he could do and played his parts just fine. In fact, the casual attendee probably had no idea there was a different guitar player on stage.

STONE SOUR blazed through a lengthy set that covered all facets and eras of the group. From "30/30-150" to "Through the Glass" – they executed each song with precision. Corey Taylor was Corey Taylor. He admitted that he had been under the weather for the past few days but I don't think anyone noticed. From guttural screams to soothing melodic vocals, he pulled it off in typical Corey Taylor fashion. During "Bother" the crowd became so vocal that it was difficult to even hear Corey, leaving him speechless and obviously moved by the audience's performance. The fans even managed to sing both the lead parts and backing parts at the same time during the latter part of the song-something I had never witnessed before.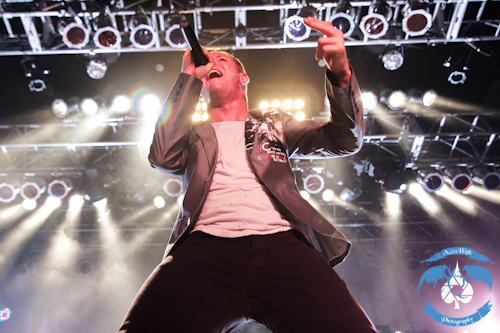 STONE SOUR ended their set with a cover of "Love Gun". Before announcing the song-which was the band's "Cover of the night", Corey Taylor did a very good impersonation of Paul Stanley that had everyone in attendance laughing. He said that the song was in honor of KISS finally making it into the Rock n' Roll Hall of Fame. STONE SOUR followed it up by encoring with "Gone Sovereign" and "Absolute Zero". It was a great way to kick off my 2014 concerts. All three bands put on fantastic shows that pleased the scores of fans that endured typical Cleveland weather in order to just be there. If this tour is rolling into your city, do not miss it.
http://www.stonesour.com/
Setlist:
"The House of Gold and Bones"
"RU486"
"Say You'll Haunt Me"
"Black John"
"Inhale"
"Made of Scars"
"Mission Statement"
"The Travelers, Pt. 1"
"Tired"
"Through the Glass"
"Gravesend"
"30/30-150"
"Nutshell" (ALICE IN CHAINS Cover)
"Bother"
"Blue Smoke"
"Do Me a Favor"
"Love Gun" (KISS Cover)
Encore:
"Gone Sovereign"
"Absolute Zero"
Check out more photos from the show!

All Photos By Geoff Ketler/Steve Keller - Aces High Photography

Please log in to view RANTS




YNGWIE J. MALMSTEEN, GLENN HUGHES In Worcester, MA With Photos!

ALICE COOPER Road

RAT ROD Four On The Floor

GIRLSCHOOL WTFortyFive?

DANKO JONES Electric Sounds

AVATAR, ORBIT CULTURE, THE NATIVE HOWL In Houston, TX With Photos!

THE DEAD DAISIES In Hollywood, CA With Photos!

KILL DEVIL HILL Seas Of Oblivion

THE DEAD DAISIES In Ottawa, Canada

MAMMOTH WVH In Santa Ana, CA

UADA Crepuscule Natura

BARONESS Stone

KAMELOT, BATTLE BEAST, XANDRIA In Houston, TX With Photos!

CRYPTOPSY As Gomorrah Burns

RAY ALDER II

GHOST, AMON AMARTH In Houston, TX With Photos!

U.D.O. Touchdown

DETHKLOK Dethalbum IV

STEVE VAI In Ottawa, Canada

PANTERA, LAMB OF GOD In Houston, TX With Photos!