EXMORTUS Slave To The Sword


By Damian J. Cousins aka "The Maestro", Dallas Contributor
Thursday, January 30, 2014 @ 5:53 PM


| | | |
| --- | --- | --- |
| | | |
EXMORTUS
Slave To The Sword
Prosthetic Records





Been spinning EXMORTUS' new one, Slave To The Sword, at least twice a day since I got it last week, right? Gotta tell ya, this is one seriously shred-tastic record on all fronts. I was turned onto this band by a friend who arranged for me to cover their show with HATCHET here in Dallas last November. Alas, I fell violently ill and missed out on what I am told was a legendary night. So since then I've been biding my time, waiting, knowing a new album was coming, soon…soon. And now it's here. Slave To The Sword is mine, ALL MINE!

Having heard the title track in December I figured I knew what I was in store for. Man, was I wrong. As great as that song is, it's only the tip of the iceberg with these guys. "Warrior of the Night", "Foe Hammer", and "Immortality Made Flesh" were obvious standouts from the very first listen, especially "Flesh". Neoclassical guitar runs meet machine gun riffs combined with the throaty vocals of Conan in one hell of a beefy sonic stew for this one and quite frankly every other track, but "Flesh" really had me sitting on the edge of my seat for all 5:37. And the interplay between Conan and fellow axe man David Rivera is as seamless as it is hard-hitting.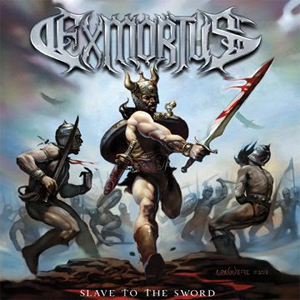 Opener "Rising" sounds the trumpets (not literally! Jeez!) of battle loud and clear with drummer Mario Moreno and bassist Jovanni Perez putting a whuppin' on you faster than you can say Jackrabbit Slim's Dance Contest. The thrash groove really helps it take off in the second half as well. Another thing I noticed is the production: everything perfectly balanced, no one is buried in the mix, and the vocals are crisp and clear, as they should be. A more classic thrash approach is taken with "Ancient Violence" conjuring the image of a battlefield similar to the one on the cover and every bit as pummeling as some of the works of their forefathers of metal.
"From the Abyss" is another lesson in musical violence, each member using and abusing his instrument to fantastic results and the solo in the middle is jaw-dropping. But the thing that I and many other listeners will ultimately keep going back to is the EXMORTUS rendition of Beethoven's "Moonlight Sonata (Act 3)", a flawless guitar-driven piece that sounds like Guitar God Nuno Bettencourt playing with a thrash band. Once again you'll be picking your jaw up off the floor by the time this one is through. From here we hop over to "Battle-Born" and closer "Metal Is King", the latter featuring some seriously metal shrieks and one last furious run for the final minute.
Slave To The Sword is a fucking great album, no question. There's not one bad track to be found. The songs are well-crafted, the flow of the record is sensational, and everyone from the guitar nut to the everyday headbanger will truly dig this. Oh and good new, turns out I'll get my chance to see EXMORTUS in about a month here in Dallas on February 25. Can't wait! In the meantime, pick this one up on February 4, guys. You're welcome.
STANDOUT TRACKS: ALL OF THEM
4.5 Out Of 5.0
Check out Damian's page at www.ampsandgreenscreens.com!

Please log in to view RANTS