MINISTRY Enjoy The Quiet - Live At Wacken 2012


By Rob McNees, Vinyl Aficionado
Monday, February 3, 2014 @ 4:10 PM


| | | |
| --- | --- | --- |
| | | |
MINISTRY
Enjoy The Quiet - Live At Wacken 2012
UDR Music





MINISTRY. When I think of sitting down to watch a DVD, not exactly the first name that would pop into my head. But going to Wacken at least once in my life is high on the bucket list, and seeing MINISTRY at what is arguably the greatest Metal festival bar none and how they would go over piqued my curiosity.

I wonder if Al & cohorts had ever played before 100,000 plus before. They just destroyed it like they were in a club. Pro-shot, multiple cameras, and an amazing light show grab my attention. Al's liberal use of samples take on a new meaning as interspersed with the live footage are the samples brought to life. Very cool indeed.

So what about the music you may ask? While Al may be a (former?) party animal, the man is no fool. His setlist for Wacken is heavy as a Sherman Tank I assure you. And live, the sound is extremely heavy, with the guitars up front. I wish I had a badass Dolby system instead of a TV & DVD setup circa 1982 cuz if it sounds good on this Flintstones setup it should pretty well kick the living shit out of you on a real system. And for those that worry that Uncle Al's politics might invade the show, let me say NO. The band are all business with little or no in-between song banter, just pummeling from start to finish. The live set features "Rio Grande Blood", "Ghouldiggers", "Just One Fix", "N.W.O.", and show closer "Thieves".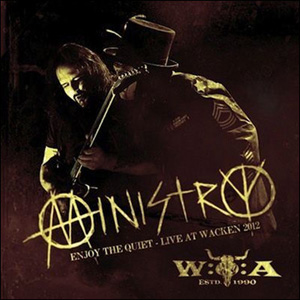 And if you think Uncle Al doesn't give you value for your hard earned cash, with the help of Wacken Records this fold-out collection comes with not only the Enjoy The Quiet set from 2012, it also has a bonus DVD from MINISTRY's performance from 2006 at Wacken and as an added bonus, a cd of the 2012 to boot!
A very impressive collection put together here, and if you've never heard or seen MINISTRY then check this out. And MINISTRY fans I think will worship this. I myself never saw the band live but this collection makes me rethink that decision.
Oh, and I'd be remiss not to mention that it's outstanding (and a little bittersweet) to be able to watch the late Texas guitar wizard Mike Scaccia, a longtime cohort of Al's doing what he did best: kick your ass! RIP Mike.
3.8 out of 5 horns high. \\m//
You Can Order Enjoy The Quiet - Live At Wacken 2012 In The KNAC.COM More Store Right HERE.

Please log in to view RANTS