BLACK SABBATH Live...Gathered in Their Masses


By Charlie Steffens aka Gnarly Charlie, Writer/Photographer
Tuesday, February 4, 2014 @ 5:01 PM


| | | |
| --- | --- | --- |
| | | "I can't fucking hear you!" |
While the band's personnel may be mere mortals, the music of BLACK SABBATH is eternal. A guitar riff by Tony Iommi or one of Geezer Butler's percussive bass lines can stay stuck to the roof of your brain forever. The embodiment of BLACK SABBATH performing live on a big stage (in Melbourne, Australia) is captured in the 2013 DVD Black Sabbath: Live...Gathered in Their Masses.

At the beginning of the show, which was part of their world tour supporting the album 13, three generations of fans give praise to the band. There are fast glimpses of Geezer and Tony warming up with their instruments, and Ozzy Osbourne riding an exercise bike. Then, as the air raid siren intro to "War Pigs" sounds, the band walks through the catacombs, making their way toward the stage as the roar of thousands is heard and felt..

Touring drummer Tommy Clufetos, (OZZY OSBOURNE, ROB ZOMBIE, ALICE COOPER, TED NUGENT), almost 30 years younger than the rest of the band, gives a bruising performance throughout the show. This includes a six-minute drum solo--perhaps a bit excessive, yet an adequate display of the drummer's chops.

Highlights include the ever-sinister "Black Sabbath" , and "Children of the Grave" , which showcases Geezer's bass enmeshed with Clufetos' drums, creating that classic Sabbath crushing bottom for Iommi's riffs to careen upon. From the 13 album, the doom-y "End of the Beginning" displays Iommi's brilliance, always a talented ax man who has become even better over the years. Then a tease of "Sabbath Bloody Sabbath" followed by the show closer, "Paranoid".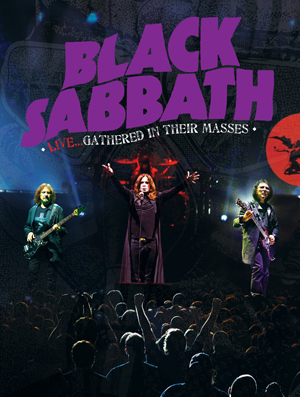 For those who are just getting into BLACK SABBATH, this DVD has a great set list, with material going back to the band's first, self-titled album from 1970 up to its 2013 chartbuster, 13. Die-hard fans will appreciate the strength in the band's performance, but may be disappointed that only smidgens of "Symptom of the Universe" and "Sabbath Bloody Sabbath", two of Sabbath's best songs, are used as intros. For nostalgic reasons, original drummer Bill Ward's absence may be missed, yet Clufetos's power and aggressive approach to the drums is something to be appreciated.
It's been over 40 years since BLACK SABBATH cast its dark splendor onto the world with their self-titled album with the spooky cover. Black Sabbath: Live...Gathered in Their Masses is like an audio/visual declaration of the band's enduring reign.
"War Pigs"
"Into the Void"
"Loner"
"Snowblind"
"Black Sabbath"
"Behind the Wall of Sleep"
"N.I.B."
"Methademic"
"Fairies Wear Boots"
"Symptom of the Universe"
"Iron Man"
"End of the Beginning"
"Children of the Grave"
"God is Dead?"
"Sabbath Bloody Sabbath" (Intro)/"Paranoid"
Rating: 3.5 Out Of 5.0




Please log in to view RANTS

If you don't have a username, click here to create an account!