MICHAEL SCHENKER'S TEMPLE OF ROCK Live in Cleveland, Ohio With Photos!


By Geoff Ketler, Cleveland Contributor
Wednesday, February 5, 2014 @ 6:12 PM


| | | |
| --- | --- | --- |
| | | Schenker & Co Amaze Sold Out Crowd At The Agora Ballroom |
With the release of his brand new album Bridge the Gap, guitar virtuoso Michael Schenker and his most recent project MICHAEL SCHENKER'S TEMPLE OF ROCK made its way across the US for a string of dates including a stop in Cleveland at the Agora Ballroom. Before any dates were released it was widely reported that Michael would be setting out with bandmates and SCORPIONS alum Herman Rarebell and Francis Buchholz on this tour. Unfortunately this did not come to fruition on the US leg of the tour and instead Michael was joined by bassist Rev Jones and drummer Pete Holmes. This was a huge disappointment. I don't want to take anything away from Rev and Pete-they did a fantastic job, but I think the vast majority of those in attendance expected to see a classic SCORPIONS reunion of sorts.

Nevertheless, the show must go on! After a short set from the opening act GUNDRIVER it was time for MICHAEL SCHENKER'S TEMPLE OF ROCK to take the stage; opening with a new track off of Bridge the Gap "Neptune Rising". Michael was surprisingly animated. He spent much of the evening in front of his monitors, tipping his headstock into the crowd; making it almost impossible for my camera to focus. He was literally inches away from me. He truly seemed to be really enjoying himself. Keyboard player and guitarist mainstay Wayne Findley presented the atmosphere as the rest of the band sort of laid low and let Michael do his thing. And do his thing is just what he did. I'm pretty sure there is a consensus within the rock and metal community that Michael Schenker is at the least a phenomenal player. Some would even say one of the best of all-time. The bottom line is Michael stepped on stage, blew through forty-plus years of material laced with blazing solos and never broke a sweat. Since the show was in such an intimate place, I got a front-row seat to all of the finger-contorting madness. Myself, and many others, were simply in awe.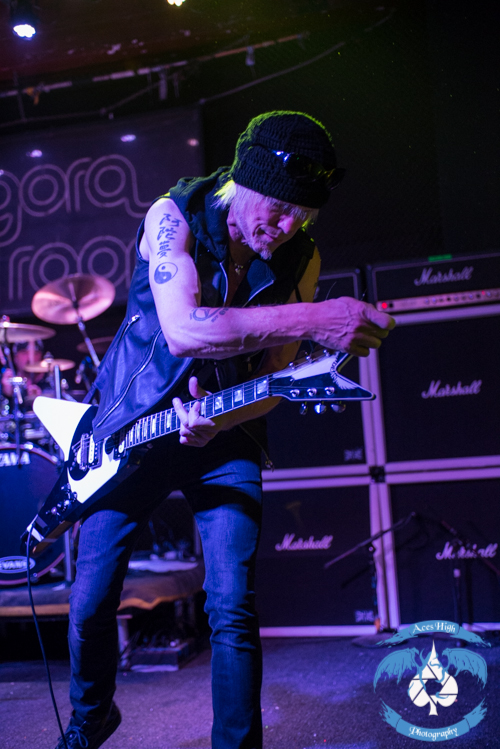 Anyone could have written the setlist. There are so many "must play" songs that there is just not much room for surprises. The nineteen-song-set touched on everything from MICHAEL SCHENKER GROUP to classic SCORPIONS and the material that put Michael on the map, UFO. The band did manage to sprinkle in a few new tracks off of Bridge the Gap. Vocalist Doogie White gave a valiant effort to replicate such vocalists as Klaus Meine, but let's face it, that's not exactly easy. Once the set finished Doogie told the crowd that they would normally walk off stage and wait for our cheering to come back for an encore but since the Agora really has no back stage area and the fact that it was sub-zero outside, the band would remain on stage and go right into their encore. "That doesn't mean you don't need to make any noise!" he yelled. All in all, it was a great show and the original sour feeling about the lineup quickly sweetened as the band began to cut loose.
http://www.michaelschenkerhimself.com/home.php
Setlist:
"Neptune Rising"
"Where The Wild Wind Blows"
"Armed And Ready" (MSG)
"Cry For The Nations" (MSG)
"Assault Attack" (MSG)
"Attack Of The Mad Axeman" (MSG)
"Into The Arena" (MSG)
"Rock My Nights Away" (MSG)
"Lovedrive" (SCORPIONS)
"Another Piece Of Meat" (SCORPIONS)
"Before The Devil Knows You're Dead"
"Horizons"
"Shoot Shoot" (UFO)
"Only You Can Rock Me" (UFO)
"Let It Roll" (UFO)
"Too Hot To Handle" (UFO)
"Lights Out" (UFO)
Encore:
"Rock Bottom" (UFO)
"Doctor Doctor" (UFO)
Check Out More Photos From The Show!
All Photos By Geoff Ketler/Aces High Photography




Please log in to view RANTS

If you don't have a username, click here to create an account!





LOU DIBELLO Heat Wave

DRIVE IDEFI (A Tribute To David Earl Taylor And Rick Chavez)

Dimevison 2: Roll With It Or Get Rolled Over

TARJA From Spirits And Ghosts (Score For A Dark Christmas)

BEYOND THE BLACK, KOBRA AND THE LOTUS, BEAST IN BLACK In Cologne, Germany With Photos!

ATROPHY Live In Ottawa, Canada With Photos!

NIGHT LEGION Night Legion

IRON SAVIOR Reforged- Riding On Fire

BUTCHER BABIES Lilith

GREAT WHITE In Houston, TX With Photos!

ARCH ENEMY, TRIVIUM In Portland, OR With Photos!

QUEENSRYCHE In St. Petersburg, FL With Photos!

SORCERER The Crowning Of The Fire King

SWEET & LYNCH Unified

MORBID ANGEL Kingdoms Disdained

BABYLON A.D. Revelation Highway

RIOT Through The Storm Reissue

SAMMY HAGAR AND THE CIRCLE In Clearwater, FL With Photos!

PRIMAL FEAR Best Of Fear

GWAR, U.S. BASTARDS, HE IS LEGEND, GHOUL In Portland, OR With Photos!

ALARM FOR WAR Enemies Of The State

CIRCUS OF POWER Four