GEMINI SYNDROME Live In Houston, Texas


By Becky Dorsett, Houston Contributor
Saturday, February 15, 2014 @ 11:26 AM


| | | |
| --- | --- | --- |
| | | Band Plays To Packed House On A Cold Texas Night |
Friday night the 7th of February was a cold night but that didn't stop GEMINI SYNDROME from playing at Scout Bar in Houston. I had personally seen them almost exactly one year to the day prior at the same venue when they played with MUSHROOMHEAD. When we arrived it was insanity in the parking lot and the line at the ticket booth was long and winding but that didn't stop us or anyone else coming from their parked cars.

Once we got inside all you could see was a sea of bodies from one corner to the next. Just getting to the interview area was a feat in itself. The opening bands had already started so we ventured out to the back patio in the cold. We were just thankful that it wasn't raining. Once we completed the interview Aaron went in to get ready for their set. You can check out the video interview HERE.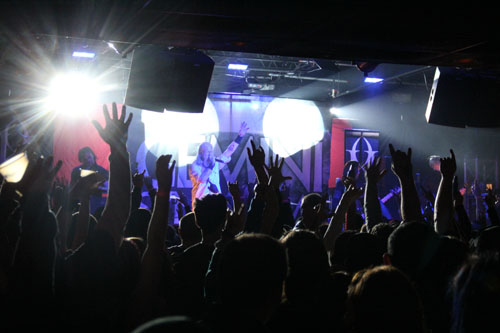 We slowly made our way across the venue closer to the side stage where photographers normally get to go to shoot pictures. You see Scout Bar doesn't have a photo pit like many venues do so getting shots at their shows can be risky. None the less the side stage was packed with the equipment of one of the other bands so I couldn't get in the make shift photo pit like I wanted. All the same I came out of the show with some amazing shots!
As soon as the lights started to go down and the intro of "LUX" started the energy grew even more than it was. Just looking around the venue you could see people with hands in the air ready to experience GEMINI SYNDROME. After the opening they hit us with "Pleasure and Pain", next up was "Syndrome", guitarist Mike Salerno singing behind vocalist Aaron Nordstrom on the choruses to absolute perfection. Aaron took a moment to breath and also say hello to the crowd. After his hello the band went into "Basement", which is one of three smashes off of debut album LUX. This is an amazing song that allows drummer Brian Steele Medina and bassist Alessandro 'AP' Paveri to show everyone what the rhythm section has to offer.
"Left of Me" is another great tune but even better live only to be followed by "Falling Apart", another aggressive and stellar song. So as they finished "Falling Apart" you could see the crowd push closer to the stage like they knew something was about to change and change it did they decided to change the tempo up and increase the intensity with "Mourning Star". The crowd was wild with energy and continued on through "Resurrection" and it's evil and scary tones from Rich Juzwick and Mike. The guttural vocals really showed the range that Aaron is able to provide to the songs.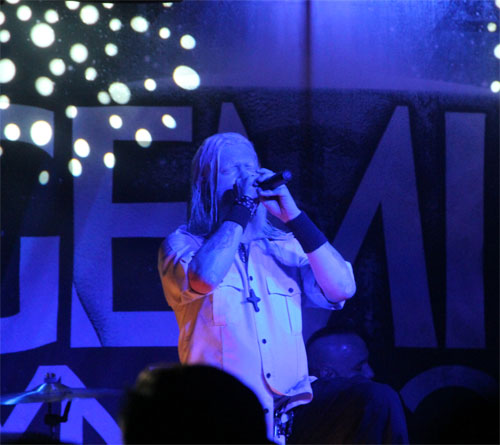 They then launched into "Pay For This" and before they ended with "Stardust", Aaron thanked everyone for coming out to the show, praised the bands that played before them and invited everyone to have an amazing night. They finished strong and left everyone wanting more. I am certain that the next time they come through town it will be as headliner not as direct support and if they aren't then there is something seriously wrong with the music industry!
SETLIST:
"Pleasure and Pain"
"Syndrome"
"Basement"
"Left Of Me"
"Falling Apart"
"Mourning Star"
"Resurrection"
"Pay for This"
"Stardust"
Photos By Becky Dorsett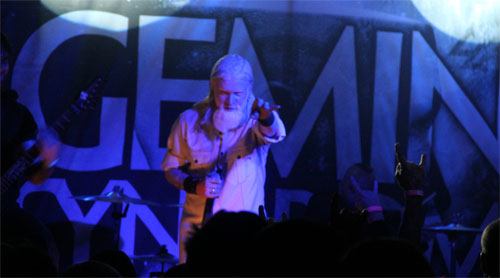 Please log in to view RANTS




YNGWIE J. MALMSTEEN, GLENN HUGHES In Worcester, MA With Photos!

ALICE COOPER Road

RAT ROD Four On The Floor

GIRLSCHOOL WTFortyFive?

DANKO JONES Electric Sounds

AVATAR, ORBIT CULTURE, THE NATIVE HOWL In Houston, TX With Photos!

THE DEAD DAISIES In Hollywood, CA With Photos!

KILL DEVIL HILL Seas Of Oblivion

THE DEAD DAISIES In Ottawa, Canada

MAMMOTH WVH In Santa Ana, CA

UADA Crepuscule Natura

BARONESS Stone

KAMELOT, BATTLE BEAST, XANDRIA In Houston, TX With Photos!

CRYPTOPSY As Gomorrah Burns

RAY ALDER II

GHOST, AMON AMARTH In Houston, TX With Photos!

U.D.O. Touchdown

DETHKLOK Dethalbum IV

STEVE VAI In Ottawa, Canada

PANTERA, LAMB OF GOD In Houston, TX With Photos!