SEVEN DEADLY Obliviation


By Becky Dorsett, Houston Contributor
Saturday, March 1, 2014 @ 9:15 AM


| | | |
| --- | --- | --- |
| | | |
SEVEN DEADLY
Obliviation
Self Released





The February 2014 release of SEVEN DEADLYís first full album, Obliviation is finally here. While three out of four of the tracks from the Allegiance EP, including the single "Blood On Your Hands", are on this album there is still plenty of new material to get your teeth into. And sinking your teeth in to this album is highly recommended!

SEVEN DEADLY have indeed used the time since the EP release well, growing and maturing their sound and Obliviation is the stupendous result of this. This feels like a natural morphing and honing of the style and sound that the guys had while in PANIC CELL. Thereís a tremendous blend of metalcore, melody and classic rock coming from this album that present them in a wonderfully melodic machine-gun metal style. Itís a style too that grows as the album goes on, almost like the guys are breaking you in gently before they hit the accelerator and start to really shift gears.

"Play The Game" starts with a pounding rhythm a great way to open the album, but itís very controlled and with a real industrial vibe. Itís like the guys are preparing you for what lies ahead, especially when the machine-gun riffs kick in towards the end of the track as it reaches a grand crescendo. "Life Begins To Fade" gives us a bit of contrast, introducing the more melodic side of the band, alongside that machine-gun attack that youíll find becomes very much a trademark of the album. Archie Wilson also shows tremendous contrast in his vocal styles on this one, backed up with superbly controlled guitar and drum work.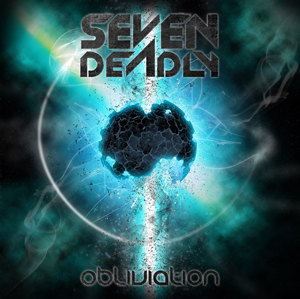 By the time you get to "Blood On Your Hands" you feel that the shackles have come off completely and the guys are well into their groove. It has a little bit of everything that gets your blood pumping and is a grand example of what SEVEN DEADLY are all about. Thereís power, thereís melody, thereís quiet, thereís heavy, itís all here on this one.
Title track <>B<>I"Obliviation" is going to be one hell of a crowd pleaser live. Itís like a head on collision between ROB ZOMBIE, TRIVIUM and SLIPKNOT with a thumping groove running its length and it soars when it hits the chorus.
While the machine-gun metal style is a running theme throughout the album, it never thankfully gets boring as the structure and nature of the songs maintain their individuality. Thereís the grind of "Remain At Peace" contrasted to the melody and gallop of the likes of "Pure Steel" and "Remember", sitting alongside the classic rock influenced feel of "The Wrath".
All this before the album is wrapped up with the complexities of "Time Ghost" giving us tasty morsels of everything that has come before it.
As far as debut albums go, Obliviation sees SEVEN DEADLY hitting the ground running at full speed as they introduce us to no-holds barred, melodic machine-gun metal.
Track Listing:
"Play The Game"
"Life Begins To Fade"
"From this Darkness"
"Posthumous"
"Blood On Your Hands"
"Obliviation"
"Remain at Peace"
"Pure Steel"
"Allegiance"
"Remember"
"The Wrath"
"Time Ghost"
4.0 Out Of 5.0

Please log in to view RANTS