TOXIC HOLOCAUST/EXHUMED Live In Scotland


By Rob McNees, Vinyl Aficionado
Saturday, March 1, 2014 @ 9:19 AM


| | | |
| --- | --- | --- |
| | | Contributors Rob And Amy McNees Run Into Old Friends While In The UK For Brofest |
Isn't technology amazing? I'm on vacation with my lovely Wife Amy and Metal Brother Rodney Dunsmore (ex-DEVASTATION TX.). He was posting on Facebook about our travels when on one of the threads he gets a shout from Phil Zeller (aka Philthy Phil) from US Thrash titans TOXIC HOLOCAUST. They're on tour in Europe and will be in the same town as us (Glasgow, Scotland). So after a few texts back and forth we're on the guest list and on our way to downtown Glasgow and the Ivory Blacks club.

Their touring mates over here are the same as the US, that being EXHUMED. Ivory Blacks is a cool but small venue. If you've ever been to a truly underground Metal show anywhere then the ambience is about the same really. Dark, goth & Metal looking folk, denim jackets with patches of their favorite Metal band, the smell of beer and sweat, and the sound of Metal blasting thru the PA.

I'd not heard much of EXHUMED but do know that they play a style of death metal very reminiscent of earlier CARCASS (before Heartwork) to these ears. The crowd was into it and they bludgeoned them with a very heavy set of death metal including an appearance by a chainsaw-wielding psycho surgeon who doubled as a beer blaster (beer drank thru a long funnel and tubing). Set over, the band headed to the merch table to greet fans but the night was far from over.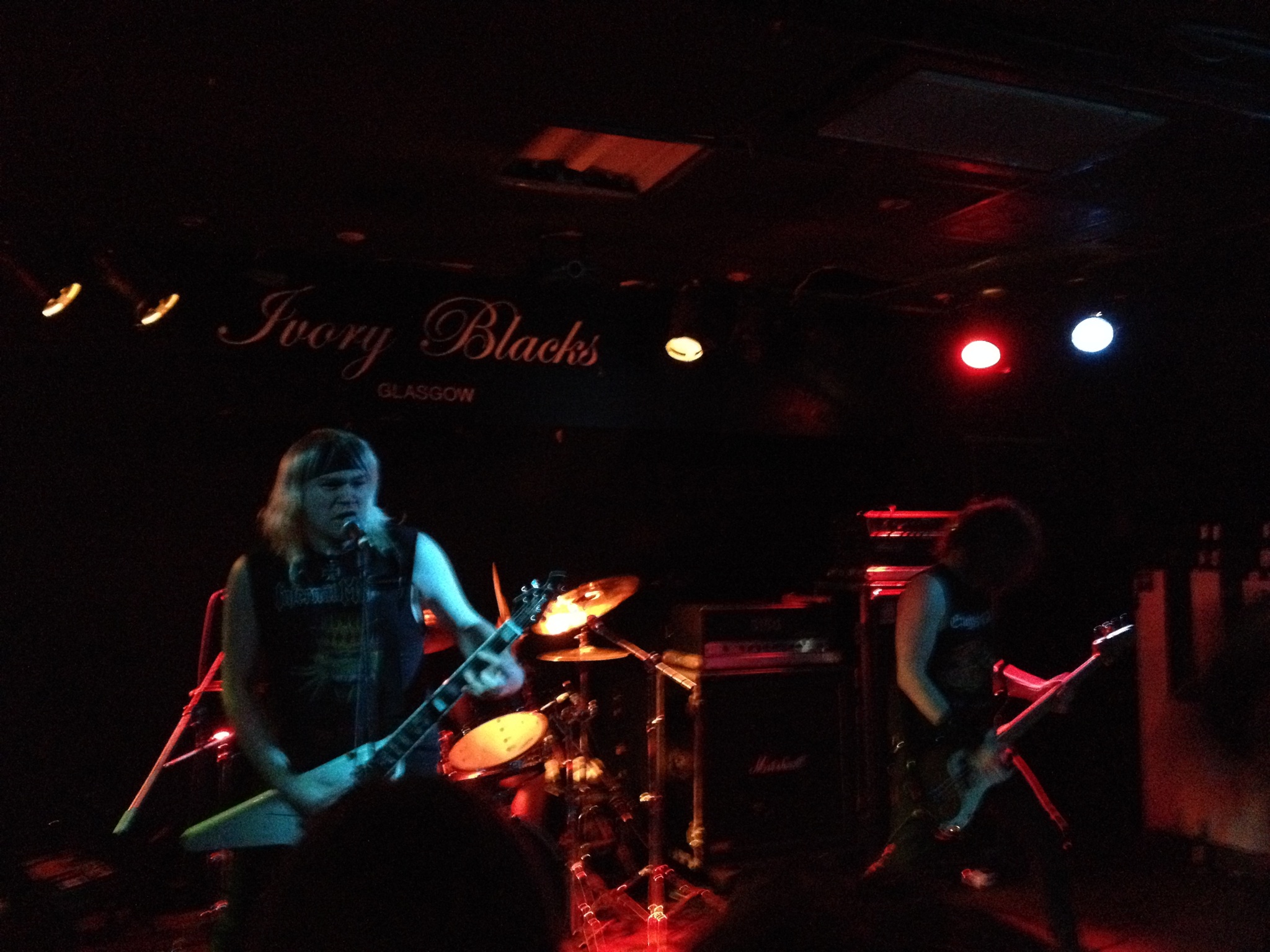 Touring on their latest Relapse Records Chemistry of Consciousness, TOXIC HOLOCAUST were ready to destroy. When Joel Grind (vocalist, guitarist and mastermind of TH) walked up to the mike and the band fired up, it was a non-stop Thrash assault. Starting off with "Metal Attack", the band were relentless and the enthusiastic crowd of about 200 started a mosh pit immediately. "Wild Dogs" was next and there was no letting up. There was a small wooden dance floor where the crowd was standing and it was already a slippery mess of beer and sweat from the crowd thrashing. "I Am Disease", "War is Hell" and "Reapers Grave" shot by in rapid succession barely giving the crowd time to catch their breath. The crowd were into it and TOXIC HOLOCAUST did not disappoint. "Death Brings Death", "In The Name Of Science", "Lord Of The Wasteland" kept the energy up with Joel using just enough on-stage banter to keep the crowd energized without losing momentum. "Gravelord" and "Nuke the Cross" ended the set proper allowing the band to grab a fresh beer while the crowd chanted "One More Song". TOXIC HOLOCAUST obliged as they came back for 2 songs: "666" and ending with the powerful "Bitch".
It was a brilliant night of Metal as Scotland got a taste of a couple of the USA's underground faves. If you've never heard either band and your taste in music is on the very heavy side I invite you to check them out. Cheers you lot from Scotland! Next stop: the NWOBHM and Metalfest Brofest 2 in Newcastle England!!

Please log in to view RANTS




RAT ROD Four On The Floor

GIRLSCHOOL WTFortyFive?

DANKO JONES Electric Sounds

AVATAR, ORBIT CULTURE, THE NATIVE HOWL In Houston, TX With Photos!

THE DEAD DAISIES In Hollywood, CA With Photos!

KILL DEVIL HILL Seas Of Oblivion

THE DEAD DAISIES In Ottawa, Canada

MAMMOTH WVH In Santa Ana, CA

UADA Crepuscule Natura

BARONESS Stone

KAMELOT, BATTLE BEAST, XANDRIA In Houston, TX With Photos!

CRYPTOPSY As Gomorrah Burns

RAY ALDER II

GHOST, AMON AMARTH In Houston, TX With Photos!

U.D.O. Touchdown

DETHKLOK Dethalbum IV

STEVE VAI In Ottawa, Canada

PANTERA, LAMB OF GOD In Houston, TX With Photos!

OVERKILL, EXHORDER, HEATHEN In Los Angeles With Photos!

PUPIL SLICER Blossom