STEEL PANTHER All You Can Eat


By Damian J. Cousins aka "The Maestro", Dallas Contributor
Tuesday, April 1, 2014 @ 5:51 PM


| | | |
| --- | --- | --- |
| | | |
STEEL PANTHER
All You Can Eat
Open E





When I first heard STEEL PANTHER I was pissed off and insulted. I hold my 80's hair metal very sacred as it was the soundtrack to some of the best years and experiences of my life. So when I incorrectly assumed these guys were shitting all over it, man I was heated. Then I took a step back from my knee-jerk reaction, realized that these guys were not only paying homage to a great time in rock and roll, the parody was good-natured albeit way more over the top than that glorious age of excess. Plus musically they're a great band. Michael Starr (vocals), Satchel (guitars), Lexxi Foxx (bass) and Stix Zadinia (drums) all have considerable chops and when you put on one of their CDs you are guaranteed to rock out with your cock out, there's no getting around it! And this is EXACTLY the case with new album All You Can Eat, out April 1 via Open E.

The guitar-driven anthem "Party Like Tomorrow Is The End Of The World" is easily the bestest tune on an album full of 'em. This song has been getting several spins a day for weeks. It seeps into your brain and stays there, I'm telling you. Speaking of cool guitar riffs, "Gloryhole" has a fantastic rhythm and hustle that is pure 80's heaven. Lyrically it's goddamn hysterical, too! I sing this one all the time it's fucking great. "Fill someone with goo at the Gloryhole"?? AHAHAHAAAA!! And then…OMIGOD and THEN comes a beautiful heartfelt love song by the name of "Bukkake Tears" that had me in stitches. Do not, I repeat DO NOT listen to this one while driving. You'll end up on someone's front lawn for sure in a sea of pink flamingos.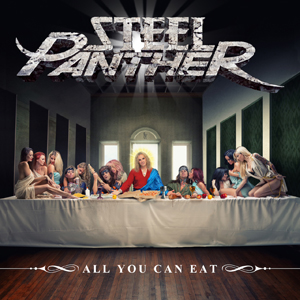 The kickass laugh fest continues with "Gangbang At The Old Folks Home" and I swear Starr sings it with such conviction I wouldn't be surprised if this song is based on true events. With a riff that slices like a katana blade and that patented ride cymbal, a staple of the good old days it's got the best of XYZ meets DOKKEN. And if you don't see the Hysteria-era DEF LEPPARD-isms in "The Burden Of Being Wonderful", you're nuts. I didn't know how I felt about it on first listen, now it's another favorite. That's the thing with these songs; they stay in your head hours, sometimes days after you hear 'em. I don't know how many times I have to say it, but THAT'S the mark of good songwriting, no matter the subject matter. Shit, I challenge you not to crank that shit up to eleven when you ear "Fucking My Heart In The Ass" for Pete's sake. It's got a solo that just fucking rips, too!
"You're Beautiful When You Don't Talk" is another quasi-ballad that happens to be true for SO many people today. It's pretty awesome that STEEL PANTHER could come up with something so telling and relevant in 2014 set to an older style of music. I'd love to send these lyrics to about 20 people off the top of my head. The boogie-infused guitar work of Satchel really fuels the engine on "Ten Strikes You're Out" and word-wise it's pretty damn bizarre when you listen closely. That's another thing with STEEL PANTHER. On all three albums there are a ton of moments where you're like, "Did I hear what I think I just heard?!?' And when you realize that YES you did, the laughter just comes in waves. All told, All You Can Eat is a fucking great album that nails it both musically and for its ability to make you laugh your balls off.
STANDOUT TRACKS: "Party Like Tomorrow Is The End Of The World", "Gloryhole", "The Burden Of Being Wonderful", "Bukkake Tears", "Fucking My Heart In The Ass", "You're Beautiful When You Don't Talk"
4.0 Out Of 5.0
Pick up your copy of All You Can Eat in the KNAC.COM More Store right HERE.
Check out Damian's website at www.ampsandgreenscreens.com!

Please log in to view RANTS