Brofest UK #2 - Day 1


By Rob McNees, Vinyl Aficionado
Sunday, April 6, 2014 @ 9:02 AM


| | | |
| --- | --- | --- |
| | | Day 1 Featured TOLEDO STEEL, VOLTURE, WARRIOR, BATTELAXE And FIST |
Heavy metal is a broad term that does not truly describe all the different genres under its umbrella. My personal favorite genre and the one that millions of people worldwide love and worship is the new wave of British heavy metal, or NWOBHM. While the term itself might not be easily recognized, some of the bands that were born under this umbrella certainly are. These legendary bands include IRON MAIDEN, DEF LEPPARD, SAXON, RAVEN and many others.

Brofest UK #2 is a relatively new festival that features the legendary bands of the NWOBHM along with some of the new up and coming bands that are keeping that legacy alive. The brain child of Stuart Bartlett and Stuart Landridge, who are just fans like us all, decided to put together a festival showcasing some of the bands of NWOBHM that might not have received their due respect back in the day. This festival, from February 28 to March 2 2014, was held at the Northumbria Students Union and Northumbria University in Newcastle, England. Stay tuned and keep reading for a brief synopsis of each band.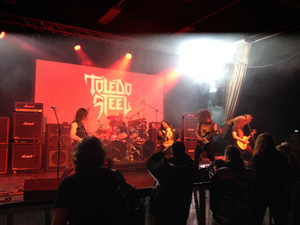 The first thing struck me upon reflection of the festival itself was how completely professional and well-run that it was. Every band was given a 40 minute set with a 20 minute layover to change out equipment, which meant that every single band started at the top of the hour without fail. Here was another brilliant idea: instead of each band having to come up with expensive logo backdrops, a large projector screen was used to display the unique logo of each and every band. Even within seconds of walking in the door, you could look at the screen and know exactly who was playing. Even though the merch booths were selling their usual concert shirts, High Roller Records also brought in a fantastic selection of vinyl and CDs of some of the best of NWOBHM on their label.
Friday night started off the festivities with only five bands, but the quality of bands made up for the small number that started off the fest. The first band, TOLEDO STEEL of Southampton, originally formed in 2011. They played a style of traditional metal that would have been well at home in the 80s. Included in their play set were "Children Of The Sun", "Speed Killer" and "Escape From Alcatraz". If you are a fan of 80s metal, then be sure to check these guys out.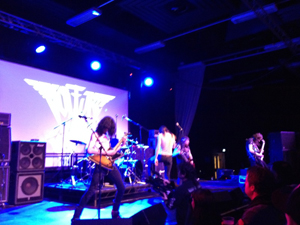 Next up was the only American entry in this fest, VOLTURE, originally from Richmond, Virginia. This show was the start of their European tour with CAULDRON, who was scheduled to play on Sunday. Playing an energetic style of US power metal, VOLTURE did not disappoint any of the punters in attendance. Playing songs "Deep Dweller" and "Heat Seeker" off their brand new album On The Edge that features new lead vocalist Jack Bauer, they also threw in a killer cover of "Set The Stage Alight" by NWOBHM band WEAPON. All in all a great set to be sure.
Next up was WARRIOR from Newcastle, England, not to be confused with the other two WARRIORS that also came out in the NWOBHM era. A great band, but I have to say that I was blown away by their set. Featuring songs from their two 7" singles and their For Europe Only EP, their annihilating set was one of the highlights of the fest for me. The band reunited specifically for this occasion, and in no way was there any rust in their killer performance. Starting off with their song "Kansas City", they also played "Suicide" and "Prisoner" off the For Europe Only EP. Also in the set was the crushing "Stab You In The Back" from the Dead When It Comes To Love 7" and "Dragon Slayer" from the Breakout 7" record. Their 40 minute set went by way too fast.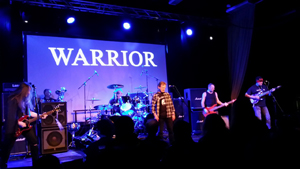 Next up was recently reformed BATTLEAXE. Having put out two killer albums in the early 80s, they were looking to continue that fine tradition in 2014. Their newest album is called Heavy Metal Sanctuary, and their set featured the title track, "Revolution" and "Hail To The King" off that album. "Killer Woman", off the Nightmare Zone EP released in 2005, was also included in the set. Off the second album Power From The Universe released in 1984, one of my favorite tracks "Chopper Attack" was featured, which really kicked my arse. From the legendary first album Burn This Town (1983), the title track and "Ready To Deliver" were featured. One small complaint was that they did not play my favorite song off this album, which was "Thor-Thunder Angel". Maybe next time. Talking to lead singer Dave King after the gig at the Head of Steam pub in Newcastle, I was informed that they recently signed a four record deal with Germany's SPV/Steamhammer Records. If you would like to hear some new tunes from these NWOBHM stalwarts, then search out their new CD.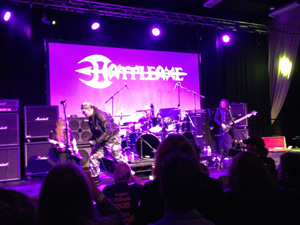 The final act of the night was completed by FIST, who originally started out as the band AXE, whose demise was at the end of 1978. Playing songs from their exceptional back-catalog, their set was chock full of hits for the old school NWOBHM aficionado. Their set spotlighted such killer cuts as "You'll Never Get Me Up In One Of Those" and "Name, Rank And Serial Number" off the legendary single of the latter mentioned track. Two other songs, "Turn The Hell On" from the same name album released in 1980 and "Brain Damage" from the Brute Force compilation, were also part of their spectacular set. Not to be forgotten was the Back With A Vengeance album from 1982 and the tracks "Dog Soldier" and "SS Giro". A splendid way to end the first night of Brofest and making the mayhem of the next two nights even more eagerly anticipated.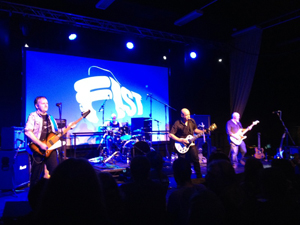 Please log in to view RANTS

If you don't have a username, click here to create an account!