SEBASTIAN BACH Give 'Em Hell


By Damian J. Cousins aka "The Maestro", Dallas Contributor
Wednesday, April 23, 2014 @ 4:18 PM


| | | |
| --- | --- | --- |
| | | |
SEBASTIAN BACH
Give 'Em Hell
Frontiers Records





As someone who was NOT a fan of 2011's Kicking & Screaming, I came into SEBASTIAN BACH'S new one, Give 'Em Hell, out now via Frontiers Records, with some concerns. And my dislike of Kicking was nothing personal. But compared to the sheer awesomeness of Angel Down it just couldn't even compete. Plus it was too screechy for my taste. But enough of that. Armed with Duff McKagan on bass, and a trio of guitar gunslingers in John 5, Devin Bronson and Steve Stevens, the incomparable Bobby Jarzombek on the drums, plus the production of legendary producer Bob Marlette, Bas has rebounded quite nicely to say the least.

The first time I heard "Temptation" my fears were somewhat assuaged due to it having a crisp, punchy sound and a great hook. OK, let's hope the rest of the record is as good. Well, immediately after this is a rather dark number called "Push Away" and arguably the best guitar-driven tune in "Dominator". This triumvirate of gems is where the album really finds its footing, and once it's dug in, there's no letting go. A slower song "Had Enough" could be the clear cut favorite here, because it not only has the best vocal performance on the disc, but also a solo that's to die for. It's legen…wait for it…DARY!!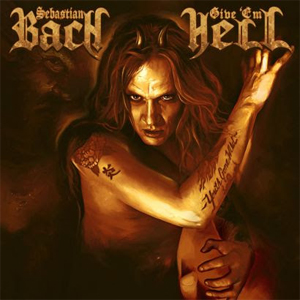 "Gun To A Knife Fight" is another smashing rocker with Bobby J's double kick drums anchoring the groove behind a healthy dose of riffs, and the cover of APRIL WINE's "Rock N Roll Is A Vicious Game" is outstanding, heavy on the harmonica, acoustic guitar, and some nice piano in the background. I love that band, so to see someone put a cool spin on one of their classics is beyond cool for me. "All My Friends Are Dead" (see video HERE) is interesting because when you think of how long Bach has been in the business and all of the pitfalls that come with it, it is actually kind of a telling statement. That said, the song fucking rocks, especially the tail end of it.
I wasn't sure what to make of "Hell Inside My Head" at first listen, but after another shot I really got into it. It's all balls and attitude, and the singing is right where it should be. Speedy in some places, and chugging along for the verses, this is one hell of an opener. And "Harmony" slots in perfectly as song number two with its jangly, almost punk-sounding guitars and sweet as honey chorus. This would have to be my second favorite track. There's more bludgeoning riffage on "Disengaged" and I can only hope this one is played live on tour.
"Taking Back Tomorrow" also has some serious guitar burn, and we really get to hear Duff at the forefront of this one. The only problem is lyrically it's not great. Mentioning Amanda Bynes is probably the LEAST metal thing you can do, Sebastian. Still, musically it's a solid rocker. And closer "Forget You" is odd. That's all I can say about it. At the end of the day though, it's his album and he can do what he wants, right? Overall, I highly enjoyed Give 'Em Hell, and armed with these twelve tunes SEBASTIAN BACH's live show should really be something. As I said, it's out now, so grab yours today.
STANDOUT TRACKS: "Harmony", "Had Enough", "Dominator", "Push Away, "Gun To A Knife Fight"
4.0 Out Of 5.0
Pick up your copy of Give 'Em Hell in the KNAC.COM More Store right HERE.
Check out Damian's website at www.ampsandgreenscreens.com!

Please log in to view RANTS