WAYNE STATIC Live In Dallas, Texas


By Damian J. Cousins aka "The Maestro", Dallas Contributor
Tuesday, April 29, 2014 @ 3:47 PM


| | | |
| --- | --- | --- |
| | | Performing Wisconsin Death Trip In Its Entirety At Trees |
Photos By Darkhorse Image

Wayne Static performing Wisconsin Death Trip in its entirety…ARE YOU FUCKING KIDDING ME?!? And at Trees Dallas?!?!!??!! Of course I'm there!!! This was the conversation I had with my good buddy Tom at FiXT Publicity when the tour dates were first announced. It is known far and wide what a huge STATIC-X fan I am, so getting to see/hear this killer record from front to back was a no-brainer for me. Even cooler was the fact that Tom arranged for me to interview Wayne a few days prior to the show. Seriously, how awesome is this dude, right? Well, as luck would have it my P.I.C. Darkhouse Image was also free to shoot on this night, so I knew it was gonna be an awesome time.
Wasting no time, Wayne and his band came out swingin' with "Push It". "I'm With Stupid" was the first of several songs that featured Wayne's wife Tera Wray dancing on the stage, and it had everyone jumpin' and going nutso right from the start. After a few words "Bled For Days" started before the familiar strains of "Love Dump" engulfed Trees. "I-I can't believe I'm letting you do this to me" rang out and the crowd went crazy, me included!! One dude looked back at me as I was screaming along and gave me a hearty thumbs up. Gotta love Trees, man; you'll always find like-minded people there and make friends. Anyway, Ashes (guitar), Bevan Davies (drums) and Andy Cole (bass, backing vocals) were tight as a drum not only on this one, but all night long. Wayne told me in an earlier interview how awesome his band was, and this night only proved it.
"I Am" is one of the fastest, and also one of the best songs in the Wayne Static catalog. I haven't heard it live since 2000 at the Electric Factory in Philly, so this was one helluva treat!! And to follow that up with "Otsegolation" almost made my head explode!! Look, I know the sequence of the album, but fer Chrissakes, we're hearing the whole thing from start to finish! Sorry if I seem a little crazy for it! Things slowed down for "Stem" but that was only so we could catch our breath for a minute. The song is heavy and pounding and you WILL rock to it, much like the fast-faced "Sweat Of The Bud". It was really cool to see all the different tour shirts in the club from gigs past, with all the longtime Wayne fans showing their support.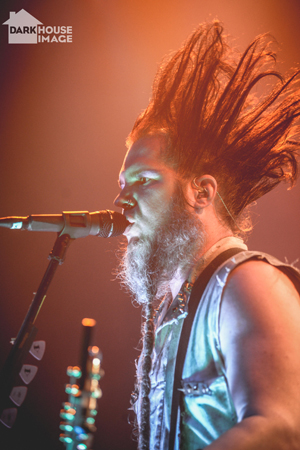 "Fix" and "Wisconsin Death Trip" just kept the Evil Disco train rolling along before "The Trance Is The Motion" gave things an evil turn musically. There was only one song left, and Wayne knew it. So he chose to talk to us about it, and the whole Wisconsin Death Trip record before launching into the second half of "December". Now, the record was done, and Wayne Static could do whatever the fuck he wanted at this point. "This Is Not", from sophomore album Machine ripped through Trees like shit through a goose, and then "The Only" and "Cold" gave us all some time to gather ourselves and get another beer before the triple-whammy of "Black And White", "Destroy All" and "Cannibal" ripped the place a new one!
When it was all over I was spent. Wayne Static and Co. came into Dallas once again, and tore shit up once again. This is what they do, and if you haven't seen, or don't have tickets to go see them on this tour, then quite frankly you're a fucking idiot. Case closed. I don't care what you have to do, go get a fucking ticket, and rock out!!
Check out Damian's website at www.ampsandgreenscreens.com!

Please log in to view RANTS