METAL INQUISITOR
Ultima Ratio Regis
Massacre Records





Who the hell is METAL INQUISITOR? That's what I said when asked if I wanted to review the album. I am always open-minded when it comes to checking out new metal bands, so I figured what the hell. This is one of those bands that pleasantly surprised me. So they are from Germany, and I instantly figured they would sound like the typical German power metal band. Boy was I mistaken. This is classic traditional metal at its finest. METAL INQUISITOR has a sound in the vein of MERCYFUL FATE, IRON MAIDEN and ACCEPT. These guys have their own traditional metal sound that made my ears perk up from the opening intro of "Confession Saves Blood" and I haven't turned back since.

I will have to say that it took a couple runs through the album to get used to El Rojo's style of singing. He may not have the best range, but he has a unique quality to his voice that makes him stand out and be an awesome metal singer that really blends with the style of music, and that is a great asset to me. Think along the lines of early AGENT STEEL (John Cyriis) or even RUSH (Geddy Lee).

The guitar work was surprisingly clean and tight. Very MERCYFUL FATE-like with the short solos spread out in most of the songs and has the classic metal sound with a little NWOBHM mixed in. The tandem guitar work between Blumi and T.P. is just a great combo, and Blumi's leads are filled with the old school screaming metal sounds.

"Confession Saves Blood" is a great opening track to the album. Great galloping rhythm changes with solid solos. As one of the catchiest songs on the album, I find myself coming back to this song over and over. I have this song in my head most of the time lately, or at least the chorus: "Confession Saves Blood"!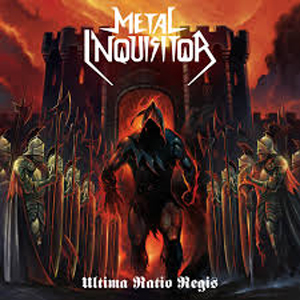 "Call The Banners" is another good song on this album. This has an earlier MEGADETH feel to it. "Hangar 18" days come to mind, and I kept thinking Dave Mustaine was gonna start singing. The dual guitar work is a great lead in to the short solo that follows. Good fist in the air metal that stays true to the traditional metal sound.
"Bounded Surface" is one of my favorites on the album; just a great fucking straight forward heavy metal song. It's not very long clocking in at 2:36, but a great song nonetheless. Great crunching guitar riffs followed by short to the point solo. Great song to wake your ass up to in the morning. Gets the blood pumping.
Other notable songs on this ablum are "Death On Demand", which really gives the feel of early AGENT STEEL. The voice inflection from El Rojo goes well with the galloping rhythm. "Servant Of State" is one of my favorites on the album. Mellower than the rest of the album, but shows how talented these guys are and has almost a QUEENSRYCHE feel to it. Early QUEENSRYCHE that is. When Geoff Tate could sing and wasn't a complete… But, I digress.
These guys have been around since 1998 and have put out 3 previous albums, but really started to gained notoriety in 2010 with their third album Unconditional Absolution which led to making the rounds at several German music festivals during 2011. The release of Ultima Ratio Regis aims to put them on the metal map for good.
These guys are very tight musically and have a great chemistry to them. I am very surprised they have gone under the radar for so long. At least mine anyways. Anyone that loves traditional heavy metal should get this album. METAL INQUISITOR needs to be brought out of the metal underground and into the mainstream here in America. They would do very well touring here in the states as a supporting act (until they make it big anyway).
All hail the mighty METAL INQUISITOR!
El Rojo – Vocals
Blumi – Guitars
T.P. – Guitars
Cliff Bubenheim – Bass
Havoc – Drums
Track Listing:
"Confession Saves Blood"
"Burn Them All"
"Call The Banners"
"Black Desert Demon"
"Bounded Surface"
"Death On Demand"
"Self-Denial"
"Servant Of State"
"The Pale Messengers"
"Second Peace Of Thorn"
4.0 Out Of 5.0

Ultima Ratio Regis is out now and you can grab your copy in the KNAC.COM More Store right HERE.

Check out the track "Confession Saves Blood":