RUBICON CROSS Rubicon Cross


By Damian J. Cousins aka "The Maestro", Dallas Contributor
Thursday, May 22, 2014 @ 9:35 AM


| | | |
| --- | --- | --- |
| | | |
RUBICON CROSS
Rubicon Cross
INgrooves Records





RUBICON CROSS is the new band from FIREHOUSE frontman CJ Snare (YES, FIREHOUSE are still together, relax!!) and amazing guitarist/best friend Chris Green. The two of them have been through so much together in life that it only made sense for them to finally get together in music. The result? One hellacious ass-kicker of a record! Rounding out the group are Simon Farmery on bass, drummer Robert Behnke and Jeff Lerman handling second guitar. They are tight, like a well-oiled machine and you'd swear they've been together for a decade or so when you hear them. Their self-titled debut is out now via INgrooves Records and it's a banger for sure.

Opener "Locked And Loaded" is one of those songs that can't be anything BUT an opener. It's chock full of adrenaline and begs to be played live right as the curtain goes up. "Next Worst Enemy" was an instant favorite about an ex, or ex-nightmare as the band says. Lyrically it is spot-on when talking about being screwed over in a relationship and the riff is big, bad, and angry. One listen and I'm sure you'll agree with me. In an earlier interview Snare told me how important "Bleed with Me" is to the band because it represents a camaraderie and the extraordinary bond that can be formed between people in adverse conditions. Hell, the slogan is used by the US Marine Corps so what does that tell you? In this case it not only represents the military implications but the bond between a band and the fans.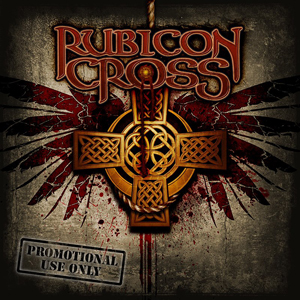 Another one that hit home for me was "Save Me Within", a song Green wrote just after his father's passing. As someone who has had to bury both his mother AND father this truly resonated with me and I'm not afraid to admit how emotional I got while listening. And the solo soars as if on the wings of angels. From here we get the cuts-like-a-knife dual lead attack of "You Will Remember Me", another tune that speaks to an ex-lover and the searing guitars are matched by the venom in Snare's vocals.
There's something about "Moving On" that is so different from the rest of the album and yet it fits in perfectly among the hills and valleys in the sequence of songs. It clocks in at 5:14 but could easily be stretched to a seven or eight-minute jam live. "R U Angry" is an interesting track about dealing with passive aggressive people in life, and ballad "Shine" is a beautiful composition of hope and inspiration aimed at the band members' children, encouraging them, and everyone who listens to follow their dreams and never give up. I'll say it again…in 2014 the world NEEDS more of this message.
The hard-rockin' gas tank is full for rocker "Kill Or Be Killed" featuring some thick and rich guitar work. Closer "All The Little Things" is really the only thing remotely FIREHOUSE-sounding on this whole record, and damn if this fucker hasn't been stuck in my head since last Thursday when I finished my first go-round. Completely different style-wise from the other songs, nonetheless it's a great way to cap things off. Overall the guys in RUBICON CROSS have put out an album that they can not only be proud of, but will surely stand the test of time. And ultimately that is the mark of greatness, no?
STANDOUT TRACKS: "All The Little Things', "Next Worst Enemy", "Save Me Within", "Shine", "Bleed With Me"
4.5 Out Of 5.0
Pick up YOUR copy of Rubicon Cross in the KNAC.COM More Store right HERE.
Check out Damain's website at www.ampsandgreenscreens.com!

Please log in to view RANTS