SKID ROW Live In Houston, Texas


By Larry Petro, News Monkey
Thursday, May 29, 2014 @ 9:02 AM


| | | |
| --- | --- | --- |
| | | An Evening with SKID ROW At Scout Bar On Tuesday, May 20, 2014 |
Concert Review & Photographs By: Cynthia Fields-Jalil, Jalil Photos
http://.facebook.com/jalilphotos1

The legendary 80's band SKID ROW made a stop this week to one of my favorite concert venues, Scout Bar, on a Tuesday night, May 20th, 2014! It was the first Texas stop for the guys on their United World Rebellion Tour, and it also happens to be frontman & lead vocalist Johnny Solinger's hometown state where he proudly resides and hangs his trademark black cowboy hat & stores all of his head bandanas at! Considering the fact that it was a Tuesday work night and school night for the majority, the crowd was there to support & to be treated to an evening of what Solinger later defined as "American Rock & Roll consisting of 2 guitars, a bass, drums and vocals". The audience was made up of mostly of adults sprinkled with a handful of students that stood several rows deep.

Finally after all three local opening acts—SIX GUN SOUND, TAME FURY and SKREWPIPE—wrapped up their sets, and with the die-hard fans chanting & cheering for "SKID ROW", at approximately 10:30 pm., the house lights dimmed and faded to black as the show sirens rang out loudly the crowd went wild as the band members filed out on stage and opened with "Let's Go". The guys seamlessly jumped into their 2nd song, "Big Guns", as the crowd roared and sang along with as much energy & excitement as Solinger! After the song ended, Solinger excitedly made his first address in his thick Texan accent to the SKID RO3W die-hards and it started out like this: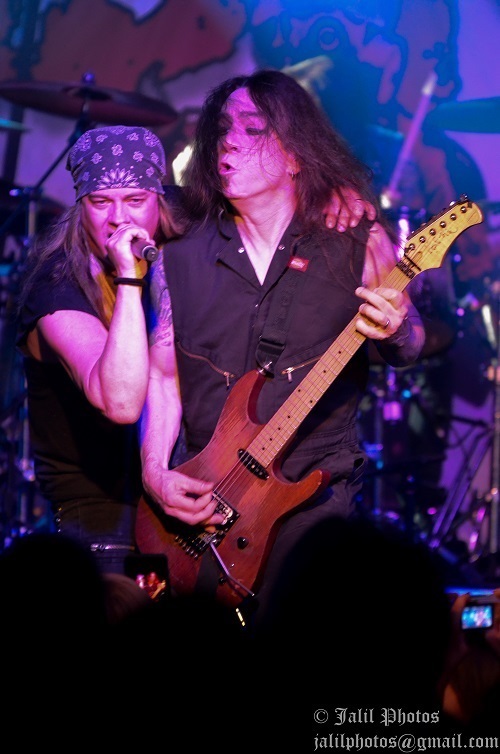 "Welcome Houston! It's good to be home! I'll tell ya what, when you schedule a Tuesday night show, ya never know what's going to happen! F--- it!, We are Rocking & Rolling tonight! We are gonna play all of the old school along with a few new SKID ROW songs tonight! This is not really a concert; it is a party amongst friends! Are ya with me?"
The crowd roared and applauded with excitement and anticipation for whatever was coming next!
"So we are all going to be F---ing loud tonight sorry! Houston, let's make a f---ing mess!" The guys then tore into their 3rd song of the evening, "Making A Mess", with an explosive eagerness.
As the guys rolled through their set with a power packed intensity & cohesive ferocity that seemed to simultaneously drop the jaws of the audience of SR fans, musicians and/or aspiring musicians alike, there was no doubting Solinger's previous evening quote; "SKID ROW definitely has something to say and we are very loud & clear about it!" When the band started playing their 5th SR classic & fan favorite, "18 & Life", Solinger invitingly shouted out "All of my Texan friends, let me see ya, let me see all of you [the excited crowd roared thunderously], do this with me…Ricky was a young boy…. [the crowd roared even louder, singing & swinging back & forth], and then midway through the song, he shouted out "Come on Houston!" Solinger's point about the show being a party amongst friends was then solidified in that moment.
As the evening progressed, he twice burst into the Texas anthem "Deep In The Heart Of Texas" as he spoke about the fondness he carries for the Lone Star state. Two very special moments that I respectfully want to share and mention are; 1st, is when he introduced bassist and founding original member Rachael Bolan with a friendly greeting. Bolan then shared with the crowd his evening's observations. "There are two things that I am noticing about tonight, the 1st being is there are people wearing several different band shirts out there, IGGY POP & THE STOOGES, RATT, JACKYL, IRON MAIDEN, METALLICA and the 2nd is the Rock & Roll Attitude of, f--- the world outside." He shouted out at the crowd, smiled and waited for an uproar before starting the 9th song of the evening, "Psycho Therapy".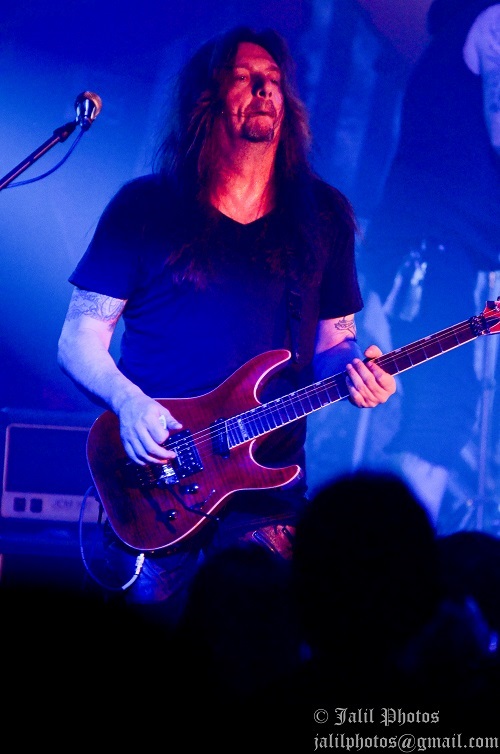 The 2nd evening highlight was when JS said, "I want you to say hello to a good friend of mine Snake…Sabo!" Guitarist and co-founding member Dave "Snake" Sabo takes the mic and says; "Thank you all for coming out on this Tuesday work night!' He then jumps into the track "Monkey Business". JS went on to elaborate about what was about to happen, "I want you all to realize what you are about to witness and experience are the talents of 2 world class guitar players," yelling out his introductions for, "Scotti F----ing Hill & Dave "Snake" Sabo!!!"Keep in mind that SKID ROW is not only fronted by a great and genuinely fun vocalist with a Texas-sized attitude, stage presence and personality, it also has two super talented & amazing solid guitar players. Both have their own fierce signature jaw-dropping riffs that are delivered with master-like precision and technique that come accompanied with entertaining facial expressions by the fun loving Scotti Hill. Rachel Bolan, who is a phenomenal bassist who plays with great passionate skill, and a talented drummer, Rob Hammersmith, who quite frankly is a kick ass drummer whose intense energy driven, power packed, and solid performance helps complete and round out this band of brothers from a few other mothers! Their on/off stage chemistry radiates from each and every one of them as well as the impressive respect & admiration they clearly have for each other and their craft!
As jaws dropped in awe of what was truly a dueling guitar battle of greatness and energy packed fierce riffs being delivered by guitarists Dave Sabo & Scotti Hill and with the crowd cheering both on, it was easy to tell this wasn't your average performance, it truly was a SKID ROW experience that every rock & roll fan should witness on their own! As the guys rolled through their set, Solinger spoke about his love for Texas, his 99 year old grandfather, how blessed he felt to be here on a Tuesday night, and asked the audience for a big Texas-sized Yee Haw! Nearing the end of the show during the encore, he made his final address to the audience: "All right all of my Texan friends, thank you so very much, we really appreciate you and we will see ya again soon! Remember, no matter how old you get, we are "The Youth Gone Wild"!!! The crowd went wild and began to sing along to what was the end of the show and the SKID ROW Experience!
Last night's set was one of the best that I have seen or heard in a long while with a sound that excited the crowd and showcased each of the band member's talents. An honorable mention for the night goes out to soundboard engineer & SKID ROW tour manager Tony Lentini – A man clearly blessed with many talents! I would also like to give a shout out to guitar technician Brett Priozzi for making sure that the guys' guitars where in top tone performance shape and also give him a "Big Texas-size Thank You!" for the prized Scotti Hill, Rachel Bolan & Snake U.W.R. guitar picks – what a great guy he was!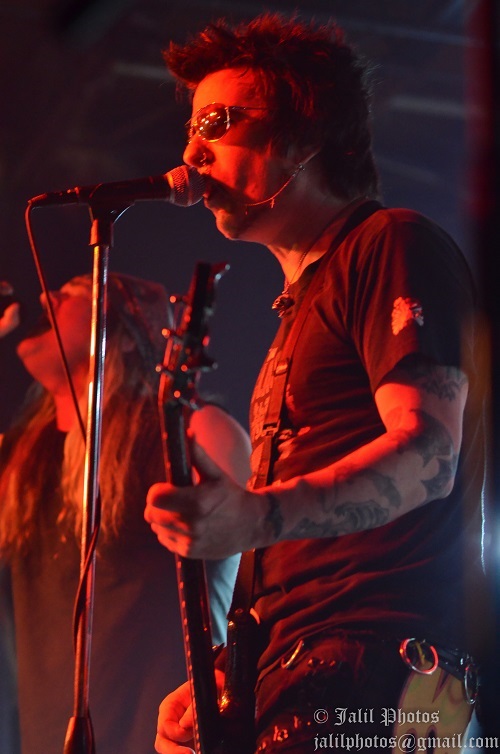 Whenever SKID ROW brings their current United World Rebellion Tour to your town or a town near you, do yourselves a favor and try not to miss what is and will be an experience and performance fueled by; Classic old school rock & roll, a few new tunes delivered with a no holds barred spontaneity and adrenaline that will have your ears literally ringing the morning after!
Set List:
"Let's Go"
"Big Guns"
"Making A Mess"
"Piece Of Me"
"18 & Life"
"Thick Is The Skin"
"In A Darkened Room"
"Kings Of Demolition"
"Psycho Therapy"
"I Remember You"
"Riot Act"
"Monkey Business"
Encore:
"Surrender" (CHEAP TRICK Cover)
"Slave to the Grind"
"Youth Gone Wild"
Links:
http://skidrow.com
http://twitter.com/OfficialSkidRow
http://facebook.com/OfficialSkidRow

Please log in to view RANTS