Motorhead To Release 25th Anniversary DVD


By Sefany Jones, Contributing Editor
Monday, August 5, 2002 @ 11:37 AM


| | | |
| --- | --- | --- |
| | | Lemmy & Co. To Release 25 & |
For Immediate Release: Motorhead To Release 25th Anniversary DVD on September 3rd!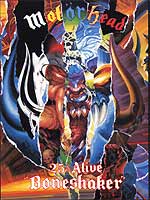 Britain's legendary Motorhead celebrated their 25th Anniversary last year with a special tour and numerous television appearances (including The Drew Carey Show, WWF Smackdown! and the Wrestlemania X-7 Pay Per View event). On September 3rd, Motorhead fans will be able to enjoy the anniversary festivities in their own homes with the release of the 25 & Alive 'Boneshaker': Live At Brixton Academy DVD through SPV Entertainment. Motorhead has been influencing the gamut of hard music for the past 25 years (ranging from punk and hardcore to every extreme of metal), and this anniversary DVD not only contains a 23-track, veritable 'best of' live set list and guest performances from Brian May (Queen), Fast Eddie Clark (ex-Motorhead), Whitfield Crane (Medicine, Life Of Agony, Ugly Kid Joe) and Doro Pesch (Doro, Warlock), but it is loaded with visual extras, making this an absolute necessity for fans of hard music! **The performance was recorded with 8 cameras and mastered in Dolby 5.1 Surround.
**DVD is presented in both Widescreen and Full Frame format
**Multi-Angle Footage during "I'm So Bad (Baby I Don't Care)"
**Archive feature containing rare photos, TV appearances and interview clips
**Visual history of Motorhead via video/photo montage
**Fan section featuring photo gallery of T-shirts, flyers, obscure single covers, etc.
**20-minute legacy EPK featuring interviews with Motorhead and numerous guest stars
**2 Music Videos: "God Save The Queen" & "Sacrifice"
**Acoustic bonus track of "Ain't No Nice Guy" featuring Lemmy & Phil
**Bonus Feature: 4-song live performance from 2001's Wacken Open-Air Festival in Germany
**Hidden extras accessible through www.spv.de!

The set list for 25 & Alive consists of the following: We Are Motörhead
Born To Raise Hell
Broken
No Class
The Chase Is Better Than The Catch
Damage Case
I'm So Bad (Baby I Don't Care)
Stay Out Of Jail
Iron Fist
Over Your Shoulder
Dead Men Tell No Tales
Killed By Death
Civil War
You Better Run
Bomber
Metropolis
Sacrifice
Ace Of Spades
Overnight Sensation
Orgasmatron
Overkill
God Save The Queen
Going To Brazil 25 & Alive is a 2 ˝ hour plus compendium into the influential yet enigmatic world that is Motorhead. Suggested Retail Price is $21.98. www.imotorhead.com
www.spvusa.com




Please log in to view RANTS

If you don't have a username, click here to create an account!






Represent! Get Your KNAC.COM Bumper Sticker

Happenings This Week on KNAC.COM

SERENITY Premiere Music Video For "United"

TYGERS OF PAN TANG Announce UK Tour Dates

MONSTERS OF ROCK CRUISE 2018 Final Public Sale Going On Now

SILVER SNAKES Debut Cover Of MINISTRY's "Burning Inside"

EDDIE VAN HALEN Launches New Online Store

IRON SAVIOR Set To Release Reforged - Riding On Fire In December

BEAST IN BLACK Stream "Beast In Black" Lyric Video

Say Hello Again To RUSH's A Farewell To Kings

GWAR Unleashes "I'll Be Your Monster" Video

'ROCKIN' THE CITY OF ANGELS Book Available Now

SATYRICON Debut "To Your Brethren In The Dark" Video

KNAC.COM Exclusive: DIAMOND BLACK Release "Sorrow" Video

WHITE WIZZARD Reveal Infernal Overdrive Album Details

From The SEX PISTOLS' Ashes Come THE PROFESSIONALS

JACKAL Release New Album God Of War

CANNIBAL CORPSE Premieres Title Track Of New Album

THE WINERY DOGS Set To Release Limited Edition Vinyl Of Dog Years: Live In Santiago & Beyond 2013-1026

DEUCE To Drop Sophomore Album Invincible

TRAUMA Announce Upcoming West Coast Performance Dates

EVERGREY Re-Issue Two Early Classic Albums, The Dark Discovery And Solitude, Dominance, Tragedy

MALLEN Release "The Otherside" Video

SILVER SNAKES To Release New Covers EP "Scathe"

DAVID GLEN EISLEY, CRAIG GOLDY Announce Debut Album Blood, Guts, And Games As EISLEY/GOLDY

STEEL PANTHER To Release Limited Edition Picture Disc Version Of Lower The Bar For Black Friday Record Store Day Exclusive

ARCH ENEMY Debut New Video For Single "The Race"

ANTHRAX, KILLSWITCH ENGAGE To Mount Epic Sequel With "Killthrax II" Tour

DIABLO SWING ORCHESTRA Announces Pacifisticuffs Album

A PERFECT CIRCLE Release New Song "The Doomed"

DOLL SKIN Release "Daughter" Video

WEAPONS OF ANEW Launch New Video Series: Creating The Collision Of Love And Hate

NUCLEAR BLAST Unveils Limited Edition SUBROSA Blast Beast Bikes

GWAR Premiere New Single "I'll Be Your Monster"

KISS Alive Forever: The Complete Touring History – 2018 PledgeMusic Edition Now Available For Pre-Order

DEAD HORSE TRAUMA, EKTOMORF Team Up For The "Death Before Dishonor Tour"

CKY Debut "Head For A Breakdown" Video

BLACK WATER RISING Get Electrified With New Album

HELLOWEEN Offer New Song, "Pumpkins United", As Free Download

STAGMA Unveil "Pokerface" Single, Lyric Video

TRIVIUM Stream New Song "Betrayer"

GRANNY 4 BARREL Releases "Freak Flag" Single, Video

Inaugural DEFENDERS OF THE NORTH Festival Announced For Monterrey, Nuevo Leon, Mexico

ANVIL Will Be Pounding The Pavement With New Album

TENGGER CAVALRY Sign With NAPALM RECORDS, Unveil New Track

POWERMAN 5000 Releases "Cult Leader" Music Video

HELLA HORROR NIGHT Announced For Los Angeles

OMNIUM GATHERUM Stream New Single, "Blade Reflections"

WEDNESDAY 13 Unleashes "Cadaverous" Video

THROUGH FIRE Announces The 2017 "Breakout Tour"

HOLLYWOOD UNDEAD Debut "We Own The Night" Video

BIG DUMB FACE, Featuring LIMP BIZKIT Guitarist WES BORLAND, Returns With New Album, New Song

GRAVEN IMAGE Reissue Classic EP People In Hell Want Ice Water

A NIGHT IN TEXAS Announce The Release Of Their New Album Global Slaughter

THE SISTERS OF MERCY Guitarist BEN CHRISTO Reveals New Project DIAMOND BLACK

MONTE PITTMAN Launches "New Blood Keeps Us Alive" Video

RAM Releases "On Wings Of No Return" Video

PRETTY BOY FLOYD Return To Become Public Enemies

CRUISE TO THE EDGE 2018 Final Public Sale Begins

THE ATOMIC BITCHWAX Set To Release New Album Force Field

RED FANG Share "Not For You" Animated Video

ROCKTOPIA Announces Six Week Broadway Run

TONY HARNELL Announces Departure From TNT (Again)

DRAGONHAMMER Are "Fighting The Beast" With New Song

Chicago Prog Metallers DISSONA Cover Blade Runner's "One More Kiss, Dear"

THE FRIGHT Unleash New "Oblivion" Single, Video

Original FLESHGOD APOCALYPSE Vocalist FRANCESCO PAOLI Returns To Band

TARJA Premieres "O Come, O Come, Emmanuel" Video

SNAKEYES Reveal Artwork, Tracklist, Trailer For New Album Metal Monster