MESHUGGAH Live In Maryland


By Peter Atkinson, Contributor
Friday, June 20, 2014 @ 8:38 AM


| | | |
| --- | --- | --- |
| | | At The Fillmore In Silver Spring, June 17, 2014 |
On their 25 Years of Musical Deviance tour, Swedish math-metal maestros MESHUGGAH are making sure it's the music that gets most of the attention – and not the musicians. The band spent nearly the entirety of their 100-plus minute set at The Fillmore lit only from the back, which left them looking like a quintet of dark shapes stalking the stage who could have been anybody – especially given the lightning storm of strobes and stage floor search lights that pulsed and flashed throughout and left everyone seeing spots.

But I doubt even the craftiest mimes could replicate the machinations of MESHUGGAH's stutter-step tempos and bob-and-weave arrangements – let alone do it in sync with the surgical precision the band have honed to perfection over a quarter century. And though MESHUGGAH have employed electronic percussion in the studio, there was no mistaking Tomas Haake's thundering drums as he steered the heaving, turbulent rhythms from the shadows at the back. His kick drums worked the ribs like a boxer at a speed bag.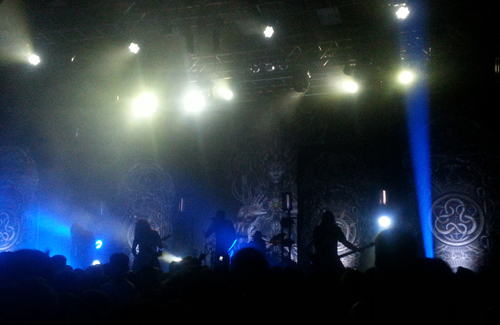 True to the tour's moniker, the set list encompassed material from each of the band's seven albums, along with "Gods Of Rapture" from the 1994 None EP – though their latest effort, 2012's Koloss, got the most representation with four tracks. That meant some perennial favorites like "Combustion" and "Rational Gaze" were omitted to make room for the likes of "Cadaverous Mastication" and "Greed" from MESHUGGAH's 1991 debut Contradictions Collapse. But if anything that only seemed to add to the band's energy and vigor, as the less familiar material was also some of the set's most powerful. "Greed", with the seizure-inducing strobes accompanying it's herky-jerky tempos, was stunning.
Indeed, the entire 16-song – if you include the taped "Mind's Mirror" that led into the epic, spectacularly groovy "In Death - Is Life"/"In Death – Is Death" finale – performance was nothing short of awesome, and at times awe-inspiring. The band work with dynamics and time signatures like mad scientists – I'm convinced their music is the basis for some sort of otherworldly secret code – yet they deliver it with zeal and undeniable aggression and purpose, even when they can barely be seen.
And with the bottom-heavy thrum and haymaker hooks Fredrik Thordendal and Mårten Hagström deliver with their seven- and eight-string guitars, I'm sure I'm not the only one who left The Fillmore feeling a bit wobbly and post-concussive.
The back-lighting meant frontman Jens Kidman's signature facial contortions and odd, World Wrestling Federation-style stage antics were often mostly invisible. But his commanding vocals cut through the din with authority – even though he sounded rather hoarse on the rare occasions he spoke - and his drill sergeant cadence was spot-on.
After 25 years, MESHUGGAH are as fearsome, formidable and finely tuned a metal machine as there is, and only seem to be getting better, badder and bigger with age. Let's hope they can keep it rolling.
The band picked the perfect opening act in North Carolina prog-metal nerds BETWEEN THE BURIED AND ME, whose all-over-the-place, outlandishly complex histrionics made for an enjoyable, if a bit overblown, start to the evening. The quintet are nothing if not audacious, as evidenced by their 14-plus minute opener "White Walls", which was followed by much more of the same. Their hour-long set consisted of five songs, the shortest of which was the just under 10-minute "Lay Your Ghosts To Rest".
But the band's prog/death/thrash/hardcore metal melange proved to be much more than an exercise in wankery, even though these guys, especially drummer Blake Richardson and lead guitarist Paul Waggoner, are ace musicians to be sure. The grand scale and theatrical, story-like construction of material made each song more of a journey than a mere performance. And the smattering of country twang and reggae asides, and frontman Thomas Giles Rogers' SUPERTRAMP-like piano and vocal bookends on the preposterously titled "Fossil Genera – A Feed From Cloud Mountain", were clever twists that made an already captivating set all the more interesting.
Photos by Peter Atkinson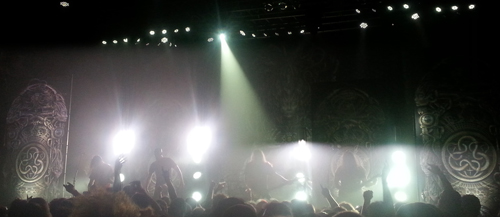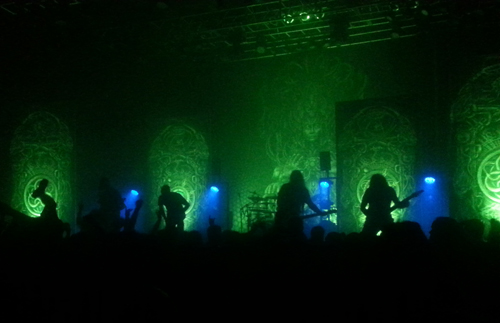 Please log in to view RANTS

If you don't have a username, click here to create an account!