JUDAS PRIEST
Redeemer Of Souls
Epic Records





2014 marks the 40th anniversary of JUDAS PRIEST and what better way to celebrate than to release a follow up to the successful Nostradamus and their 17th release overall, Redeemer Of Souls. Fans have been eagerly awaiting this next installment of what could only be truly astounding for the past six years. Now with the release of Redeemer Of Souls, Rob Halford and JUDAS PRIEST have not brought us anything astounding, but rather something more along the lines of…oh let's say…EPIC! This is JUDAS PRIEST as we have not heard in long time. Clocking in at a whopping 13 songs plus five bonus (with the deluxe version), it is sure enough to please the most finicky PRIEST fan or metalhead. Throughout this whole release you will find traces of all the classic PRIEST music, with some hints of FIGHT here and there. Going back to the roots, Redeemer Of Souls covers topics mainly about death, fantasy and living life to its fullest. Of course, it wouldn't be a JUDAS PRIEST album without one slow melodic song about death, now would it?

Bringing the whole sound together is Glenn Tipton and Richie Faulkner just shredding it up on every song. Redeemer Of Souls marks the first album for Richie to record on, but he has shown he is quite capable of taking on the role of lead guitarist right alongside Glenn. He has a unique style all his own, but also blends with the rest of the band well to give that powerful JUDAS PRIEST sound that is like none other. With soaring solos and rippin riffs, Glenn and Richie couldn't be a better combination. Ian Hill is still hitting the thumping bass lines like there's no tomorrow and there are quite a few bass heavy songs that allows him to just shine. Scott Travis joins in with constantly changing arrangements and kind of takes on a slightly more progressive sound with more complex rhythms and double bass.

Headbangers rejoice on the opening track, "Dragonaut". This is by far one of the best songs on the album and has the classic JUDAS PRIEST sound and unleashes the full fury of what PRIEST fans have been waiting for and lays the foundation for what's to come in the remaining 12 songs. Richie and Glenn both shred it up, Scott lays down a relentless pounding drum beat, teamed up with Ian's thick bass.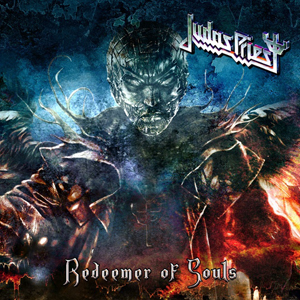 Title track "Redeemer Of Souls" at first listen takes on just an ordinary PRIEST sound and doesn't feel like much effort was put into it. However, upon subsequent listens the song takes on a whole new feeling of power and majesty. There are some eerie backing vocals that strangely resemble that of KING DIAMOND (although I'm pretty sure it's Rob). They will be touring nearby on very close dates in a couple cities in Texas, so might we see the King come on stage with Rob for a power duet? Hmmm. It would definitely be worth the money to see that show.
Titan songs like "Halls Of Vahalla" and "Sword Of Damocles" bring some classic Rob screams and cover the traditional metal topics about folklore and legends. "Sword Of Damocles" pays tribute to the classic metal sound that so many bands have followed over the years while still carrying the unique PRIEST sound. "Truth will find its reward. If you live and die by the sword".
Throughout this whole album, listeners will find traces of JUDAS PRIEST past and present, as well as some of Rob's side projects like 2WO and FIGHT. "March Of The Damned" is a bass heavy tune laying down a solid beat that sounds like a cross between 2WO with a little "Metal Gods" thrown in to give it that extra charge. While a song like "Metalizer" brings on a more Painkiller type quality with speed and ferocity. "Secrets Of The Fire" has a strong FIGHT sound to it resembling the song "Laid To Rest". Regardless of what era or side project these songs are similar to, there is no mistaking the modernized, but classic sound of JUDAS PRIEST.
Next to last on the album is "Battle Cry" which carries a strong resemblance to "The Sentinel" on Defenders Of The Faith. Pounding beat and powerful vocals followed by some intense guitar work from both Glenn and Richie.
Closing out this epic JUDAS PRIEST release is the song "Beginning Of The End". What a way to end such a fine piece of heavy metal craftsmanship than with a slow, power ballad about death (told you it was on here).
The deluxe version of the CD comes with the five bonus songs which in their own right could've been an EP release. The song mix in these bonuses take on a slightly different tone from the rest of the album and that could be why they weren't part of it originally. Hey it's JUDAS FUCKIN PRIEST and we'll take all we can get. All of these songs are flat out balls to the wall metal, but the best out of the five is "Snakebite".
While Rob may not be able to hit the extreme high notes like he used to, what he can still hit is on the money and fits with the music just right. Not too bad for a guy pushing 63 years old and has been singing and screaming his whole life. Although, like a fine wine, he only gets better with age.
Redeemer Of Souls is sure to top metal charts everywhere and could very well be the best release to date from the godfathers of metal, JUDAS PRIEST. Look for them on tour this fall.
5.0 Out Of 5.0
Preorder your copy of Redeemer Of Souls from the KNAC.COM More Store right HERE.