ELVENKING
The Pagan Manifesto
AFM Records 2014





I have fond memories of first hearing about ELVENKING. I, admittedly, am a Hard Rock / Heavy Metal Vinyl junkie. I listen to this music in just about everything I do. Getting ready for work, going to, coming from, buying groceries, mowing the yard, etc. So it was with much pride when my Wife started to become a junkie like me, always playing music, looking for new bands and the like. She would type a band she liked into Pandora (remember that?) and see what popped up. ELVENKING was one such band. She enthusiastically described them as a Power Metal band with heavy folk influences as well. So I searched out and found Red Silent Tides on picture-disc Vinyl (500 copies only). Her description was spot on, and the band is worthy of attention by heavy music lovers everywhere.

So it was with great anticipation to see what these Italians would unleash with their latest opus, The Pagan Manifesto.

The cd starts with a short instrumental, "The Manifesto", and brings to mind sitting around a campfire as the band plays a jig. But that interlude leads into "King Of The Elves", a magnificent almost 13 minute epic tale of bombast which has it all. From folk elements to some out and out thrash! What a way to start off the new album.

Next up is "Elvenlegions", the bands ode to their fans. If you're a fan of Euro Power Metal, you will love the vocal skills of Damna. I do wonder why more people don't speak of ELVENKING, as they are an extremely talented group of musicians.

"The Druid Ritual Of Oak" is next, a almost straight ahead mid-tempo Power Metal pounder, sure to illicit some headbanging in the live arena.

"Moonbeam Stone Circle" sees the guitar tandem of Aydan & Rafahel getting to show their riffing skills. I must also mention how outstanding the production is! Crisp, clean, all instruments sharing equally in the mix. Even subtle instruments like bells & the flute can be heard effortlessly. Impressive!

"The Solitaire" follows and is a much more subdued affair, a ballad of sorts if you will. But not in the traditional sense as all matters of grandeur are present. I even detected some Screamo/black metal type vocals buried in the backing vocals. Interesting.

"Towards the Shores" is a straight ahead acoustic number, with all the folk influences at the fore. I could see this at The Renaissance Festival played by the kings court. It has that type of feel.

"Pagan Revolution" has an Irish feel to me, a little DROPKICK MURPHYS musicality to it, Power Metal style of course. An enjoyable song indeed.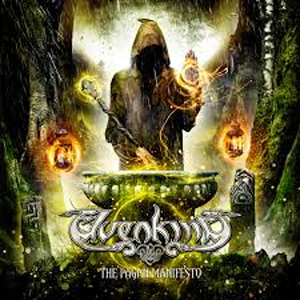 "Grandier's Funeral Pyre" is next, more bombast and epicness ensues. A 6 piece band, I have to imagine that a backing tape would have to be utilized live to be able to pull off all the music that the band created for this CD.
"Twilight Of Magic" is a more Power Metal song, with some excellent speed riffing and exceptional drumming from Symohn, who is really able to show some chops on this tune. An acoustic interlude in the song slows things down a bit, but the pace will pick up again. These guys do not write the typical verse / chorus type song, so the different twists & turns that every song takes is a breath of fresh aire to a sometimes stale musical environment.
"Black Roses For The Wicked One" is another epic, complex track with different layers and textures.
That brings us to the cd closer, Witches Gather", an almost 9 minute extravaganza of everything you've come to expect from these Italians. Some thrash parts, folk moments, Power Metal, symphonic and more rolled together somehow making a cohesive song out of what you would think would be chaos.
A truly impressive album to be sure. But it may not be for every taste as you need, I believe, to be a wee bit adventurous in your musical catalog. If your world begins and ends with SLAYER...eh, you might pass on this. If you love the bombast of later era BLIND GUARDIAN, FALCONER or the grandeur of NIGHTWISH, EPICA or LEAVES' EYES without the female soprano vocals, I think you will find this a very worthwhile purchase indeed. Even tho my Wife has faded from her path of Metal junkieness, we'll always have ELVENKING!
4.3 Out Of 5.0 stars in the darkened sky
Grab your copy of The Pagan Manifesto in the KNAC.COM More Store right HERE.