TESLA, AMERICAN DOG Live In Houston, Texas With Photos!


By Larry Petro, News Monkey
Saturday, August 2, 2014 @ 8:16 AM


| | | |
| --- | --- | --- |
| | | Sacramento Rockers Play To A Packed House Of Blues On July 18, 2014 |
Ahhh, the 80's and early 90's were a good time in music, at least for those of us who enjoy the hard rock genre. From Hard Rock to Glam Rock, Hair Bands and Heavy Metal, there was a complete overload of bands to choose from. Quite a few, however, were flashes in the pan, one or two hit wonders if you will that rose quickly and then just as quickly faded off into oblivion. For at least one band, Sacramento rockers TESLA, their career was more of a 'slow and steady wins the race' journey. Based on the strengths of their songwriting and muscianship, the quintet rose to stardom by releasing good, quality hard rock-n-roll, in particular the band's first 3 releases; the debut album, Mechanical Resonance, in 1986, The Great Radio Controversy in 1989 (which to this day still holds a spot in my Top Ten albums of all time) and 1991's Psychotic Supper. The band went on to have other solid albums, but these 3 really established the band's fan base, one that continues to this day, steady and consistent, much like TESLA themselves.

With a brand new album, Simplicity, under their belts, the California natives took to the road to support the opus and made a stop at the House of Blues in dowtown Houston, Texas on July 18th. And in an obvious testimony to the band's continued popularity the place was absolutely packed! A good crowd was to be expected, but sold out (or very near to it) was a very pleasant surprise.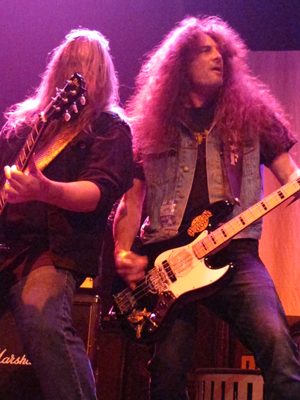 Though not widely publicized, the support act for this tour was none other than AMERICAN DOG, the band fronted by former DANGEROUS TOYS and SALTY DOG bassist Michael Hannon. AMERICAN DOG's brand of gritty hard rock was a perfect compliment to TESLA and made for a great opener. AMERICAN DOG have been around for quite awhile now, mostly flying under the radar since their debut album, Last Of A Dying Breed, was released in 2000. Now armed with an new album themselves, Neanderthal, which was released barely a month ago, the band took no prisoners with their set. They kicked things off at 9 pm with "Stuck In The Mud", a track from the aforementioned Neanderthal disc. The band gave the anxious crowd a nice, enthusiastic, 7 song set which included the title track to Neanderthal, "Human Garbage Can" from 2006's If You Want Bud and "Boozehound", from the Mean album of 2009. The band, completed by guitarists Steve Theado and Vinnie Salvatore and drummer Michael "Hazard" Harris, was very tight in their delivery and gave the crowd every cent worth of the admission paid. And much to their credit, the band afterwards made their presence known at the merchandise table for the complete duration of TESLA's headline performance. If you haven't checked out AMERICAN DOG yet, what are you waiting for? You have been depriving your ears with sensory pleasure all this time.
Setlist:
"Stick In The Mud"
"Human Garbage Can"
"The Real Nitty Gritty"
"Beaten, Broken, Etc"
"Boozehound"
"Drank Too Much"
"Neanderthal"
Just before 10 pm TESLA took the stage. The band is largely intact from their initial incarnation, with current guitarist Dave Rude being the only replacement, having taken over the duties from original guitarist Tommy Skeoch in 2006. Admittedly, I had not seen TESLA in some 20 years, much to my chagrin, but the stars never seemed to be aligned just right for me to catch them in concert again. It was almost as if I had time warped back to the 80's when they launched their hour and three quarters set with "I Wanna Live", from the 2008 album Forever More. The band did not slow down and headed right into "Hang Tough" before performing a new song, the first single/video from Simplicity, "So Devine". The band was super tight and sounded like they hadn't aged at all. Vocalist Jeff Keith, though the lines on his face show the years, was spot on and his voice was crisp and clear throughout the show. And that goes double for bassist Brian Wheat and guitarist Frank Hannon, who must have a secret stash of eternal youth potion somwhere on their bus.

TESLA played a great cross section of their career material, including tracks like "Heaven's Trail", "Mama's Fool", "The Way It Is" and "What You Give" before slowing things down just temporarily for what are probably their biggest hits, the remake of "Signs" and "Love Song", both of which the crowd serenaded to frontman Keith. It would have been nice to hear a track or two from Psychotic Supper like "Edison's Medicine" or "Call It What You Want", but the band did a fine job of including what they could. And though I enjoy acoustical sets from time to time, I was thankful that this time around TESLA did not include one in the middle of their performance. It was all electric, all the time tonight. Only about a third of the way into their current tour the band was in top form and were all having a great time. Drummer Troy Luccketta couldn't seem to wipe that silly smile off of his face the entire night, a nod to the chemistry the band has enjoyed for the majority of its existence.
The band closed out the evening with a quad of songs from the opus that started it all Mechanical Resonance; "Gettin' Better", "Modern Day Cowboy", "Little Suzi" and encore "Comin' Atcha Live". Even then, the crowd was not satisfied and clamored for more much to Keith's bemusement. A fantastic performance all around from TESLA. You MUST catch this show if it comes near you!
Setlist:
"I Wanna Live"
"Hang Tough"
"So Divine"
"Heaven's Trail"
"Mama's Fool"
"Cross My Heart"
"Into The Now"
"MP3"
"The Way It Is"
"What You Give"
"Signs"
"Love Song"
"Gettin' Better"
"Modern Day Cowboy"
"Little Suzi"
Encore: Catch TESLA on one of these remaining dates:
08/02/2014 - Agoura Hills, CA
08/12/2014 - Hampton Beach, NH
08/14/2014 - Pittsburgh, PA
08/15/2014 - Columbus, OH
08/16/2014 - Peoria, IL
08/19/2014 - Cleveland, OH
08/20/2014 - Cincinnati, OH
08/22/2014 - SterlingHeights,MI
08/23/2014 - Chicago, IL
08/26/2014 - Palmer, AK
08/29/2014 - WestValley City, UT
09/11/2014 - Waterloo, IA
09/12/2014 - Fort Wayne
09/18/2014 - El Cajon, CA
09/19/2014 - El Cajon, CA
09/20/2014 - Las Vegas, NV
04/18/2015 - 04/22/2015 - Monsters of Rock Cruise Miami
Check out some more photos from the show!
All Photos By Larry Petro




Please log in to view RANTS

If you don't have a username, click here to create an account!






BLACK LABEL SOCIETY, PRONG And OBITUARY In Portland, OR With Photos!

GEMINI SYNDROME 3rd Degree - The Raising

DORO/WARLOCK Triumph And Agony Live

BETWEEN WORLDS Between Worlds

ALCATRAZZ V

BEHEMOTH Sventevith (Storming Near the Baltic) Reissue

ALICE COOPER, ACE FREHLEY In Nashville, TN With Photos!

CARNIFEX Graveside Confessions

BLOOD RED THRONE Imperial Congregation

GUS G. Quantum Leap

BILLY IDOL The Roadside EP

AVATAR, MAGIC SWORD In Houston, TX With Photos!

APRIL WINE, MONKEYJUNK At The Ottawa Bluesfest

MINISTRY Moral Hygiene

CRYPTA Echoes Of The Soul

SKILLET In Houston, TX With Photos!

Immortal Axes: Guitars That Rock Book

IRON MAIDEN Senjutsu

GRINDER BLUES El Dos

GEORGE LYNCH Seamless Review #2

IN THIS MOMENT, BLACK VEIL BRIDES In Houston, TX With Photos!

WARLANDO Festival 2021 Photo Gallery

KISS In Ridgefield, WA With Photos!

LAURENNE/LOUHIMO The Reckoning

TREMONTI Marching In Time

ROCKLAHOMA 2021 Day 3 Photo Gallery

ROCKLAHOMA 2021 Day 2 Photo Gallery

ROCKLAHOMA 2021 Day 1 Photo Gallery

CARCASS Torn Arteries

SETH La Morsure de Christ

GEORGE LYNCH Seamless