Kiss Alive Forever: The Complete Touring History To Be Released


By Sefany Jones, Contributing Editor
Monday, August 19, 2002 @ 3:21 PM


| | | |
| --- | --- | --- |
| | | The "Holy Grail of Kiss Books" |
FOR IMMEDIATE RELEASE: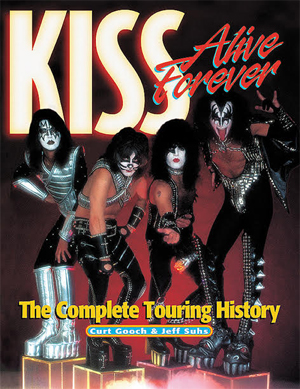 KISS Alive Forever: The Complete Touring History
By Curt Gooch and Jeff Suhs Over-sized trade paperback (8 ½ " X 11")
288 pages on glossy Productolith stock
Featuring over 175 color photographs from all eras of KISS's history
Billboard Books, an imprint of Watson-Guptill Publications
Release Date: October 22, 2002

More than two months before its official release, KISS Alive Forever: The Complete Touring History is already being hailed as "The Holy Grail of KISS books" and was recently one of only two books included in the New York Post's "Things that are IN this fall" write-up. This uncompromising look at the touring history of the most influential live concert act in rock explores the entire arc of KISS's career, detailing every one of the band's 1,810 performances. Seven years in the making, KISS Alive Forever is the end result of exhaustive research by its authors Curt Gooch and Jeff Suhs, who reveal hundreds of previously unknown stories and facts about KISS herein. Exclusive interviews with over 100 former KISS employees, friends, and even band members make KISS Alive Forever a thoroughly addictive, immersive experience. The already rich text is brought to life by the inclusion of over 175 color photographs, most of which have never been published before. For the first time, readers will be able to see the infamous 1974 photo shoot where Ace could apply only half of his KISS makeup, as well as several 1970s-era non-makeup shots. KISS Alive Forever succeeds in deconstructing the myths behind KISS's world-renowned concerts and lays bare the underlying story: the compelling tale of four young New York musicians who grew up to conquer the world of rock and left an indelible stamp on American pop culture. Curt Gooch and Jeff Suhs, previously worked together on the officially licensed KISS Trivia Challenge CD-ROM game. The authors will be promoting KISS Alive Forever through personal appearances at KISS Expos and on their official Web site, www.kissaliveforever.com where seven excerpts from the book provide a glimpse of this unique masterpiece.




Please log in to view RANTS

If you don't have a username, click here to create an account!






Represent! Get Your KNAC.COM Bumper Sticker

Happenings This Week on KNAC.COM

RAT PAK RECORDS Set To Unleash VIXEN Live Fire

AMORPHIS Announce Tales From The Thousand Lakes & The Karelian Isthmus Vinyl Reissue

RED REIGN Launch Namesake Video "Red Reign"

New MOTORHEAD Footwear And Apparel Launched By Lakai Limited Footwear

LIKE A STORM Set To Release Catacombs Album

RPM FEST Announces 2018 Full Band Lineup

RYAN ROXIE Streams "To Live And Die In L.A." Track

DIRTY MACHINE Debut "Further From You" Single, Video

EPICA Presents Epica Vs. Attack On Titan EP

AMORPHIS Release "Amongst Stars" Video

PRIMAL FEAR Set To Unleash The Apocalypse In August

CONVICTIONS Release "Deceptive Heart" Video

NIGHT DEMON To Unleash Live Darkness In August

SEVENTH WONDER Premiere Video For "Tiara's Song"

CLUTCH To Release New Album Book Of Bad Decisions

NOVAREIGN Streams New Track "The Builder"

LIZZY BORDEN Debuts "Long May They Haunt Us" Video

IRON REAGAN Announce European Headline Tour Dates

BODY COUNT Launch "All Love Is Lost" Video

DEATH Announce Deluxe Anniversary Vinyl Reissues

LAMB OF GOD Unleash BURN THE PRIEST "Kerosene" BIG BLACK Cover Video

DOKKEN, LIVING COLOUR Members Form ULTRAPHONIX, Drop "Walk Run Crawl" Video

POP EVIL Releases "A Crime To Remember" Video

ROCKLAHOMA Band Performance Times Announced

FOLLOW THE CIPHER Unveil "Winterfall" Live Video

HAVOK Confirm North American Summer Headlining Tour

YOB Premiere New Album Title Track "Our Raw Heart"

RED FANG Announce US Fall Headlining Tour Dates

KING DIAMOND Vinyl Pic Disc Reissues For Conspiracy, The Dark Sides And The Eye Now Available

3 YEARS HOLLOW Release "You And I" Lyric Video

REDEMPTION Reveals Details For New Album, Long Night's Journey Into Day

JOE LYNN TURNER's SUNSTORM Stream Title Track To New Album The Road To Hell

DEE SNIDER Reveals For The Love Of Metal Details

GWAR Announces Summer, Fall Headline Tour Dates

DIAMANTE Drops Volume II Album

CAULDRON Set To Release New Gods Album

GRAVEYARD Debuts "The Fox" Video, Single

BMG To Reissue Three More Classic SAXON Albums This Month

MONUMENT Release "The Chalice" Music Video, Single

Melodic Rock Hair Band SHYBOY Releases Just Wanna Rock

NERVOSA "Kill The Silence" With New Music Video

RINGWORM Announce US Summer Headlining Tour Dates

SEVENDUST Release Music Video For "Medicated"

IMMORTAL Unleash First Song From Upcoming Album

LINDSY SAYS Releases Debut Video For "Hold On Me"

LAMB OF GOD Unleashes New BURN THE PRIEST Cover Of BAD BRAINS' "I Against I"

MOTOGRATER, TERROR UNIVERSAL Announce June 2018 "Tour De Madman" Co-Headline Tour Dates

TREMONTI Streams Album Opener "Bringer Of War"

TAD MOROSE Set To Release Chapter X Album

GRUESOME Shares "Inhumane" Video

MUNICIPAL WASTE Announce East Coast Run

FIVE FINGER DEATH PUNCH Launch "Sham Pain" Video

GRAHAM BONNET BAND To Release Meanwhile, Back In The Garage Album

VYCES Release Official Video For "Thin Luck"

MAC SABBATH Announces 2018 Tour Dates

VOLSTER Release "King Of The Hill" Music Video

ARMSTRONG METALFEST Reveals 2018 Lineup

FRANK HANNON Debuts "Sunrise In Texas" (BLACKBERRY SMOKE Cover) Video

ROCK ON THE RANGE Band Performance Times Announced

TOOTHGRINDER Premiere "Vagabond" Video

OBSCURA Announce New Album Diluvium

KIX Celebrates 30th Anniversary Of Blow My Fuse With Fuse 30 Reblown

FOZZY Announces Second Leg Of US "Judas Rising Tour"

FALLEN ANGELS Bring On The Glam With Even Priest Knows

ROCK ALLEGIANCE Festival Returns With 2018 Lineup

JANET GARDNER To Launch UK Mini Tour In May

FARGO "Step Back" With New Single, Video

THE DEAD DAISIES Announce North American Tour

GALACTIC EMPIRE Drop "March Of The Resistance" Video

THE SKULL Announces U.S. Headlining Tour Dates

DEE SNIDER Announces For The Love Of Metal Album

KATAKLYSM Launch "Narcissist" Video

KISSIN' DYNAMITE Set To Release New Album Ecstacy

VICIOUS RUMORS Announce 2018 "Digital Dictator" US Tour Dates

LORD OF THE LOST Release Official Video For "On This Rock I Will Build My Church"

LEATHERWOLF Announce Germany Shows, Release "Kill And Kill Again" Live Video

FIVE FINGER DEATH PUNCH Premiere New Song "When The Seasons Change"

CO-OP Release New Video For "N.O.W"

NORTHERN INVASION Band Performance Times Announced

MR. BIG Releases Live Video Of "Alive and Kickin'"

INFRARED Stream New Track "All In Favour"

EPICA Launch New Video For "Universal Love Squad"

GRAVESHADOW Announces Summer Headlining Tour

CREMATORY Release New Video For "Stay With Me"

2018 RIVER CITY ROCKFEST Lineup Revealed