Kiss Alive Forever: The Complete Touring History To Be Released


By Sefany Jones, Contributing Editor
Monday, August 19, 2002 @ 3:21 PM


| | | |
| --- | --- | --- |
| | | The "Holy Grail of Kiss Books" |
FOR IMMEDIATE RELEASE: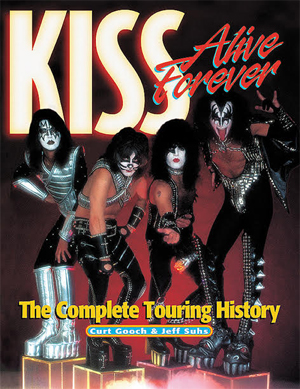 KISS Alive Forever: The Complete Touring History
By Curt Gooch and Jeff Suhs Over-sized trade paperback (8 ½ " X 11")
288 pages on glossy Productolith stock
Featuring over 175 color photographs from all eras of KISS's history
Billboard Books, an imprint of Watson-Guptill Publications
Release Date: October 22, 2002

More than two months before its official release, KISS Alive Forever: The Complete Touring History is already being hailed as "The Holy Grail of KISS books" and was recently one of only two books included in the New York Post's "Things that are IN this fall" write-up. This uncompromising look at the touring history of the most influential live concert act in rock explores the entire arc of KISS's career, detailing every one of the band's 1,810 performances. Seven years in the making, KISS Alive Forever is the end result of exhaustive research by its authors Curt Gooch and Jeff Suhs, who reveal hundreds of previously unknown stories and facts about KISS herein. Exclusive interviews with over 100 former KISS employees, friends, and even band members make KISS Alive Forever a thoroughly addictive, immersive experience. The already rich text is brought to life by the inclusion of over 175 color photographs, most of which have never been published before. For the first time, readers will be able to see the infamous 1974 photo shoot where Ace could apply only half of his KISS makeup, as well as several 1970s-era non-makeup shots. KISS Alive Forever succeeds in deconstructing the myths behind KISS's world-renowned concerts and lays bare the underlying story: the compelling tale of four young New York musicians who grew up to conquer the world of rock and left an indelible stamp on American pop culture. Curt Gooch and Jeff Suhs, previously worked together on the officially licensed KISS Trivia Challenge CD-ROM game. The authors will be promoting KISS Alive Forever through personal appearances at KISS Expos and on their official Web site, www.kissaliveforever.com where seven excerpts from the book provide a glimpse of this unique masterpiece.




Please log in to view RANTS

If you don't have a username, click here to create an account!






Represent! Get Your KNAC.COM Bumper Sticker

Happenings This Week on KNAC.COM

RIP: MARTIN ERIC AIN Of CELTIC FROST

DOWN 'N OUTZ To Release New Live Album The Further Live Adventures Of... December 1

THREAT SIGNAL Stream New Track "Aura"

CLEOPATRA RECORDS Releases Diabolical Soundtrack For Halloween Pussy Trap Kill! Kill!

SALEMS LOTT Reveal Music Video For "You Can't Hide From The Beast Inside"

WELCOME TO ROCKVILLE Reveals FOO FIGHTERS As First 2018 Performer

VIMIC To Release Debut Album Open Your Omen

JUDAS PRIEST Announce "Firepower 2018" North American Tour

SERENITY Premiere Music Video For "United"

TYGERS OF PAN TANG Announce UK Tour Dates

MONSTERS OF ROCK CRUISE 2018 Final Public Sale Going On Now

SILVER SNAKES Debut Cover Of MINISTRY's "Burning Inside"

EDDIE VAN HALEN Launches New Online Store

IRON SAVIOR Set To Release Reforged - Riding On Fire In December

BEAST IN BLACK Stream "Beast In Black" Lyric Video

Say Hello Again To RUSH's A Farewell To Kings

GWAR Unleashes "I'll Be Your Monster" Video

'ROCKIN' THE CITY OF ANGELS Book Available Now

SATYRICON Debut "To Your Brethren In The Dark" Video

KNAC.COM Exclusive: DIAMOND BLACK Release "Sorrow" Video

WHITE WIZZARD Reveal Infernal Overdrive Album Details

From The SEX PISTOLS' Ashes Come THE PROFESSIONALS

JACKAL Release New Album God Of War

CANNIBAL CORPSE Premieres Title Track Of New Album

THE WINERY DOGS Set To Release Limited Edition Vinyl Of Dog Years: Live In Santiago & Beyond 2013-1026

DEUCE To Drop Sophomore Album Invincible

TRAUMA Announce Upcoming West Coast Performance Dates

EVERGREY Re-Issue Two Early Classic Albums, The Dark Discovery And Solitude, Dominance, Tragedy

MALLEN Release "The Otherside" Video

SILVER SNAKES To Release New Covers EP "Scathe"

DAVID GLEN EISLEY, CRAIG GOLDY Announce Debut Album Blood, Guts, And Games As EISLEY/GOLDY

STEEL PANTHER To Release Limited Edition Picture Disc Version Of Lower The Bar For Black Friday Record Store Day Exclusive

ARCH ENEMY Debut New Video For Single "The Race"

ANTHRAX, KILLSWITCH ENGAGE To Mount Epic Sequel With "Killthrax II" Tour

DIABLO SWING ORCHESTRA Announces Pacifisticuffs Album

A PERFECT CIRCLE Release New Song "The Doomed"

DOLL SKIN Release "Daughter" Video

WEAPONS OF ANEW Launch New Video Series: Creating The Collision Of Love And Hate

NUCLEAR BLAST Unveils Limited Edition SUBROSA Blast Beast Bikes

GWAR Premiere New Single "I'll Be Your Monster"

KISS Alive Forever: The Complete Touring History – 2018 PledgeMusic Edition Now Available For Pre-Order

DEAD HORSE TRAUMA, EKTOMORF Team Up For The "Death Before Dishonor Tour"

CKY Debut "Head For A Breakdown" Video

BLACK WATER RISING Get Electrified With New Album

HELLOWEEN Offer New Song, "Pumpkins United", As Free Download

STAGMA Unveil "Pokerface" Single, Lyric Video

TRIVIUM Stream New Song "Betrayer"

GRANNY 4 BARREL Releases "Freak Flag" Single, Video

Inaugural DEFENDERS OF THE NORTH Festival Announced For Monterrey, Nuevo Leon, Mexico

ANVIL Will Be Pounding The Pavement With New Album

TENGGER CAVALRY Sign With NAPALM RECORDS, Unveil New Track

POWERMAN 5000 Releases "Cult Leader" Music Video

HELLA HORROR NIGHT Announced For Los Angeles