(HED)PE, POWERMAN 5000 And SUNFLOWER DEAD Live in Columbus, OH With Photos!


By Geoff Ketler, Cleveland Contributor
Saturday, August 30, 2014 @ 9:17 AM


| | | |
| --- | --- | --- |
| | | Hot And Steamy At The Alrosa Villa As (HED)PE And POWERMAN 5000 Rock Out |
I made the trek a couple of hours south to Columbus on arguably the hottest day of the year. This was my very first visit to the Alrosa Villa – yes that Alrosa Villa where legendary guitarist Dimebag Darrell was shot and killed on stage nearly a decade ago. We have all read the stories and watched the videos, but to be right there and see the stage with my own eyes was something I will never forget. I arrived about an hour before doors opened and already there was a line forming to get in. Signs on the door read; "Stage-diving will result in immediate ejection." Security was tight, understandably, and I welcomed it. Upon entering and heading down to the floor to grab a spot down front, I was immediately hit with the thick, sweltering heat inside. The hot day, lack of air conditioning, and dense crowd was about to turn this place into a sauna. We were all dripping with sweat and this would later prove to be an issue with the performers as well.
The surprise of the night was SUNFLOWER DEAD. I love discovering new bands that really grab my attention – especially in the live setting. When it comes to SUNFLOWER DEAD, creepy is an understatement. The lights went down and vocalist Michael, complete with face paint and accordion strapped on made his way to center stage. He grinned as he stared out into the crowd before being joined by the rest of the band. SUNFLOWER DEAD ripped through song after song, including their single "Wasted" and an excellent cover of THE POLICE's "Every Breath You Take". The southern California-based group really left an impression on me. They were extremely entertaining but not at the expense of the music. I picked up a copy of their debut album on the way out and I am loving it. After the show I managed to chat with bass player Leighton "Lats" Kearns. He mentioned that the band is planning on entering the studio to record the follow up either this fall or early next year, so be on the lookout. If they are playing near your town, they are not to be missed.
https://www.facebook.com/sunflowerdead
http://www.sunflowerdead.com/
The promoter chose to have HED(PE) headline although they hadn't on any other date of the current tour, but nevertheless POWERMAN 5000 was up next. Touring in support of their latest effort, Builders Of The Future, vocalist Spider One and company were set to "Invade, Destroy, Repeat" as they kicked off their set. Spider One serves as the band's only original member. The younger brother of Rob Zombie pranced around on stage with explosive energy. They brought with them a nice, but often blinding, light package that made shooting the show all the more difficult, but hey it sure as hell was entertaining. The set had several selections from their new album, but of course there were the oldies but goodies sprinkled in, like "Bombshell" and "Nobody's Real". After a while it became apparent that the heat and humidity was starting to get to the band. At one point both guitarists and the bass player all aligned themselves at stage-right where they were in reach of an industrial fan that the venue had set up. Regardless of the conditions, the show was excellent, but after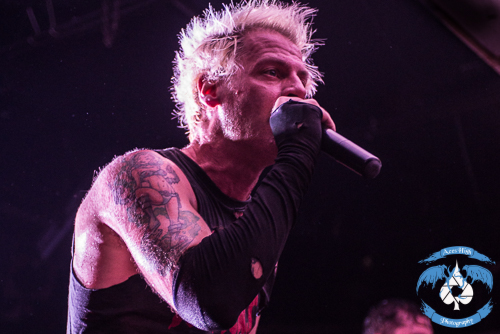 speaking to Spider One afterwards he informed me that they had to cut the set a little short simply because they couldn't take much more of the heat. POWERMAN 5000 ended their set with "When Worlds Collide", but was unable to muster "Supernova Goes Pop" and "Tonight The Stars Revolt". Honestly I can't blame them. I was working way less harder than they were and I didn't have the added effect of the low ceiling and stage lights and I could barely handle it, so I tip my cap to them for the excellent show and valiant effort. Be sure to catch POWERMAN 5000 when they hit the road this fall with Wayne Static. It should be much cooler by then.
https://www.facebook.com/officialpowerman5000
http://www.powerman5000.com/
Setlist:
"Invade, Destroy, Repeat"
"Super Villain"
"Nobody's Real"
"Hey, That's Right!"
"How to Be a Human"
"You're Gonna Love It, If You Like It Or Not"
"Show Me What You've Got"
"We Want It All"
"Return To The City Of The Dead"
"Horror Show"
"Bombshell"
"When Worlds Collide"
The self-proclaimed masters of "G-punk" were due up next. The genre-warping (HED)PE were here to bring their fusion of punk, rap, and metal to the masses. They opened the set with "No Turning Back" off of their new album Evolution. The band brings to the stage a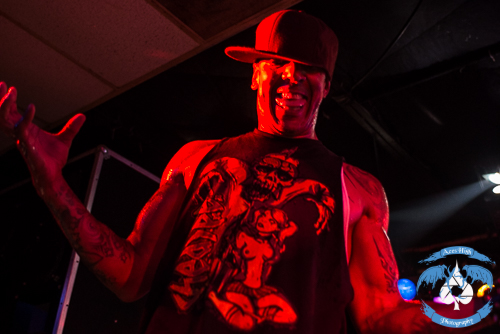 sort of attitude and swagger, like they have a chip on their shoulder. Vocalist Jared Gomes marched around on stage menacingly. He was dressed all up in camouflage, even his face was covered. The tone was very dark, in fact, the majority of their new album is very groovy, heavy, and dark as well. I loved hearing the new material live, but the highlight of the night for me was hearing the hit "Bartender". The crowd was ravenous, screaming the vocals right back at the band. Everyone was fairly tame until (HED)PE hit the stage and then things got rough in a hurry. I managed to fight my way out of the pit and into the back of the venue. Don't get me wrong, I am all about having a good 'ole time in the pit, but not with my camera gear in tow. Towards the end of their set (HED)PE busted out into what they like to call the "cocktail lounge" where their lighter side shined on in the form of reggae and ska. You could equate it to how TESLA tends to throw in a mini acoustic set in their shows. It was my first run-in with (HED)PE and it likely won't be my last. Catch them on tour now as they are hitting the road with DOPE and pick up a copy of Evolution.

https://www.facebook.com/hedpe
http://www.hedperocks.com/

Setlist:
"No Turning Back"
"Bloodfire"
"Killing Time"
"Whitehouse"
"Blackout"
"Bartender"
"One More Body"
"Renegade"
"Let's Ride"
"Raise Hell"
"Peer Pressure"
"Swan Dive"
"Game Over"
"Nowhere To Go"
"The Meadow"
"N.O.C."
Check out some more pics from the show!
All Photos By Geoff Ketler/Aces High Photography




Please log in to view RANTS

If you don't have a username, click here to create an account!






CRADLE OF FILTH Existence Is Futile

BEAST IN BLACK Dark Connection

MASSACRE Resurgence

DREAM THEATER A View From The Top Of The World

JAY JAY FRENCH Twisted Business: Lessons from My Life in Rock 'N' Roll

BLACK LABEL SOCIETY, PRONG And OBITUARY In Portland, OR With Photos!

GEMINI SYNDROME 3rd Degree - The Raising

DORO/WARLOCK Triumph And Agony Live

BETWEEN WORLDS Between Worlds

ALCATRAZZ V

BEHEMOTH Sventevith (Storming Near the Baltic) Reissue

ALICE COOPER, ACE FREHLEY In Nashville, TN With Photos!

CARNIFEX Graveside Confessions

BLOOD RED THRONE Imperial Congregation

GUS G. Quantum Leap

BILLY IDOL The Roadside EP

AVATAR, MAGIC SWORD In Houston, TX With Photos!

APRIL WINE, MONKEYJUNK At The Ottawa Bluesfest

MINISTRY Moral Hygiene

CRYPTA Echoes Of The Soul

SKILLET In Houston, TX With Photos!

Immortal Axes: Guitars That Rock Book

IRON MAIDEN Senjutsu

GRINDER BLUES El Dos

GEORGE LYNCH Seamless Review #2

IN THIS MOMENT, BLACK VEIL BRIDES In Houston, TX With Photos!

WARLANDO Festival 2021 Photo Gallery

KISS In Ridgefield, WA With Photos!

LAURENNE/LOUHIMO The Reckoning

TREMONTI Marching In Time

ROCKLAHOMA 2021 Day 3 Photo Gallery

ROCKLAHOMA 2021 Day 2 Photo Gallery

ROCKLAHOMA 2021 Day 1 Photo Gallery

CARCASS Torn Arteries

SETH La Morsure de Christ