DEVIL CITY ANGELS Live In Houston, TX With Photos!


By Larry Petro, News Monkey
Wednesday, September 17, 2014 @ 6:31 PM


| | | |
| --- | --- | --- |
| | | POISON, CINDERELLA, LA GUNS Members Bring Their Giant Jam Session To The Concert Pub North On 9/12/14 |
"Just four guys getting together to play drums and guitars." - Brandon Gibbs

That statement pretty much sums up the mantra of DEVIL CITY ANGELS, the new outfit featuring members of some of the most recognizable bands to come out of the 80's 'hair metal' movement: Rikki Rockett (POISON) on drums, Eric Brittingham (CINDERELLA) on bass, Tracii Guns (LA GUNS) on guitar and vocalist/guitarist Brandon Gibbs (CHEAP THRILLS).

Formed in a relatively short period of time over just the past few months, the band progressed quickly, creating 4 original songs during that short span and before you knew it, the guys were being booked for live performances and on September 12, 2014, DCA rolled into Houston for a show at........wait for it......that's right, the Concert Pub North. If you have followed any of my previous show reviews then you already know that this is THE place to see good rock shows in Houston, especially those from the 80's and 90's era. In fact, this show was booked within a couple of weeks after fans requested the band through local promoter John Escamilla. And once again, he delivered!

Getting things primed for the crowd were two local area tribute bands. The first band was ROCK ROCK 'TIL YOU DROP, a female-fronted, you guessed it, DEF LEPPARD tribute act. They did an admirable job as the first band of the night, but i found their performance to be a little lackluster and unlike other tribute bands where the members actually look somewhat like the characters they are portraying onstage, a couple of the members of this band donned wigs to look the part. It was interesting to say the least.
The second tribute act of the night was simply called VAN HALEN TRIBUTE, so there was certainly no question who's music they would be performing. Unlike the first band, a couple of the members did look more the part and performance-wise, they were really good and did justice to the material. A nice start to the evening.
For a brief moment the irony occurred to me: having 2 tribute bands open up for what some people would probably call a tribute band itself, DEVIL CITY ANGELS. However, the difference that should be noted is that at least DCA has actual members from the bands whose music they would be performing. Add to that their own original material and the irony disappears.
The band hit the stage, kicking things off with a track you probably won't hear POISON play anymore, "Let Me Go To The Show", a great show-opening song that unfortunately "Bret won't do", as a little birdie would tell me later on in the evening. The entire set was a great mixture of material, with about 1/4 of the set devoted to each of the following bands: POISON, CINDERELLA, LA GUNS and DEVIL CITY ANGELS. So those in attendence were treated to a nice list of versions of "Nobody's Fool", "Sleazy Come Easy Go" and "Talk Dirty To Me", as well as all 4 of the new songs the band created like "All My People" and "Bad Decisions". Their original material is great and sounded kick ass live! I wasn't sure what to expect from vocalist Gibbs as I had not heard anything he has done, but his voice was great and sounded awesome, even when doing the other member's material.
It was an evening of fun that you would have to expect from these guys; as Brandon said, it was just 4 guys playing drums and guitars and having as much fun as humanly possible, which translated into the crowd having a great time. Noone left the place unhappy that evening! It's Never Enough to be Nobody's Fool, so if you're looking for Nothin' But A Good Time, you have to check out the DEVIL CITY ANGELS if they come to your town! The band continues to add dates so keep checking the band's websites for updates.
A HUGE shout out to tour manager Kenny and band manager Tammy for the hospitality and overall incredible coolness they showed!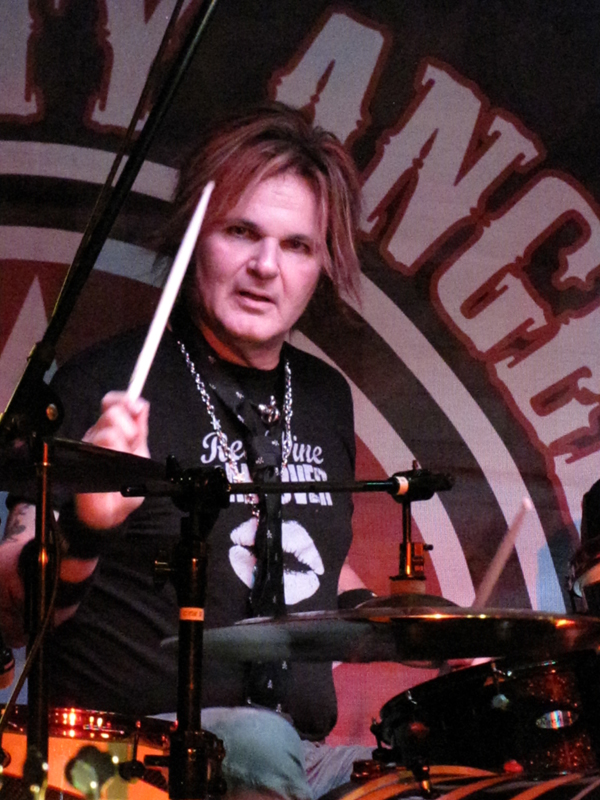 And one last shout out to a guy that has not gotten any recognition in my prior show reviews from this club, a big oversight on my part that I will rectify right now. The guy who makes sure that the band sounds as good as possible, sound man Tyler. My apologies bro, every show there has had the best sound! Rock on! \m/
Setlist:
"Let Me Go To The Show"
"Bad Decisions"
"Never Enough"
"Back Home"
"No Angels"
"Sleazy Come Easy Go"
"Ballad Of Jayne"
"Nobody's Fool"
"Gypsy Road"
"Talk Dirty To Me"
"I'm Livin'"
Encores:
"All My People"
"Nothin' But A Good Time"
Current DEVIL CITY ANGELS Dates:
Sep 17 - The Brickyard - Wichita, KS | 9:00PM
Sep 19 - PZAZZ! Entertainment Complex - Burlington, IA | 8:00PM
Sep 20 - Seven Flags Event Center - Clive, IA | 7:00PM
Oct 10 - Count's Vamp'd - Las Vegas, NV | 8:00PM
Oct 17 - Aftershock - Shawnee, KS | 8:00PM
Oct 24 - The Metal Grill - Cudahy, WI | 8:00PM
Oct 25 - Green Bay Distillery - Green Bay, WI | 8:00PM
www.facebook.com/DevilCityAngels
www.thedevilcityangels.com/
www.reverbnation.com/devilcityangels

Check out some more photos from the show!
All Photos By Larry Petro




Please log in to view RANTS

If you don't have a username, click here to create an account!