Mad Mike Jones Presents Mototrax 1 Compilation CD


By Sefany Jones, Contributing Editor
Monday, August 26, 2002 @ 11:37 PM


| | | |
| --- | --- | --- |
| | | (Sanctuary) |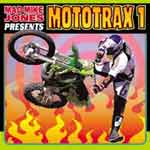 Freestyle Motocross guru Mad Mike Jones is stamping his name, and his approval, on this compilation CD. I guess someone psycho enough to go flying over dirt mounds and ramps at insanely high speeds, flipping and spinning around in mid-air on a small but yet dangerous little mechanized machine is bound to have a pretty hard core and wacky soundtrack in the back of his brain. And here it is, with a little help from some of hard rock's sick and twisted bands. On Mad Mike Jones Presents Mototrax 1, you get a few good ol' southern rock, bourbon-fueled, barroom brawlin' tunes from Houston's Pure Rubbish ("Electric Heart"), the Kings of White Trash, Nashville Pussy, with their version of Molly Hatchet's "Flirtin' With Disaster" and Zeke's "Kill The King." If you've ever seen any of Zeke's album covers, you'd know they're down with the Motocross, so it's an appropriate add. Slaves On Dope, who were the first band to be signed to Ozzy's label, Divine Recordings, does their Black Sabbath rendition of "War Pigs." Well, let's put it this way: the only "War Pigs" cover I've heard that I liked was Faith No More's version. Slaves' would be better if vocalist Jason Rockman would chill on the psycho-spastic screaming. It starts out pretty harsh, but it does become a little cooler throughout the song. I was really looking forward to two of the songs on this CD: Union Underground's live version of "Natural High" and Mudvayne's "Dig" (the Rhys Fulber Remix). "Natural High" is pretty good, but doesn't have quite enough balls to it. If you liked the original version on their debut album, An Education In Rebellion, then you will also like this version. It doesn't really fit into the whole vibe of the CD, but a good tune nonetheless. Now the first time I heard the original version of "Dig," I almost wet my panties. I don't know why – that tune just rocked my world! But here we've got a remix… Imagine if you had a band with Rob Zombie, NIN's Trent Reznor, Ministry's Al Jourgensen, the Crystal Method, Prodigy and Red Hot Chili Pepper's Flea with the funky-ass bass… this version of "Dig" would be their first single. Although it pretty house/trance/dance, it's pretty goddamn heavy. I "dug" it! Speaking of the Red Hot Chili Peppers, Long Beach rapper Bad Azz gets with (hed)PE to do a version of the latter's "Bartender," and I can swear – although I can't exactly put my finger on it – this sounds like older RHCP (minus the rapping, of couse), maybe The Abbey Road EP-era…? Although I have never liked rap, the interjection here is actually catchy and surprisingly melodic. Slipknot's "Sic" (the Molt Injected Mix) is a little too heavy for it's own good. It works wonders for them live on stage, but on an album, it's a bit overwhelming. Then again, those looking for a raging moshpit headbanger attack will find this to be a pleasingly crushing and brutal track. A live version of Disturbed's "Stupify" is pretty gnarly if you liked the original version. It pretty much sticks to its success-proven formula here, with that hooky riff that's become their signature trademark. "Are you ready to say 'fuck' with me, LA?!" Next up is Static-X doing their live version of "Burning Inside." It's your typical raw, growling Static-X, very up-tempo, with a bit of an electronic tweaking. Pitchshifter's "Shutdown" isn't exactly memorable or thrilling. It does have a bit of a Marilyn-Manson inspired vibe to it, just ever-so-slightly during the verses. And lastly we have Soulfly, with "Terrorist" (Total Destruction Mix). And sadly it's just that – total destruction. I generally like Soulfly, but it's like Slayer singing to the Chemical Brothers… It just doesn't work! It bounces around from super-metal vocals to extreme reverberating house music -- too bizarre a combination. This CD isn't going to be for everyone. You know, you have those CDs you crank up, chug down a case of brew, party with your buds… you got your cruisin' tunes for those long roads trips… and then you have your Mad Mike Jones Presents Motorax 1 compilation CD to bench press to at the gym, or as a soundtrack for competing in major Motorcross events! I understand that the versions of these songs cannot be found on any other CD, so it is a unique compilation. There is definitely an overall electronic/techno vibe, so if you can't handle Ministry, Nine Inch Nails, Marilyn Manson or anything of the like, you'll probably hate this. If you dig melodic, bouncy tweaked-out rock, pick it up and check it out! Hey, if I liked the track with rap on it, then anything's possible here! * * * ¾




Please log in to view RANTS

If you don't have a username, click here to create an account!






CRADLE OF FILTH Existence Is Futile

BEAST IN BLACK Dark Connection

MASSACRE Resurgence

DREAM THEATER A View From The Top Of The World

JAY JAY FRENCH Twisted Business: Lessons from My Life in Rock 'N' Roll

BLACK LABEL SOCIETY, PRONG And OBITUARY In Portland, OR With Photos!

GEMINI SYNDROME 3rd Degree - The Raising

DORO/WARLOCK Triumph And Agony Live

BETWEEN WORLDS Between Worlds

ALCATRAZZ V

BEHEMOTH Sventevith (Storming Near the Baltic) Reissue

ALICE COOPER, ACE FREHLEY In Nashville, TN With Photos!

CARNIFEX Graveside Confessions

BLOOD RED THRONE Imperial Congregation

GUS G. Quantum Leap

BILLY IDOL The Roadside EP

AVATAR, MAGIC SWORD In Houston, TX With Photos!

APRIL WINE, MONKEYJUNK At The Ottawa Bluesfest

MINISTRY Moral Hygiene

CRYPTA Echoes Of The Soul

SKILLET In Houston, TX With Photos!

Immortal Axes: Guitars That Rock Book

IRON MAIDEN Senjutsu

GRINDER BLUES El Dos

GEORGE LYNCH Seamless Review #2

IN THIS MOMENT, BLACK VEIL BRIDES In Houston, TX With Photos!

WARLANDO Festival 2021 Photo Gallery

KISS In Ridgefield, WA With Photos!

LAURENNE/LOUHIMO The Reckoning

TREMONTI Marching In Time

ROCKLAHOMA 2021 Day 3 Photo Gallery

ROCKLAHOMA 2021 Day 2 Photo Gallery

ROCKLAHOMA 2021 Day 1 Photo Gallery

CARCASS Torn Arteries

SETH La Morsure de Christ