PRONG, RATTLEHEAD, LE REVERIE Live In Anaheim, CA With Photos!


By Charlie Steffens aka Gnarly Charlie, Writer/Photographer
Sunday, September 21, 2014 @ 9:00 AM


| | | |
| --- | --- | --- |
| | | At The Grove Of Anaheim, September 12, 2014 |
The Grove of Anaheim waxed eclectic last Friday night with three musically-diverse bands sharing the stage. And despite the sparsely-attended event, the combination of varied musical elements proved to work well as the evening unfolded.

The show opener was LE REVERIE, a quintet from Los Angeles, utilizing hard rock and progressive elements to create a haunting set of music. Priming the audience for the multifaceted evening of music to follow they opened with "Le Reverie (The Dream)". Part of the soundtrack to the movie Lake Eerie, the song belied it's pensive name with a slowly-building momentum that was powerful, heavy and dark. Singer Allie Jorgen, drummer Roc Boyum and bassist Daniele De Cario, along with guitarists Jeff Mallow and Alexy Yeghikian, continued in a dark vein with "Hounds Of Hell", played live for the first time. "Dark Symphony" featured an interlude that provided a startling, thunderous rhythm by Boyum and De Carlo that was a highlight of the set.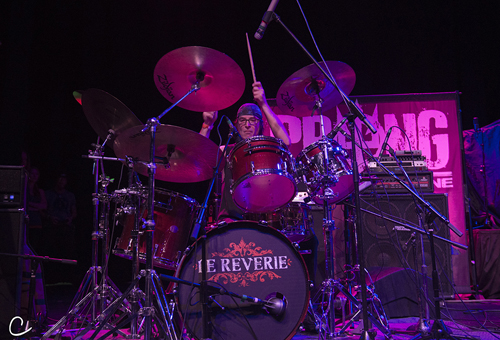 Hollywood's RATTLEHEAD kicked out a notable set of speedy thrash metal songs, led by singer/guitarist Nick Baranov, the band's shirtless front man. Accompanied by Francis Ausley (also on guitar), CJ "Shadow" Valtierra on bass and drummer Hector Llentillin, Baranov treated the audience to a colorful, somewhat vulgar display of power. With a head-banging, hair-whipping, sweaty approach to their set, the band exhibited their incisive style as they tore into "My Sweet Sally". "Ruining Lives", the title track of their new album, blended well with the entire set, as current work sometimes fails to do for artists who are delivering their classics. The audience showed their appreciation and moved in a small but fervent pit.
Headliner PRONG brought their brand of powerful, industrial metal. With just three musicians, they filled the auditorium with a percussive, almost tectonic backbeat by bassist Jason Christopher and drummer Art Cruz. Fronted by Tommy Victor on guitar and vocals, the band mugged for, interacted with, and threw a lot of energy at the audience. Listening to the set, it was easy to understand why Trent Reznor (NINE INCH NAILS) cites PRONG as a major influence. Reaching back to 1990 for "Beg To Differ", the band brought a precise, guttural, staccato sound while Victor jumped around the stage in a mock-stagger. As the feedback from Victor's amp reverberated throughout the room, the show closed to the cheers of the small but earnest audience.
SET LISTS
LE REVERIE
"Le Reverie (The Dream)"
"Lake Eerie Theme Song"
"Twisted"
"Hounds Of Hell"
"Dark Symphony"
"Dark Secrets"
"Raven"
RATTLEHEAD
"Get In The Van"
"I Am The Demon"
"AWOL"
"Walk With The Dead"
"Nightmares Never Sleep"
"Just Stay Down"
"My Sweet Sally"
"Bottom Shelf Shuffle"
"Crack A Cold One"
PRONG
"For Dear Life"
"Beg To Differ"
"Irrelevant Thoughts"
"Unconditional"
"Eternal Heat"
"Lost And Found"
"Ruining Lives"
"Third From The Sun"
"Cut-Rate"
"Rude Awakening"
"Turnover"
"Carved Into Stone"
"Broken Peace"
"Another Worldly Device"
"Revenge…Served Cold"
"Whose Fist Is This Anyway?"
"Snap Your Fingers, Snap Your Neck"
"Power Of The Damager"
"Prove You Wrong"
Check out some more photos from the show!
All Photos By "Gnarly" Charlie Steffens"




Please log in to view RANTS

If you don't have a username, click here to create an account!