OVERKILL And PRONG Live in Cleveland, OH With Photos!


By Geoff Ketler, Cleveland Contributor
Friday, September 26, 2014 @ 4:39 PM


| | | |
| --- | --- | --- |
| | | At The Agora Ballroom |
"I toured the Rock Hall today and with a knife I carved "OVERKILL" in the bathroom stall, so now I know our name is in there somewhere." Bobby "Blitz" Ellsworth

I arrived at the good ol' Cleveland Agora Ballroom Monday night for some east-coast thrash therapy. What better way to cap off a stressful Monday at work? OVERKILL was in town supporting their recent release, White Devil Armory. The album has become their highest-charting record ever; cracking the top 40 at #31. OVERKILL has been a mainstay; a sort of baseline, if you will, of thrash metal for a long time now. Since 1985 they seem to drop an album every 2-3 years that instantly becomes a classic amongst their stable of neck-wrecking fans. That's why I think that OVERKILL are one of the most underrated groups in the genre.

Supporting OVERKILL on the bill was PRONG. Before tonight, the extent of my experience with PRONG was limited to the hits "Revenge…Best Served Cold" and "Snap Your Fingers, Snap Your Neck", which seem to be in perpetual rotation on KNAC.COM. I was really surprised by their energy and how tight they were. Guitarist/Vocalist and founding member Tommy Victor really grabbed the crowd's attention. He would come out from behind the microphone to center stage and play to the fans. Bassist Jason Christopher and drummer Art Cruz rounded out the trio. PRONG pumped through an intense set including the aforementioned hits and a new single, "Turnover", that really caught my ear. It was an excellent set that has compelled me to take a closer look at their catalogue.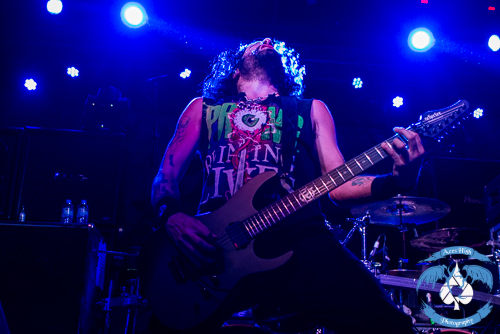 http://prongmusic.com/
https://www.facebook.com/prongmusic
Setlist:
"For Dear Life"
"Unconditional"
"Ruining Lives"
"Cut-Rate"
"Revenge…Best Served Cold"
"Turnover"
"Another Worldly Device"
"Snap Your Fingers, Snap Your Neck"
"Power Of The Damager"
During the set change I was able to get the attention of one of the security guys to pry about getting up in front of the barricade to photograph OVERKILL. Normally there is no barricade in the ballroom at the Agora, but I was told that someone's tour manager requested it. The make-shift barricade was held in place by a few 2x4s and its strength was questionable at best. At any rate, I got the 'all-clear' to move up front for the first 2 songs to get my shots. That was such a relief because by this point the audience had really packed it in. There wasn't a bare spot on the entire floor and the crowd spilled up the stairs and out the doors. Seeing all of my extended metal family and friends packing it in on a Monday night in Cleveland almost made me shed a tear, Almost. OVERKILL was very receptive to the raucous crowd as they hit the stage with the first single off of White Devil Armory, "Armorist".

OVERKILL spared no expense on the lighting package or drum riser. The setup looked like it was built for a larger venue. Although the ballroom is a smallish club, we fans got the large venue treatment. The blinding strobes, fog machines, backdrop, and stacks of Randall cabinets really set up the atmosphere for an excellent show. OVERKILL made their way through a well-balanced set of old and new material that included such surprises as "Black Daze" and "End Of The Line", alongside the staples "Rotten To The Core", "Hello From The Gutter" and "Elimination". The band really looked like they were all having fun up there. Vocalist Bobby "Blitz" Ellsworth couldn't keep from smiling. Guitarist Dave Linsk fed off of the crowd as he blazed through solos and Derek Tailer and DD Verni were very active all across the stage. Hats off to drummer Ron Lipnicki who never really had much of chance to catch his breath from the onset. I mentioned before about OVERKILL being underrated; the same can be said about Ron, specifically, who is an absolute beast behind the kit. What a great night for metal. OVERKILL are masters of their craft and proved once again that they belong in the discussion along with the 'Big 4'. If this tour is hitting your town, it is a must see.

http://www.wreckingcrew.com
https://www.facebook.com/OverkillWreckingCrew
Setlist:
"XDM" (Intro)
"Armorist"
"Overkill"
"Electric Rattlesnake"
"Wrecking Crew"
"Black Daze"
"Rotten to the Core"
"Bring Me the Night"
"End of the Line"
"Long Time Dyin'"
"Under One"
"Pig"
"Hello From the Gutter"
"Ironbound"
Encore:
"Bitter Pill"
"Elimination"
"Fuck You" (THE SUBHUMANS Cover)
Check out some more photos from the show!
All Photos By Geoff Ketler/Aces High Photography




Please log in to view RANTS

If you don't have a username, click here to create an account!






QUEENSRYCHE, FATES WARNING In Worcester, MA

Y&T In New Bedford, MA With Photos!

EXPERIENCE HENDRIX In Clearwater, FL With Photos!

OVERKILL, DESTRUCTION, FLOTSAM & JETSAM In Munich, Germany

TORA TORA Bastards of Beale

THE ELYSIAN FIELDS New World Misanthropia

IRON SAVIOR Kill Or Get Killed

BEAST IN BLACK From Hell With Love

CANNIBAL CORPSE, MORBID ANGEL In Santa Ana, CA With Photos!

NOTHING MORE, OF MICE & MEN In Los Angeles With Photos!

DREAM THEATER Distance Over Time

NIGHT RANGER In Houston, TX With Photos!

Y&T, GILBY CLARKE In Houston, TX With Photos!

LAST IN LINE In Houston, TX With Photos!

AENIMUS Dreamcatcher

CHILDREN OF BODOM Hexed

ASTRONOID Astronoid

RHAPSODY OF FIRE The Eighth Mountain

MALEVOLENT CREATION The 13th Beast

SILVERTUNG (But, At What Cost??!)

KILLER BEE Remember The Times

OVERKILL The Wings of War

SWALLOW THE SUN When A Shadow Is Forced Into The Light

LAST IN LINE II

HERMAN FRANK Fight The Fear

DARKEST HOUR, UNEARTH, TRIPLE MURDER In Ottawa, Canada

AMON AMARTH The Pursuit Of Vikings - 25 Years In The Eye Of The Storm DVD

STEEL PANTHER In Portland, OR With Photos!

AMARANTHE Helix

SOILWORK Verkligheten