ROB ZOMBIE Live In Tulsa, Oklahoma


By Metal Mark Mihalo, Tulsa Contributor
Thursday, October 2, 2014 @ 5:43 PM


| | | |
| --- | --- | --- |
| | | At The Brady Theater |
What better place to see the master of horror-groove metal than the historic Brady Theater in Tulsa, Oklahoma, and his only stop in the state. This venue has been in Tulsa since 1914 and has hosted so many influential acts that it's hard to believe the walls are still standing after such an onslaught of wattage and rumbling over the years. Tonight is Rob Zombie's turn to shake the theater to its very foundation. Playing to a near capacity crowd with the floor seating full, and the pit crammed with people, the only few seats remaining were those at the very top of the balcony area, and those were few.

The opening act is a strange fellow in a white mask with a long black robe by the name of DJ Ginger Fish. And if your thoughts are the same as mine you're asking, "Who the hell is DJ Ginger Fish and why is he opening for Zombie?" What comes next is this guy in the mask playing classic metal songs ranging from METALLICA to IRON MAIDEN for the next 30 minutes or so. All he does is just play music with a couple mixing boards he has on stage and dance around some. That's it! However, he does get the crowd pumped up and ready for the main act. There was some discussion as to who this mystery man on stage was, and it was even thought it could be the Zombie himself. That was quickly laid to rest as there was no way in hell you could hide his dreadlocks in a ponytail/bun like this guy had. Google to the rescue again! Come to find out this bizarre dude up on stage slinging out metal is none other than the drummer for Rob Zombie, Ginger Fish. Forgive my ignorance for those of you that already knew that. I have been a little out of the Zombie scene for a few years and didn't know that Joey Jordison was no longer in the band.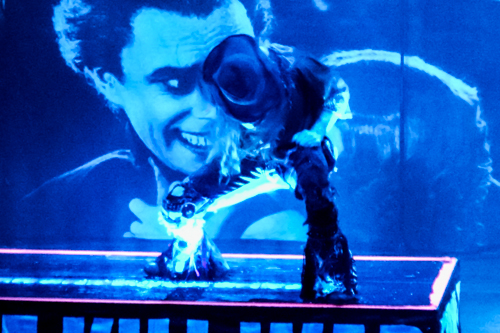 Rob Zombie hits the stage at 9:15 and is ready to unleash the Superbeast on Oklahoma; which just so happens to be the second of the 15 song setlist. Thundering to life, Rob gives us a great mix of classic WHITE ZOMBIE songs like "Thunder Kiss '65", which is one of the best known songs from the band dating back to 1992 and was a launching pad for the groove style metal. This song just makes you want to jump up and down while banging your head. Throughout the night the crowd is treated to a few classic cover songs by such great artists like, JAMES BROWN's "Get Up (I Feel Like Being A) Sex Machine", "Blitzkrieg Bop" by the RAMONES and "We're An American Band" from GRAND FUNK RAILROAD. There's nothing like taking an early '70's classic and Zombifying it. Finishing out the main setlist, legendary guitarist John 5 lays down a lengthy solo the likes of which are hard to find from metal shows lately. Rob makes his way through the floor crowd at one point and went all the way to the back of the theater and was having a difficult time working his way back to the stage due to all the idiots crowding him. I understand it's a concert, but it's sad that some people have to grope and touch him while he is trying to make his way back to the stage, and at one point appears to get a little irritated by the girl trying to kiss him. Shit. Don't blame him. You don't know what shit people have or their sanitary habits, so don't be tryin' to kiss the famous people who are there to entertain you. After a phenomenal solo we get to the three encores which close out the show. The first set of encores included "Jesus Frankenstein" and "We're An American Band", followed by the third encore and closing the show with the ever popular, "Dragula".
The crowd was roaring and on its feet for the entire show, even up in the balcony seating. It was amazing to see all the different age groups and walks of life there too. From young to old, there was no one left out of this amazing evening of "groove and move" metal. Hell, even Jason Voorhees was there up in the balcony! What a memorable show it was.
Setlist:
"Teenage Nosferatu Pussy"
"Superbeast"
"Get Up (I Feel Like Being a) Sex Machine" (JAMES BROWN cover)
"Living Dead Girl"
"Dead City Radio And The New Gods Of Supertown"
Drum Solo
"More Human Than Human" (WHITE ZOMBIE song)
"Sick Bubble-Gum"
"House Of 1000 Corpses"
"Meet The Creeper"
"Never Gonna Stop (The Red, Red Kroovy)"
"Blitzkrieg Bop" (RAMONES cover)
"Thunder Kiss '65" (WHITE ZOMBIE song)
Guitar Solo
Encore:
"Jesus Frankenstein"
"We're An American Band" (GRAND FUNK RAILROAD cover)
Encore 2: Check out some more photos from the show!
All Photos By "Metal" Mark Mihalo

Please log in to view RANTS




YNGWIE J. MALMSTEEN, GLENN HUGHES In Worcester, MA With Photos!

ALICE COOPER Road

RAT ROD Four On The Floor

GIRLSCHOOL WTFortyFive?

DANKO JONES Electric Sounds

AVATAR, ORBIT CULTURE, THE NATIVE HOWL In Houston, TX With Photos!

THE DEAD DAISIES In Hollywood, CA With Photos!

KILL DEVIL HILL Seas Of Oblivion

THE DEAD DAISIES In Ottawa, Canada

MAMMOTH WVH In Santa Ana, CA

UADA Crepuscule Natura

BARONESS Stone

KAMELOT, BATTLE BEAST, XANDRIA In Houston, TX With Photos!

CRYPTOPSY As Gomorrah Burns

RAY ALDER II

GHOST, AMON AMARTH In Houston, TX With Photos!

U.D.O. Touchdown

DETHKLOK Dethalbum IV