Guitarist RENE THOMSEN Surrounded By World Renowned Musicians With His New Release UnBroken


By Larry Petro, News Monkey
Tuesday, October 21, 2014 @ 4:55 PM


| | | |
| --- | --- | --- |
| | | Released In The US On October 28th |
Following the success of his debut album Let´s Get Ruthless (2009), which featured a wide range of renowned metal musician guest, René Thomsen, guitarist, composer, and mastermind, continues this superb combination for his second release, Unbroken! It includes international known musician guests, from Udo Dirkschneider, Vinny Appice (BLACK SABBATH, DIO, HEAVEN & HELL), Bobby Jarzombek (HALFORD, FATES WARNING, SEBASTIAN BACH, RIOT), David Vincent (MORBID ANGEL), Mathias Don Dieth (U.D.O.), Andre Hilgers (RAGE, SINNER) and Helge Engelke (FAIR WARNING, DREAMTIDE), who have lent not only their technical skills but also glamour to the material.

René Thomsen has composed twelve songs for Unbroken, most of them together with FAIR WARNING producer and guitarist Helge Engelke. "I've known Helge since the eighties when we shared a rehearsal room," Thomsen remembers. "Ever since, I've known that he is the perfect co-songwriter and producer for my music. He's got that unusual musical sense that Unbroken has thoroughly benefitted from."

The roles of the guest musicians were allocated on the basis of the recordings which Thomsen and his group (Robert Soeterboek/vocals, Ingo Lühring/bass, Mike Pesin/guitar, Max Dietzmann/drums) cut: Thomsen's long-standing friend David Vincent (MORBID ANGEL) played bass on "Draw The Curtains". Vinny Appice was the drummer of Thomsen's dreams for "We Made It", which he wrote during the night following Ronnie James Dio's death in remembrance of that great American rock singer. The song's guitar solo and its intro "Six Thirteen 64" were written by Mathias Dieth in direct collaboration with René Thomsen. Dieth also came up with the idea of asking his friend and erstwhile colleague Udo Dirkschneider to record the vocals. It would have been impossible to perform this number in a style more charismatic than Dirkschneider's.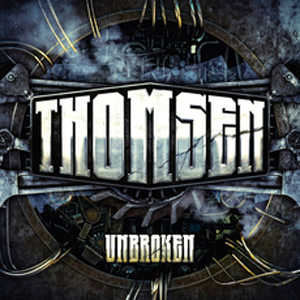 Thomsen is particularly proud of Bobby Jarzombek's contribution to "Draw The Curtains", "New Horizon", "Unbroken" and "Fools Of Fortune". "I've known Bobby since recording Let´s Get Ruthless, so all it took was a phone call to sign up this exceptional drummer's services for Unbroken." Just as uncomplicated as enlisting RAGE skinsman André Hilgers, who recorded the impressive drum parts on "Dream", "Break That Spell", "Into The Unknown" and "In Steel We Trust". The fact that Hilgers is not only "a fantastic drummer, but also a really nice guy" (quote Thomsen) was of course conductive to the Unbroken project. The album was produced by René Thomsen, Helge Engelke and Arne Neurand, a team with great vision and technical skills. The team have a work-intensive and occasionally difficult production process behind them: "That's the reason for the album title Unbroken," Thomsen explains, "because life is about not letting adverse circumstances get you down but holding on to your dreams and carrying on."
www.thomsen-unbroken.de
www.facebook.com/thomsenunbrokenhttp://www.reverbnation.com/thomsen
http://twitter.com/THOMSENMUSIC
Line-Up:
René Thomsen- Guitars
Denis Brosowski- Vocals
Robert Soeterboek- Vocals
Ingo Lühring- Bass
Michael Pesin- Guitars
Max Dietzmann- Drums




Please log in to view RANTS

If you don't have a username, click here to create an account!