REQUIEM's brand new album, The Unexplainable Truth, is out today via Cleopatra Records (E1)! In celebration, the Santa Cruz, CA metalcore quintet have teamed up with KNAC.COM for a full album stream. Check out the stream below!

REQUIEM vocalist Steven Juliano states, 'This was simply one of the finest albums I have ever had the pleasure to work on. It was done with more heart and passion than anything I have seen before. With no big expensive studio, we wrote and recorded this mostly ourselves and lived and breathed this album for almost an entire year. We are so beyond excited to release this new album to the world."

Make sure to order your copy now via http://geni.us/Requiem, and stay tuned for a brand new music video for the band's new single, "Sticks & Stones And Her Lovely Bones" next week. The track is impacting at radio now.

REQUIEM features vocalist Steve Juliano of former Epitaph Records powerhouse band I AM GHOST and Daisy Rock Guitars-sponsored guitarist/vocalist Jacklyn Paulette.

The Unexplainable Truth combines dark melodies and soaring orchestras with vicious metal guitars and bass. Recorded by the band themselves in Santa Cruz, CA at Sonic Shark Studios, the album was also mixed by JD Keiser at Laughing Lion Productions, and mastered by Nakasaki Sound. Stepping forward as visionaries while most bands are still trying to catch up in the scene, REQUIEM are set to unleash and album that will change your views of what "metalcore" should be.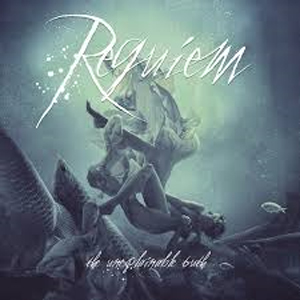 REQUIEM drummer Rick Siegfried recently added TRX Cymbals to his list of quality endorsements. TRX also endorses fast-rising drummers such as Eric Armenta of BREATHE CAROLINA, Brandon Galindo of WINDS OF PLAGUE, Andrew Oliver of I SEE STARS and others. To learn more about TRX Cymbals, please visit www.trxcymbals.com.
REQUIEM has a few upcoming live gigs that you can attend to witness them live! See below for a full listing of booked dates.
Additional upcoming events:
11/8 - Monterey, CA @ Monterrey Fair Grounds
11/18 - San Jose, CA @ The Rock Shop
12/5 - Bakersfield, CA @ Jerrys Pizza
12/6 - Hollywood, CA @ Bar Sinister
Have you ordered your new REQUIEM merch yet? Do it now at: www.requiemofficial.bigcartel.com

For more information on REQUIEM, please visit these websites:

http://www.requiemofficial.com
https://www.facebook.com/requiemrock/
http://twitter.com/requiem_music
http://instagram.com/requiemmusic
http://requiemstreetteam.tumblr.com/
https://requiemofficial.bandpage.com/
www.cleopatrarecords.com

REQUIEM is:

Steven Juliano- Vocals
Jacklyn Paulette- Vocals/Guitar
Finn Stobbe- Bass
Ryan Heggum- Guitar/Screams
Rick Siegfried- Drums