OPETH
Pale Communion
Roadrunner Records





Review By Andrea Mihalo

When I heard that OPETH had a new album coming out I was so very excited- it's been too long!!! I also read and heard some of the same comments I have witnessed over the past few years- "OPETH - great band… while they were OPETH…" So one album that you didn't care for, and you nearly scrub all of the other amazing work - or "why couldn't they make another Blackwater Park?" Ummmm, they already did….Yes, Mikael Akerfeldt has surely one of the best death growls of all times, and OPETH can kick your ass with the heaviest metal, but they can also, and have, opened a new path of metal that grows more intense and opens new paths, with each new album, and for that I am truly thankful! I just don't want to buy the same album over and over again. OPETH has far too much talent to just sit back and make the same album over and over again. When I look at bands that have become 'has-beens', I see just that- their artistry of musianship and writing go stale and stay the same. I can remember the first time I ever heard an OPETH CD- I was on a ladder patching the drywall on the kitchen ceiling- my husband had bought Still Life in Paris- he said, "Listen to this and see what you think." It was slamming hard right off-and then, there came this incredible harmonious voice… I was hooked, right then and right there. So intensely heavy, yet this voice and this very intricate music with deliciously dark lyrics!!! And each album has led me on a new journey - And Pale Communion, the eleventh studio album by Swedish metal band OPETH, has made the journey even better than I had even imagined it could be!!! The album was released by Roadrunner Records, was produced by Mikael Åkerfeldt and mixed by Steven Wilson - which honestly is a match made by the Gods of Metal.

Every song on this album paints a picture and evokes deep feelings- the stunning instrumentals are the canvas with the intoxicating vocals being the brush strokes of the lyrics.

The journey begins with "Eternal Rains Will Come" and I feel them coming- like a storm brewing. Ah- nothing like some good melodic death metal;

"So hard to keep the darkness from seeping through
And when the flood comes to drown us
There is nothing we can do

You told me not to wait
Unless I could wait forever
Because there is no time for us
Take comfort in what was"

"Cusp Of Eternity" is our next encounter. This song feels so very medieval - the dark side meets a whirling dervish.

We have now come to "Moon Above, Sun Below", 10 minutes and 52 seconds that will take you through the many genres that OPETH excels at. It starts with a very dark story, very driven, you can feel the blackness of the soul encountered. Then we feel the rise ….then we transcend into the amazing melodic middle, we feel every sensation, right before being thrown right back into complete darkness. I also feel like I have been taken back in time- musically- there are sounds of keyboards from the 70's (EMERSON, LAKE AND PALMER's Karn Evil 9/ THE DOORS ) feel other 70's hard rock influences throughout this album, and OPETH has honored the 70's well. One of the best songs, and one of the hardest.

We are going to slow down a little for "Elysian Woes", a very deep, rich love/death song. You will feel the essence of depth of this love it's so well done; the music and lyrics lay the foundation for the mournful feeling Mikael imparts vocally….

"There is a bond between us
Even if it's frayed it is unbreakable
So I come for you always
And I welcome pain
For a second of belonging somewhere
There were times when I lost my way
With hope pouring from my soul
In a shelter from the sun
I don't want to bare my scars for you."

"Goblin" is almost a revival of spirit from the last song. OPETH proves time and again that they have so many sides of their artistry to share!! Enjoy just letting your mind go where ever this music takes you.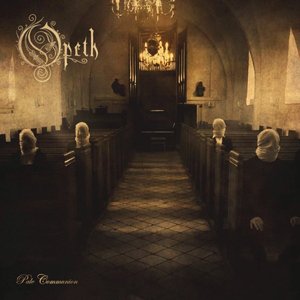 "River" is truly unexpected- the harmonies are amazing- you begin to feel like you are floating on the river. Yet, the lyrics have a darkness, a sadness…then all of a sudden this "River" hits the rapids! You are whirling and swirling in the darkness- and it's OPETH proving that you can push the limits every which way!!! You just don't have to have a death growl to make a song heavy-
We come to the last two songs, which, I think are my favorites- they both speak to me in so many ways. In fact, my mind paints a new picture every time I listen to them.
"Voice Of Treason" starts out upbeat- with that almost middle eastern flair. When we reach the end, it becomes so very clear;
"This is treason of the mind and soul
There's no reason why you would go
Have you ever had the feeling of a sorrow inside?
Have you ever been the reason why a hope subsides?
Have you ever seen the aftermath of giving up?
Have we given up?
Is it over?
Have you given up?
Is winter hiding in your heart?"
So many emotions inspired through out. So very well written and so very well executed to elevate your senses. You should be able to feel every note through out your entire being - OPETH never misses the mark.
We are now at the end of our journey, but certainly finishing with one of the most heartfelt songs OPETH has ever given us: "Faith In Others". This song feels so very gloomy-and it feels like what the future holds for all of us- so much, it's prophetic. Mikael sings it so you can feel every bit of this dire warning, as does the almost funereal music accompaniment. Melancholy, but would we want it any other way? Yet, in the end, it is almost hopeful…
What an amazing adventure it has been- we have been so high and very low…and dark…all masterfully sang and played- weaving the dark lyrics with the intense and melodious music - OPETH doing what OPETH does best, even without a death growl.
So if you only like what you think OPETH should only be- a death growl and Blackwater Park, you may not like this album. If you don't think they should keep growing and pushing their obvious artistry to new levels, you may not like this album. For me, it is just another reason to love them and appreciate them even more - to see their gifts, for these are very accomplished musicians, grow and make new pathways. One can never pigeon hole OPETH, they make their own path and open new genres. And they have done that continually very well!!! I love this album, and I give it a 5 out of 5. Be sure and listen with your headphones on to hear all the nuances you might miss, to really feel that amazing voice deep in your soul. Now to wait and see where the next journey with OPETH takes us- but until then, I am more than satisfied to keep enjoying this one!!!
5.0 Out Of 5.0
Grab a copy of Pale Communion in the KNAC.COM More Store right HERE.