Iron Maiden Releases Casket Box Set


By Sefany Jones, Contributing Editor
Thursday, September 12, 2002 @ 1:24 PM


| | | |
| --- | --- | --- |
| | | Maiden Releases Casket Box Set |
For Immediate Release: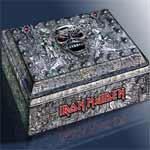 Iron Maiden Releases Casket Box Set Eddie's Archive and Edward The Great Greatest Hits Collection On November 5th Through Portrait/Columbia/Legacy Records. For 20 years, Iron Maiden have been at the forefront of heavy metal worldwide and are viewed by many as one of Britain's greatest musical exports, as highlighted by last year's prestigious Ivor Novello songwriting award. During this time they have achieved incredible global chart success, some 200 gold and platinum records, sell out tours and huge respect from their peers both old and new. As a celebration, Iron Maiden are to release some highly treasured recordings presented in a very special collector's case for their long standing and loyal fans. Eddie's Archive is to be released by Portrait/Columbia/Legacy Records on November 5th. The set comprises of three double CD's containing the band's earliest live recordings from 1979 through to their headlining performance at Donington in 1988. In addition to this, there will be a compilation of The Best Of The B-Sides available here for the first time as one collection. Rod Smallwood, manager of the band since mid 1979, comments, "We've been talking for a while about issuing a special release for our fans and I think the live recordings are very important to the history of the band. In fact, other than the Maiden Japan EP and a couple of live B-Sides, there were no live recordings released until Live After Death in 1986. These recordings encompass the early days with Paul Di'Anno through to Bruce Dickinson's arrival. Maiden's career went on from one high to another -- it really was a rollercoaster ride! I think they capture the essence of what the band was and still is all about: pure, raw energy, great musicianship and an in-your-face attitude. I've seen the casket and it looks fantastic. This is a great way to celebrate our history with the people who helped us make it." The set will be presented in a unique 270x190x60 mm. (approx. 10.5x7.5x2.5 in.) limited edition silver Eddie embossed casket. Alongside the music, fans will find a crystal Eddie Head shot glass and an individually numbered Pete Frame family tree on parchment scroll, detailing the complete Iron Maiden history and rolled in a specially designed Eddie ring! Each of the three double CD's have full colour 24 page booklets, two with new Eddie artwork with previously unseen photos of the various line ups; and one based on the original classic '82 tour programme.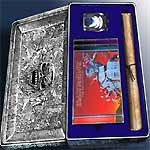 The first of the double CD's is entitled BBC Archives and includes music recorded between 1979 and 1988 for the BBC's Friday Rock Show. Accompanied by notes from the show's long time producer, Tony Wilson, it features Maiden fronted by Paul Di'Anno and their performances at a special Rock Show studio session in October 1979 as the band were breaking onto the scene, and at 1980's Reading Festival where they appeared as Special Guests to UFO. Also documented is Bruce Dickinson's arrival in 1982 and the band's return performance as headliners at the Reading Festival. The double album concludes with songs taken from the band's record breaking capacity show at The Monsters Of Rock Donington festival as part of their 1988 Seventh Son tour. The BBC Archives double CD is a testament to the live power that is Iron Maiden -- no prisoners taken, no quarter given. Iron Maiden's 1982 Beast On The Road tour has taken on a mythical quality among Metal fans as the tour and the album which really put Maiden at the forefront of Rock and Metal worldwide. The historical show from the Hammersmith Odeon has been specially mixed and co-produced for the casket by Steve Harris and the band's long-serving sound engineer Doug Hall. This double CD, Beast Over Hammersmith, clearly illustrates how remarkable and ground-breaking the tour was in support of the all time classic album, The Number Of The Beast. The accompanying inlay booklet is a complete recreation of the Beast On The Road tour program and lists all the world tour dates and includes notes from the band written at that time. The third double CD in the set, Best Of The B-Sides, is accompanied with liner notes written by Iron Maiden's manager Rod Smallwood to guide you through every track. In many ways it is a collection that not only reveals much about the band as individuals and the inherent character of the band, but also provides a real insight into who and where their influences came from. For the fans among you who buy both singles and albums, you will all be aware that Maiden don't simply stick on another mix of the same single or another album track for their B-sides, but they will always try and come up with something of real quality, and that is both new and different. With this in mind, the band have compiled what they consider to be the Best Of The B-Sides over the years, which include all the studio recordings, some of the live recordings (including cover version of songs from their heroes) as well as the occasional humorous, sideways look at themselves and those that have worked with the band. In full, the track listing of Eddie's Archive is as follows: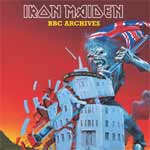 CD 1 -- BBC Archive DISC 1

Friday Rock Show Session 1979

Iron Maiden
Running Free
Transylvania
Sanctuary

Reading Festival 1982

Wrathchild
Run To The Hills
Children Of The Damned
The Number of The Beast
22 Acacia Avenue
Transylvania
The Prisoner
Hallowed Be Thy Name
Phantom Of The Opera
Iron Maiden

DISC 2

Reading Festival 1980

Prowler
Remember Tomorrow
Killers
Running Free
Transylvania
Iron Maiden

Monsters of Rock Festival Donington 1988

Moonchild
Wrathchild
Infinite Dreams
The Trooper
Seventh Son of a Seventh Son
The Number of the Beast
Hallowed Be Thy Name
Iron Maiden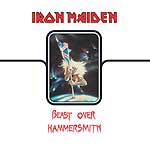 CD2 -- Beast Over Hammersmith DISC 1 Murders In The Rue Morgue
Wrathchild
Run To The Hills
Children Of The Damned
The Number of The Beast
Another Life
Killers
22 Acacia Avenue
Total Eclipse DISC 2 Transylvania
The Prisoner
Hallowed Be Thy Name
Phantom of the Opera
Iron Maiden
Sanctuary
Drifter
Running Free
Prowler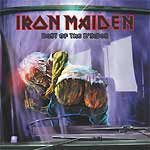 CD3 -- Best Of The B-Sides DISC 1 Burning Ambition
Drifter (Live)
Invasion
Remember Tomorrow (Live)
I've Got The Fire
Cross-Eyed Mary
Rainbow's Gold
King Of Twilight
Reach Out
That Girl
Juanita
The Sheriff Of Huddersfield
Black Bart Blues
Prowler '88
Charlotte The Harlot '88 DISC 2 All In Your Mind
Kill Me Ce Soir
I'm A Mover
Communication Breakdown
Nodding Donkey Blues
Space Station No. 5
I Can't See My Feelings
Roll Over Vic Vella
Justice of the Peace
Judgment Day
My Generation
Doctor Doctor
Blood On The World's Hands (Live)
The Aftermath (Live)
Futureal (Live)
Wasted Years '99 (Live) Iron Maiden will shortly reconvene to start writing and preparing for their next studio album for Columbia Records. Simultaneously, in recognition of the band's huge and everlasting popularity, Portrait/Columbia/Legacy is to release a TV advertised Greatest Hits album entitled Edward The Great which will feature 16 of their biggest hits. "We appreciate that the majority of our loyal fans will already have all these tracks, but hope like us, they will get a great kick from seeing Iron Maiden TV ads blasting across the nations homes!" says Rod Smallwood. "This Greatest Hits album is aimed at those who need to be initiated into the world of Iron Maiden and Metal, and to make sure everyone clearly understands that Eddie's Archive is for the fans, we have requested that both releases are made on the same day -- 4th November! For the avoidance of any doubt, we will also make the amazing new themed Edward The Great artwork available as a free download from our website (www.ironmaiden.com) for our fans as we would not want them to feel obliged to buy a series of tracks they already have in their collection just to get the packaging." Edward The Great hits run as follows: Run To The Hills
The Number Of The Beast
Flight Of Icarus
The Trooper
2 Minutes to Midnight
Wasted Years
Can I Play with Madness
The Evil That Men Do
The Clairvoyant
Infinite Dreams
Holy Smoke
Bring Your Daughter… To The Slaughter
Man on the Edge
Futureal
The Wicker Man
Fear of the Dark (Live in Rio)

The Casket will be released in North America by Portrait/Columbia/Legacy Records.

www.ironmaiden.com




Please log in to view RANTS

If you don't have a username, click here to create an account!






Represent! Get Your KNAC.COM Bumper Sticker

Happenings This Week on KNAC.COM

BOBAFLEX Announce First String Of Tour Dates For 2018

BETWEEN THE BURIED AND ME Unveil New, Two-Part Concept Album Specifics

GOTHOOM Festival Announces 2018 Band Lineup

MYLES KENNEDY Streams New Track "Haunted By Design"

JOE PERRY Announces Hometown In-Store Signing

THE AMORETTES To Release New Album Born To Break In April

French Band ÖBLIVĎON Debut "In The Arms Of A Queen" Video

EYES SET TO KILL Announce New Self-Titled Album

KIP WINGER To Release Solo Box Set Collection

KAMELOT Unveil Title Of Upcoming Album

WITHIN THE NOVA Announce New Album Infinite Cycles

POP EVIL Release "Colors Bleed" Video, Single

MARCO MENDOZA Unleashes "Viva La Rock" Single, Video

THE SKULL To Kick Off "THE SKULL Plays Trouble" North American Headlining Tour

MGT Debut Video For "Every Little Dream"

L.A. GUNS To Release Made In Milan Live Album

ALL HAIL THE YETI Unveils New Video, "Slow Season"

DEF LEPPARD, JOURNEY Announce Summer Co-Headline Tour

HATEBREED To Continue Celebrating 20 Years Of Desire And 15 Years Of Perseverance With Spring 2018 Tour

Guitarist ETHAN BROSH Returns With Conspiracy Album

HERETIC'S DREAM Release "A Price To Pay" Video

NORDIC NOISE FESTIVAL 2018 Announces Full Lineup

SPIDER ROCKETS Set To Release Along Came A Spider Album

New Supergroup DREAM CHILD Revealed

HOLLYWOOD UNDEAD Launch "Your Life" Single, Video

Annual BASH FEST Events Announced, Coincide With NAMM

RINGS OF SATURN Announce "The Dank Meme Tour" 2018

JANET GARDNER Releases "Candle" Video

BLACK VEIL BRIDES Release New Video For "Wake Up"

POWER TRIP Announces North American Headline Tour

UNCURED Join The "POINT BLANK WITH SOULFLY (Nailbomb Set) Tour"

THE DEAD DAISIES Set To Burn It Down In 2018

Don't Miss DIMEBASH At Observatory OC In Santa Ana, CA On January 25th

FU MANCHU Premieres Title Track From New Album Clone Of The Universe

EXHUMED Announces "Grind Over Europe II" Headlining Dates

OF MICE & MEN Drop Cover Of PINK FLOYD's "Money"

CORROSION OF CONFORMITY Unveil "The Luddite" Video

URIAH HEEP Update North American Tour Schedule

KAOTEON Set To Release New Album Damnatio Memoriae

WARBRINGER Announce Special "Waking Into Nightmares" Shows In April

NIGHTWISH Reveal Track List For Decades Compilation

SANCTUARY To Tribute Upcoming Tour To WARREL DANE

ARJEN LUCASSEN Reveals Ayreon Universe - The Best of Ayreon Live Album

VISIGOTH Launches Video For "Warrior Queen"

THUNDER Set To Release New Live Album Stage

FIREWIND Unleash 'We Defy' Music Video

BON JOVI Announces 2018 "This House Is Not For Sale Tour"

ROBINSONS, IRON MAIDEN And HELP FOR HEROES Join Forces To Launch LIGHT BRIGADE Beer In The U.K.

EDGE OF PARADISE To Open For METAL ALLEGIANCE At NAMM 2018

WHITE WIZZARD Streams Title Track To New Album Infernal Overdrive

Swedish Heavy Rockers JIRM, Formerly Known As JEREMY IRONS AND THE RATGANG MALIBUS, Set To Release Surge Ex Monumentis Album

JOE PERRY Reveals All-Star Band For Roxy Show

JOHN CORABI To Release Live 94 (One Night In Nashville)

AXEL RUDI PELL Set For New Album Knights Call

Frontiers Music Srl Welcomes TORA TORA

PHIL CAMPBELL AND THE BASTARD SONS Release New Video For "Welcome To Hell"

IRON REAGAN And GATECREEPER Announce Split LP

KITTIE Celebrate 20 Years With New Documentary

CURRENTS Release New Video For "Delusion"

WE CAME AS ROMANS Announce Spring 2018 Headline Tour

ANUBIS GATE Release Full Video For Track "Black"

BLACK LABEL SOCIETY Debut "Trampled Down Below" Track

OUTDREJAS Spreads Positive Message With "Pomise" Video

5RAND Present New Video For Track "Erase"

SPREAD EAGLE Sign To Frontiers Music Srl

THE CROWN Announce New Album, Cobra Speed Venom

VOICES OF EXTREME Sign To Z RECORDS

WITHERFALL To Play First Shows On 70000 TONS OF METAL Cruise

MIKE LEPOND'S SILENT ASSASSINS Release New Single "Hordes Of Fire"

ST. JAMES, Featuring Drummer CARL CANEDY (THE RODS) Launch "Attitude" Video

URIAH HEEP Announce 2018 North American Tour

OFFENSIVE GROUND Release "Salvage Dump" Video

Metal Legend Producer CHRIS TSANGARIDES Dies At 61

KILLER DWARFS Sign To EMP Label Group, New Live LP Live, No Guff Coming In April

ALLEGAEON Launches Cover Of RUSH's "Animate"

W.E.T. To Release Earthrage Album In March

X JAPAN Return To U.S. For COACHELLA 2018 Debut

UNRULY CHILD Announce Unhinged- LIVE FROM MILAN! CD/DVD

OBLIVION Reveal New Album Resilience Details

KICKIN VALENTINA Release "Crazy" Music Video

JUNGLE ROT Preparing Tenth Studio Album

JUDAS PRIEST Unleash "Lightning Strike" Video

Original ALICE COOPER GROUP Guitarist/Songwriter MICHAEL BRUCE Releases No More Mr. Nice Guy Biography Limited Edition Box Set

MAMMOTH GRINDER Share "Servant Of The Most High" Video

AS I LAY DYING Frail Words Collapse, Shadows Are Security LP Reissues Now Available

BULLETBOYS Unveil From Out Of The Skies Album

VISIGOTH Reveal Details For Conqueror's Oath Album

RED FANG Announce Custom Wine; Additional Tour Dates

NEW YEARS DAY Unveil Diary Of A Creep EP Specifics

New Label RFL RECORDS Announces First Signings, Seeks New Talent

A PERFECT CIRCLE Welcome 2018 With New Song "Disillusioned"

SOLDIERS OF SOLACE Reveal We Are Immortal Album Details

EMP LABEL GROUP Launches Outlaw Country/Southern Rock Imprint "EMP OUTLAW"

SEBASTIEN Reveal Act Of Creation Album Details