Iron Maiden Releases Casket Box Set


By Sefany Jones, Contributing Editor
Thursday, September 12, 2002 @ 1:24 PM


| | | |
| --- | --- | --- |
| | | Maiden Releases Casket Box Set |
For Immediate Release: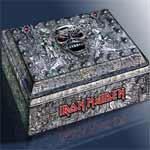 Iron Maiden Releases Casket Box Set Eddie's Archive and Edward The Great Greatest Hits Collection On November 5th Through Portrait/Columbia/Legacy Records. For 20 years, Iron Maiden have been at the forefront of heavy metal worldwide and are viewed by many as one of Britain's greatest musical exports, as highlighted by last year's prestigious Ivor Novello songwriting award. During this time they have achieved incredible global chart success, some 200 gold and platinum records, sell out tours and huge respect from their peers both old and new. As a celebration, Iron Maiden are to release some highly treasured recordings presented in a very special collector's case for their long standing and loyal fans. Eddie's Archive is to be released by Portrait/Columbia/Legacy Records on November 5th. The set comprises of three double CD's containing the band's earliest live recordings from 1979 through to their headlining performance at Donington in 1988. In addition to this, there will be a compilation of The Best Of The B-Sides available here for the first time as one collection. Rod Smallwood, manager of the band since mid 1979, comments, "We've been talking for a while about issuing a special release for our fans and I think the live recordings are very important to the history of the band. In fact, other than the Maiden Japan EP and a couple of live B-Sides, there were no live recordings released until Live After Death in 1986. These recordings encompass the early days with Paul Di'Anno through to Bruce Dickinson's arrival. Maiden's career went on from one high to another -- it really was a rollercoaster ride! I think they capture the essence of what the band was and still is all about: pure, raw energy, great musicianship and an in-your-face attitude. I've seen the casket and it looks fantastic. This is a great way to celebrate our history with the people who helped us make it." The set will be presented in a unique 270x190x60 mm. (approx. 10.5x7.5x2.5 in.) limited edition silver Eddie embossed casket. Alongside the music, fans will find a crystal Eddie Head shot glass and an individually numbered Pete Frame family tree on parchment scroll, detailing the complete Iron Maiden history and rolled in a specially designed Eddie ring! Each of the three double CD's have full colour 24 page booklets, two with new Eddie artwork with previously unseen photos of the various line ups; and one based on the original classic '82 tour programme.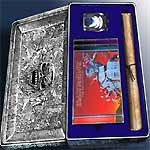 The first of the double CD's is entitled BBC Archives and includes music recorded between 1979 and 1988 for the BBC's Friday Rock Show. Accompanied by notes from the show's long time producer, Tony Wilson, it features Maiden fronted by Paul Di'Anno and their performances at a special Rock Show studio session in October 1979 as the band were breaking onto the scene, and at 1980's Reading Festival where they appeared as Special Guests to UFO. Also documented is Bruce Dickinson's arrival in 1982 and the band's return performance as headliners at the Reading Festival. The double album concludes with songs taken from the band's record breaking capacity show at The Monsters Of Rock Donington festival as part of their 1988 Seventh Son tour. The BBC Archives double CD is a testament to the live power that is Iron Maiden -- no prisoners taken, no quarter given. Iron Maiden's 1982 Beast On The Road tour has taken on a mythical quality among Metal fans as the tour and the album which really put Maiden at the forefront of Rock and Metal worldwide. The historical show from the Hammersmith Odeon has been specially mixed and co-produced for the casket by Steve Harris and the band's long-serving sound engineer Doug Hall. This double CD, Beast Over Hammersmith, clearly illustrates how remarkable and ground-breaking the tour was in support of the all time classic album, The Number Of The Beast. The accompanying inlay booklet is a complete recreation of the Beast On The Road tour program and lists all the world tour dates and includes notes from the band written at that time. The third double CD in the set, Best Of The B-Sides, is accompanied with liner notes written by Iron Maiden's manager Rod Smallwood to guide you through every track. In many ways it is a collection that not only reveals much about the band as individuals and the inherent character of the band, but also provides a real insight into who and where their influences came from. For the fans among you who buy both singles and albums, you will all be aware that Maiden don't simply stick on another mix of the same single or another album track for their B-sides, but they will always try and come up with something of real quality, and that is both new and different. With this in mind, the band have compiled what they consider to be the Best Of The B-Sides over the years, which include all the studio recordings, some of the live recordings (including cover version of songs from their heroes) as well as the occasional humorous, sideways look at themselves and those that have worked with the band. In full, the track listing of Eddie's Archive is as follows: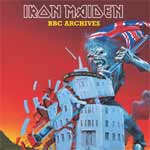 CD 1 -- BBC Archive DISC 1

Friday Rock Show Session 1979

Iron Maiden
Running Free
Transylvania
Sanctuary

Reading Festival 1982

Wrathchild
Run To The Hills
Children Of The Damned
The Number of The Beast
22 Acacia Avenue
Transylvania
The Prisoner
Hallowed Be Thy Name
Phantom Of The Opera
Iron Maiden

DISC 2

Reading Festival 1980

Prowler
Remember Tomorrow
Killers
Running Free
Transylvania
Iron Maiden

Monsters of Rock Festival Donington 1988

Moonchild
Wrathchild
Infinite Dreams
The Trooper
Seventh Son of a Seventh Son
The Number of the Beast
Hallowed Be Thy Name
Iron Maiden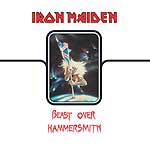 CD2 -- Beast Over Hammersmith DISC 1 Murders In The Rue Morgue
Wrathchild
Run To The Hills
Children Of The Damned
The Number of The Beast
Another Life
Killers
22 Acacia Avenue
Total Eclipse DISC 2 Transylvania
The Prisoner
Hallowed Be Thy Name
Phantom of the Opera
Iron Maiden
Sanctuary
Drifter
Running Free
Prowler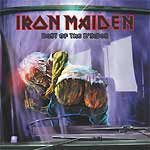 CD3 -- Best Of The B-Sides DISC 1 Burning Ambition
Drifter (Live)
Invasion
Remember Tomorrow (Live)
I've Got The Fire
Cross-Eyed Mary
Rainbow's Gold
King Of Twilight
Reach Out
That Girl
Juanita
The Sheriff Of Huddersfield
Black Bart Blues
Prowler '88
Charlotte The Harlot '88 DISC 2 All In Your Mind
Kill Me Ce Soir
I'm A Mover
Communication Breakdown
Nodding Donkey Blues
Space Station No. 5
I Can't See My Feelings
Roll Over Vic Vella
Justice of the Peace
Judgment Day
My Generation
Doctor Doctor
Blood On The World's Hands (Live)
The Aftermath (Live)
Futureal (Live)
Wasted Years '99 (Live) Iron Maiden will shortly reconvene to start writing and preparing for their next studio album for Columbia Records. Simultaneously, in recognition of the band's huge and everlasting popularity, Portrait/Columbia/Legacy is to release a TV advertised Greatest Hits album entitled Edward The Great which will feature 16 of their biggest hits. "We appreciate that the majority of our loyal fans will already have all these tracks, but hope like us, they will get a great kick from seeing Iron Maiden TV ads blasting across the nations homes!" says Rod Smallwood. "This Greatest Hits album is aimed at those who need to be initiated into the world of Iron Maiden and Metal, and to make sure everyone clearly understands that Eddie's Archive is for the fans, we have requested that both releases are made on the same day -- 4th November! For the avoidance of any doubt, we will also make the amazing new themed Edward The Great artwork available as a free download from our website (www.ironmaiden.com) for our fans as we would not want them to feel obliged to buy a series of tracks they already have in their collection just to get the packaging." Edward The Great hits run as follows: Run To The Hills
The Number Of The Beast
Flight Of Icarus
The Trooper
2 Minutes to Midnight
Wasted Years
Can I Play with Madness
The Evil That Men Do
The Clairvoyant
Infinite Dreams
Holy Smoke
Bring Your Daughter… To The Slaughter
Man on the Edge
Futureal
The Wicker Man
Fear of the Dark (Live in Rio)

The Casket will be released in North America by Portrait/Columbia/Legacy Records.

www.ironmaiden.com




Please log in to view RANTS

If you don't have a username, click here to create an account!






Represent! Get Your KNAC.COM Bumper Sticker

Happenings This Week on KNAC.COM

THE DEAD DAISIES Announce EU & UK Summer Tour

MENZAJAMS Presents NICK MENZA Benefit Concert, Auction

JIZZY PEARL'S LOVE/HATE Confirm UK Tour

MONSTERS OF ROCK CRUISE 2019 Lineup Revealed

DEVIN TOWNSEND Announces ERAS Part 1 Vinyl Collection

RAGE Members Form New Band REFUGE, Release New Single

ANGEL VIVALDI Announces The "Melodic Decadence" Summer Tour

Guitarist PAUL CROOK Launches All-Star Interactive Band DEVILSTAR

NIGHT DEMON Reveal Details For "Darkness Over North America Tour" 2018

FATES WARNING Announce Live Over Europe Album

Three KING DIAMOND Vinyl Reissues, Abigail, Fatal Portrait And Them Now Available

DEVILDRIVER Reveals Outlaws 'Til The End Country-Gone-Metal Covers Album

Rock/Metal Artist DEREK HESS Announces "31 Days in May" Mental Health Awareness Tour

CANDLEMASS To Release New EP House Of Doom

HOGAN'S GOAT Unleash "Shit Kicker" Video

TNT Releases New Single "Tears In My Eyes"

EVERY MOTHER'S NIGHTMARE Album Smokin' Delta Voodoo Gets Reissue

Canada's LOUD AS HELL Announces 2018 Line Up W/ FIT FOR AN AUTOPSY, ARCHSPIRE, INTO ETERNITY, NINJASPY And More

RED DEVIL VORTEX Launches "Something Has To Die" Video

HALESTORM Add Dates To Female-Fronted Hard Rock Tour

A PERFECT CIRCLE Share New Song "So Long, And Thanks For All The Fish"

TREMONTI Releases Music Video For Debut Single "Take You With Me"

LIZZY BORDEN Returns With His First Album In 11 Years, My Midnight Things

LORD OF THE LOST Announce New Album Thornstar, European Tour Dates

LOUDWIRE Announces GEN-X SUMMER With BUCKCHERRY, P.O.D., LIT, & ALIEN ANT FARM

VILE CALIBER Release New "Willpower" Track, Video

MARDUK Announce New Album Viktoria

THE RAVEN AGE Reveal New Vocalist MATT JAMES

GHOST Set To Release New Album Prequelle

CKY Announce Summer Co-Headline Tour With SLAVES

AMANDA SOMERVILLE'S TRILLIUM Reveal New Album, Tectonic

THE ATOMIC BITCHWAX Confirm North American Tour With THE SWORD

MADBALL Announce For The Cause Album Details

Symphonic Metallers GRAVESHADOW Unveil New Video For "Warchief"

MISS MAY I Launch New "Under Fire" Music Video

SEVENTH WONDER Announce New Album, Tiara

ARTILLERY To Reissue B.A.C.K. Album In June

YES Featuring ANDERSON, RABIN, WAKEMAN Announce QUINTESSENTIAL YES: THE 50th ANNIVERSARY TOUR

STRIKER Unleash "Pass Me By" Video

VICIOUS RUMORS Announce "Digital Dictator - 30th Anniversary Tour"

LAS RAGEOUS Band Performance Times Announced

PHOENIX RISING Release Video For "Lights Out"

DORO Unveils Cover Artwork + Title Of New Upcoming Album Forever Warriors, Forever United

ALICE COOPER Extends North American "Paranormal Evening" Tour Through October

TRIVIUM Launches "Endless Night Video

TOOL Music Clinics Announced For May

AFTERSHOCK Festival Reveals 2018 Band Lineup

VOICES OF EXTREME Announce Debut UK Tour

SALEMS LOTT Release "Royal Desperado" Video

VANLADE Stream "The Curse at Raven's Reach" Song

SABER TIGER Eastern Europe 'Devastation Tour' Announced

BULLET "Fuel The Fire" In Newly Launched Video

SEVENDUST Are "Not Original" With New Video

TREMONTI Stream New Album Title Track "A Dying MAchine"

MEGADETH Announce Killing Is My Business...And Business Is Good: The Final Kill Deluxe Reissue Of Iconic Debut Album

NERVOSA Debut "Never Forget, Never Repeat" Track

FIVE FINGER DEATH PUNCH Stream New "Fake" Track

KORPIKLAANI Announce New Studio Album, Kulkija

RINGS OF SATURN Release Music Video For "Margidda"

EXMORTUS Premiere New Single, "Make Haste"

MILLENNIAL REIGN "Break The Tide" With New Video

THE NIGHT FLIGHT ORCHESTRA Reveal New Album Sometimes The World Ain't Enough

GRAVEYARD Debuts New Video For "Please Don't"

GRANNY 4 BARREL Unleash "She Likes Guns" Video

Original VICIOUS RUMORS Bassist DAVE STARR Celebrates 30th Anniversary Of Digital Dictator Album

K.K. DOWNING Unveils Autobiography Cover For US Edition Of Heavy Duty: Days And Nights In Judas Priest

LORDI Reveal Sexorcism Album Details

TETRARCH Announces Upcoming Headline Tour Dates

ALESTORM, GLORYHAMMER Announce North American Tour

FLESHGOD APOCALYPSE Equipment Stolen In Sweden

NEKROGOBLIKON Unleash Bombastic New Track, "The Magic Spider"

WITCH MOUNTAIN Confirms North American Summer Tour

SOULFLY/CAVALERA CONSPIRACY Guitarist MARC RIZZO Announces NYC Listening Party

WORHOL Streams New Track "Is This What's Left Of Me"

OTEP Announces "FIRE & FURY" North American Summer Headline Tour Dates

A KILLER'S CONFESSION Releases Music Video For "Angel On The Outside"

GRUESOME Announce Second Full-Length Album, Twisted Prayers

KOBRA AND THE LOTUS Premiere Music Video For Japanese Version Of "Let Me Love You"

WELCOME TO ROCKVILLE Band Performance Times Revealed

BULLET FOR MY VALENTINE Set To Release New Album Gravity

GODSMACK Premiere "Bulletproof" Video/Short Film

POWERWOLF Unveil The Sacrament Of Sin Album Details

DIMMU BORGIR Unleash "Council Of Wolves And Snakes" Single, Video

HATCHET Releases "Desire For Oppression" Video

FORT ROCK Band Performance Times Announced

AT THE GATES Premiere "A Stare Bound In Stone" Video

GALACTIC EMPIRE Announce New Ablum Episode II

RIOT V Debut Heart Of A Lion Video

SLAYER Announces The Repentless 6.66-inch Special Collector Vinyl Box Set

ALICE COOPER Guitarist RYAN ROXIE To Release New Solo Album Imagine Your Reality

MOTOGRATER Announce Spring And Summer Tour Dates

JUNGLE ROT Premiere "The Unstoppable" Video

Joe Lynn Turner's SUNSTORM To Release The Road To Hell Album

TWISTED SISTER Frontman DEE SNIDER Returns To Broadway IIn The Epic Concert Rocktopia

TREMONTI Anounce New Album A Dying Machine