HELLION Live In Houston, Texas With Photos!

By Larry Petro, News Monkey
Saturday, November 15, 2014 @ 12:56 AM

| | | |
| --- | --- | --- |
| | | Part Of Metal Fest Show At Concert Pub North |
As Rocktober wound down in Houston, Texas, there was one show left for me to attend; The Concert Pub North Metal Fest featuring local metal bands ABSENT SHADOW, METAVENGE, A BEAUTIFUL DISGRACE, KNOCTURNAL MADNESS, ROTTING CORPSE, guitar virtuoso TONY MACALPINE and a reformed HELLION.

The concert got off to an early start, with doors opening at 5 pm and bands starting shortly thereafter. I myself didn't make it to the show until well after 7 so unfortunately I missed everything prior to KNOCTURNAL MADNESS. I did manage to catch their set and had actually seen most of the bands missed at previous shows and if their sets were anything like what I saw with KNOCTURNAL MADNESS then I have no doubt that they got things off to a roaring start.

In an unfortunate note, ROTTING CORPSE, a band from the Dallas/Fort Worth area that reforms on occasion to play, was unable to perform at this show due to a family emergency with one of the band members, something that occurred after the band had already made the 3 hour drive from North Texas.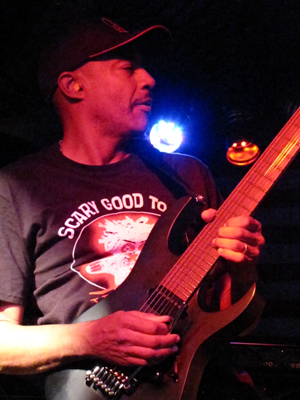 So the next band up was none other than Tony MacApline, a guitar wizard, musician and composer who has been around for over 3 decades. Most people probably remember him from his short stint in the band PLANET X. He brought his Maximum Security tour to Houston for this great performance. The guy is a guitar legend, having released 10 solo records and two live albums since the mid 80's. Along for the ride as his backup musicians were none other than bassist extraordinaire Bjorn Englen, who has played with the likes of DIO DISCIPLES, YNGWIE MALMSTEEN, MSG and QUIET RIOT, and, in a stroke of irony, actually recorded the bass tracks for the most recent HELLION disc, Karma's A Bitch. Sitting behind the kit for Tony was the incomparable Aquiles Priester, the master skin basher from German metallers PRIMAL FEAR.
As part of this tour, and as near as I can tell, this was the only date with HELLION, Tony and company performed his iconic 1987 opus, Maximum Security, in its entirety. The guy can flat out play and is certainly to be included in discussion about some of the instrumental guitar greats like Steve Vai, Joe Satriani and even Yngwie Malmsteen. His set was straightforward guitar rock, no bullshit and no banter even between songs! IT was nice to finally catch this legend in a live setting. HELLION guitarist Maxxxwell Carlisle was even seen front and center observing and (most likely) taking notes from the master.
In between sets and after meeting Tony and his band, I perused over to the HELLION merchandise table. My God, they had just about every kind of merchandise known to man on sale! Everything from CDs to T-shirts, koozies, key chains, necklaces, hats, posters was for sale. There was more merch there than most bands carry at large shows and most definitely more than I had ever seen at the Concert Pub North for a show. As manager Brenda Starr would tell me, "It puts gas in the bus". Since bands these days make most of their money from touring it's a wonder why more don't have the merchandise available like HELLION did. Hell, some bands that have played Concert Pub have had NO merch for sale, a case of pure insanity!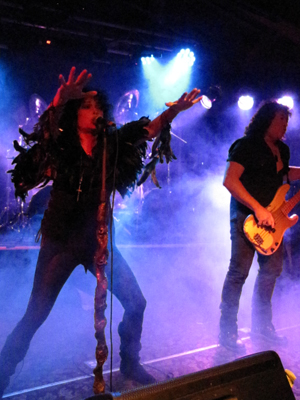 Then came time for the reincarnation of HELLION, led by the ever beautiful Ann Boleyn. Is it possible for someone to sound better than they did 30 years ago? If so, then Ann Boleyn is a poster child for this. She looked and sounded absolutely fantastic during their set, which was kicked off with, appropriately enough, "Resurrection/Will Not Go Quietly", from the Will Not Go Quietly album of 2003. She was just getting started as they rolled right into "Hell Has No Fury", "Betrayer" and the title track from their new EP, "Karma's A Bitch". Boleyn certainly has done a fine job taking care of not only her voice, but her body in general over the years and the crowd was stoked as she screamed her way through the setlist. Accompanied by what can only be described as an all-star touring lineup consisting of DIO/DIO DISCIPLES alumni Scott Warren on keyboards, Simon Wright on drums, rhythm guitarist Georg Dolivo of RHINO BUCKET, bassist Greg Smith of ALICE COOPER, RAINBOW, BLUE OYSTER CULT fame and new addition, lead guitarist Maxxxwell Carlisle, who also doubles as the band bodyguard. Ok, I made that last part up, but seriously, have you seen the guns on this guy?? Certainly not someone you want to piss off, that much is for sure (Check out the photos if you don't believe me).
The entire show was a nice cut of the entire HELLION catalog, with tracks "Stormrider", "Run For Your Life", "Bad Attitude" and "Rockin' Til The End" among those selected for this tour. The band finished the night with a blistering, raucous cover of "The Green Manalishi (With The Two Pronged Crown". Almost immediately following their stage exit the band headed to the merch area to hang with the fans, take pictures and sign autographs. IF you missed this tour hen you most certainly missed out on one of the best club shows this year!
Setlist:
"Resurrection"/"Will Not Go Quietly"
"Hell Has No Fury"
"Betrayer"
"Karma's A Bitch"
Drum Solo
"Stormrider"
"Living In Hell"
"Run For your Life"
Guitar Solo
"Bad Attitude"
"Watch The City Burn"
"Rockin' Til The End"
Encore:
"Break The Spell"
"The Green Manalishi (With the Two Pronged Crown)" (FLEETWOOD MAC cover)
Check out a few more pictures from the show!
All Photos By Larry Petro