EXODUS Blood In, Blood Out


By Metal Mark Mihalo, Tulsa Contributor
Tuesday, November 18, 2014 @ 5:09 PM


| | | |
| --- | --- | --- |
| | | |
EXODUS
Blood In, Blood Out
Nuclear Blast Records





Do! The toxic waltz! Spanning a career of more than 30 years, EXODUS is back with their 10th release, Blood In, Blood Out. Bringing back vocalist Steve "Zetro" Souza, this latest effort from a band that was one of the pioneers of thrash metal is just fucking kick ass. Returning to the classic sound from the earlier years that put them on the mainstream metal map back in the late '80's, we find lots of influences from the Fabulous Disaster era up through Tempo Of The Damned that came out in 2004.

Starting off this mind blowing experience is "Black 13". The intro alone gives you a feeling of anticipation of the brutality to come and just keeps picking up energy until the guitar work kicks in at full speed. Gary Holt and Lee Altus do a stellar job blasting out crunching riffs, while Steve's vocals bring the ferocity that only he can, especially that high scream in the chorus. I love bands that share the lead guitar work, and EXODUS is one of those bands. Listening to the blistering solos, they both fucking just shred it up in this song.

Ripping a page right out of the Fabulous Disaster playbook, the title track "Blood In, Blood Out" has a beat very similar to "Toxic Waltz" with modern thrash influences and cleaner mixing. "Tonight we're gonna fight like it's 1985". Fucking classic! There is sure to be large and dangerous mosh pits if this song is played live. But hey, it's all good, friendly, violent fun!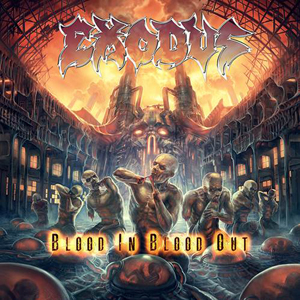 Kirk Hammett returns to his roots as guest guitarist on "Salt The Wound". Kirk was one of the founding members of EXODUS before taking the place of then METALLICA guitarist Dave Mustaine. Having Kirk back with EXODUS even for one song is worth the purchase of this album. The song is classic EXODUS, but there is no mistaking who is playing lead. Kirk fuckin' tears it up!
Bringing in yet another guest appearance, Chuck Billy (TESTAMENT vocalist if you didn't know that) joins the destruction on the brutal "BTK". Lending more of backing vocal capacity, there is no mistaking that deep guttural vocal. I am assuming the lyrics are about Dennis Rader, the BTK killer, since there is reference to Wichita, KS where the crimes occurred.
Only touching on the top songs in this review, the rest of the album is nothing less than you would expect from the masters of thrash. They have their own unique sound and style, and I think that's what makes them the best at what they do. EXODUS has never sounded tighter as a band with Blood In, Blood Out. If you have never checked out EXODUS before, this is a great one to sink your teeth into. Once you get hooked you'll be craving Fabulous Disaster and especially the entirely rerecorded version of their first release Bonded By Blood entitled, Let There Be Blood. EXODUS is currently on tour this fall with SLAYER and SUICIDAL TENDENCIES, so check them out.
Rating 4.0 Out Of 5.0
Grab your own copy of Blood In, Blood Out in the KNAC.COM More Store right HERE




Please log in to view RANTS

If you don't have a username, click here to create an account!