STEPHEN PEARCY, L.A. GUNS, FASTER PUSSYCAT And BULLETBOYS Live In Houston, Texas With Photos!


By Larry Petro, News Monkey
Thursday, December 4, 2014 @ 5:14 PM


| | | |
| --- | --- | --- |
| | | Free Concert Series At Warehouse Live, November 22 |
It was an all out 80's invasion on Saturday, November 22nd as former RATT vocalist STEPHEN PEARCY rolled into town with other 80's hair metal stalwarts L.A. GUNS, FASTER PUSSYCAT and BULLETBOYS as part of the Free Concert Series presented by Houston's Blackhorse Limo Service.

I have mentioned Blackhorse in a couple of prior reviews because owner Justin Ellerton has taken an out of the box approach to advertising his business by putting these concerts on, paying the bands and their expenses and then giving away the tickets to the show for free. I've lost count now but over the past 2 years he's done about 8 or 9 of these shows and they are always a huge hit with the Houston fans, and why wouldn't they be? After all, it is a free concert and who doesn't like free shit?
The capacity of the Warehouse Live ballroom is between 1,500 and 1,700 and as you can imagine, there was definitely no shortage of concertgoers ready to relive the glam days. First up on the bill, the BULLETBOYS, fronted by Marq Torien, who is the sole remaining member from the band's 'glory' days of the 80's. The current lineup features Nick Rozz on guitar, Shawn Duncan on drums and Chad MacDonald on bass. BULLETBOYS got things going with a short, 7 song set headed off with "Born To Breed" from the album 10 Cent Billionaire, which was released in 2009. Torien and company kept things rolling with "Hard As A Rock" and "Hell On My Heels" before hitting their cover of the O'JAYS classic, "For The Love Of Money". The band then played a new track called "Symphony" which is set to appear on the band's new album, Elefante, which was supposed to be released this year but now looks like it won't quite make it. Things cranked back up again with "Kissin Kitty" before polishing things off with probably their biggest hit, "Smooth Up In Ya". The band sounded fantastic and was a great opener for this invasion.
Setlist:
"Born To Breed"
"Hard As A Rock"
"Hell On My Heels"
"For The Love Of Money"
"Symphony"
"Kissin' Kitty"
"Smooth Up In Ya"
After a brief set changeover it was time for the L.A. glamsters FASTER PUSSYCAT. These guys have played in Houston at least 3 times this year and every time the crowds come out to support them. After a period there where they had several lineup changes the band has stayed pretty constant the past few years,
fronted by Taime Downe as always, with guitarists Ace Von Johnson and Xristian Simon, bassist Danny Nordahl and drummer Chad Stewart rounding things out. Say what you will about FP but every time I have caught a show it's been a great fucking time, and tonite was no different. The set got rolling with "Cathouse" from the debut album and kept things cranking with "Slip Of The Tongue". These guys were having a blast and the crowd was rocking along with tracks like "#1 With A Bullet", "Sex, Drugs & Rock And Roll" and the tear-jerking "House Of Pain", during which Downe straddled a large, lighted cross. A definite surprise in the set was a cover of the INXS (you read that right) hit, "Don't Change A Thing", which actually sounded pretty damn good considering the fact that INXS sucks! Another nice piece during the show was a montage of "Bathroom Wall", "Pretty Fucked Up" (SUPERSUCKERS Cover) and "Deep In The Heart Of Texas" all rolled into one. The band finished up their salacious set with the BETTY BLOWTORCH song (a staple in the FP set) "Shut Up And Fuck" and "Babylon". If you're in the mood to party and have a good time then FASTER PUSSYCAT is your band.

There seemed to be a couple of additional songs played that I cannot for the life of me remember, so if you were there don't bitch too much if they're not in the setlist I post!

Setlist:
"Cathouse"
"Slip Of The Tongue"
"#1 With A Bullet"
"Sex, Drugs, Rock & Roll"
"House Of Pain"
"Don't Change" (INXS Cover)
"Donít Change That Song"
"Bathroom Wall"/"Pretty Fucked Up"/"Deep In The Heart Of Texas"
"Shut Up And Fuck"
"Babylon"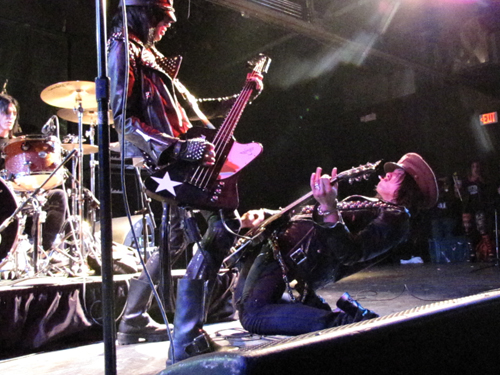 Up until this time the bands had run according to the posted schedule but somehow things ran awry getting L.A. GUNS set up. I'm not sure what the problem was but it they ended up taking the stage 30 minutes late. The GUNS are another band that Houston can't seem to get enough of as they themselves have played the Bayou City 4 times in 2014. Not quite the party band that FASTER PUSSYCAT is, they still manage to put on a good show as well. Their lineup has been a little less consistent than their PUSSYCAT counterparts but recently had been somewhat stable until the sudden departure of bassist Scott Griffin just a few months ago. Why? Well, like everything with band drama these days, it depends on who you ask. At any rate the LAG lineup now features vocalist Phil Lewis, guitarist Michael Grant, who is an absolute beast onstage by the way, drummer Steve Riley and former L.A. GUNS bassist Kenny Kweens rejoining the fold.

They got their portion of the show started with "No Mercy", part of a 11 song performance that included the obvious sleaziness of "Sex Action", "I Wanna Be Your Man" and set closer, "Rip And Tear". And what would an L.A. GUNS be without "Never Enough", "Electric Gypsy" and "The Ballad Of Jayne"? Yet another nice performance and the band sounded tight even though it appeared that vocalist Lewis wasn't quite having as much fun as his predecessors were. Still, overall it was a satisfying show.

Setlist:
"No Mercy"
"Sex Action"
"Never Enough"
"I Wanna Be Your Man"
"Over The Edge"
"Wheels Of Fire"
"Gypsy Soul"
"Slap In The Face"
"Electric Gypsy"
"The Ballad Of Jayne"
"Rip And Tear"
Following their performance a lot of the crowd that was in attendance chose to leave. Maybe it was because of how long it was taking in between sets or maybe they just had no interest in seeing Stephen Pearcy. And I'll be honest here when I say that I wondered myself what kind of performance to expect from the former RATT bastard, especially in light of the less-than-stellar show I witnessed when RATT played here last year (review HERE). It wouldn't take long to find out. The 2014 edition of the "Ratt Bastards", as Pearcy likes to call his backing band, consists of former WHITE LION drummer Greg D'Angelo, longtime Ratt Bastard guitarist Erik Ferentinos, guitarist Chris Hager and bassist Matt Thorne, who played with Pearcy back in the MICKEY RATT days.
The band came out firing on all cylinders for a 16 song set of all RATT classics, no solo material here. Things launched with a trio of "You're In Love", "Lay It Down" and "Lack Of Communication". Stephen was in a surprisingly great mood throughout and put on a very nice performance. The set even included some tracks that hadn't been played in some time live like "Drive Me Crazy", "You Got It" and one of my favorites, "Dangerous But Worth The Risk". The smaller crowd didn't go unnoticed by Pearcy but instead of bitching about it, several times he made the comment that "it doesn't matter if there's 5,000 or 500, it's still a party". He was having a blast and those of us that stayed got a nice treat as the band rolled along to "Wanted Man", "Slip Of The Lip", "Way Cool, Jr", "I'm Insane" and "Sweet Cheater". They even played a cover of the JUDAS PRIEST classic "Heading Out To The Highway" before closing things out with "Back For More" and the smash hit "Round And Round". It was so nice to see a much better showing from Stephen this time around. Thumbs up dude!
A huge thanks once again to Blackhorse Limo for continuing to bring these fine free concerts to Houston!
Setlist:
"You're In Love"
"Lay It Down"
"Lack Of Communication"
"Wanted Man"
"Slip Of The Lip"
"Drive Me Crazy"
"Dangerous But Worth The Risk"
"Way Cool, Jr"
"Sweet Cheater"
"I'm Insane"
"You Think You're Tough"
"You Got It"
"Body Talk"
"Heading Out To The Highway (JUDAS PRIEST cover)
"Back For More"
"Round And Round"
Check out some more photos from the show!
All Photos By Larry Petro




Please log in to view RANTS

If you don't have a username, click here to create an account!






BLACK LABEL SOCIETY, PRONG And OBITUARY In Portland, OR With Photos!

GEMINI SYNDROME 3rd Degree - The Raising

DORO/WARLOCK Triumph And Agony Live

BETWEEN WORLDS Between Worlds

ALCATRAZZ V

BEHEMOTH Sventevith (Storming Near the Baltic) Reissue

ALICE COOPER, ACE FREHLEY In Nashville, TN With Photos!

CARNIFEX Graveside Confessions

BLOOD RED THRONE Imperial Congregation

GUS G. Quantum Leap

BILLY IDOL The Roadside EP

AVATAR, MAGIC SWORD In Houston, TX With Photos!

APRIL WINE, MONKEYJUNK At The Ottawa Bluesfest

MINISTRY Moral Hygiene

CRYPTA Echoes Of The Soul

SKILLET In Houston, TX With Photos!

Immortal Axes: Guitars That Rock Book

IRON MAIDEN Senjutsu

GRINDER BLUES El Dos

GEORGE LYNCH Seamless Review #2

IN THIS MOMENT, BLACK VEIL BRIDES In Houston, TX With Photos!

WARLANDO Festival 2021 Photo Gallery

KISS In Ridgefield, WA With Photos!

LAURENNE/LOUHIMO The Reckoning

TREMONTI Marching In Time

ROCKLAHOMA 2021 Day 3 Photo Gallery

ROCKLAHOMA 2021 Day 2 Photo Gallery

ROCKLAHOMA 2021 Day 1 Photo Gallery

CARCASS Torn Arteries

SETH La Morsure de Christ

GEORGE LYNCH Seamless