FOO FIGHTERS & Special Guests At Dave's Super Rad Birthday Party


By Junkman, On-Air Personality
Monday, January 12, 2015 @ 1:21 PM


| | | |
| --- | --- | --- |
| | | The Fabulous Forum, Los Angeles 1-10-15 |
Live Photos Courtesy Of Paul A Hebert/Forum Photos

"Ya know, about 6 years ago, I celebrated my birthday at Medevil Times, and until now, I thought that was the coolest birthday party ever. This blows that away."

FOO FIGHTERS front man Dave Grohl celebrated his birthday in a big way Saturday night at the Forum in Los Angeles (technically Inglewood...) along with his band and lots of special guests, in a sold-out three and a half hour show, that got 2015 off to a bang, and to paraphrase Grohl, will make all the rest of the shows in 2015 suck in comparison.

Tickets for the show went on sale just a few days before the event, and naturally, created quite an online frenzy. Portions of the proceeds went to the MusiCares Foundation, a longstanding organization that helps musicians through financial, personal and medical crisis.

At around 8:30 PM the house lights dimmed and out came the FOO FIGHTERS to a center rotating stage "In The Round", that was accessible by a long "ego ramp", that stretched from the stage all the way to the risers. But the FOOS were not alone. Grohl welcomed the crowd and said "we have a lot of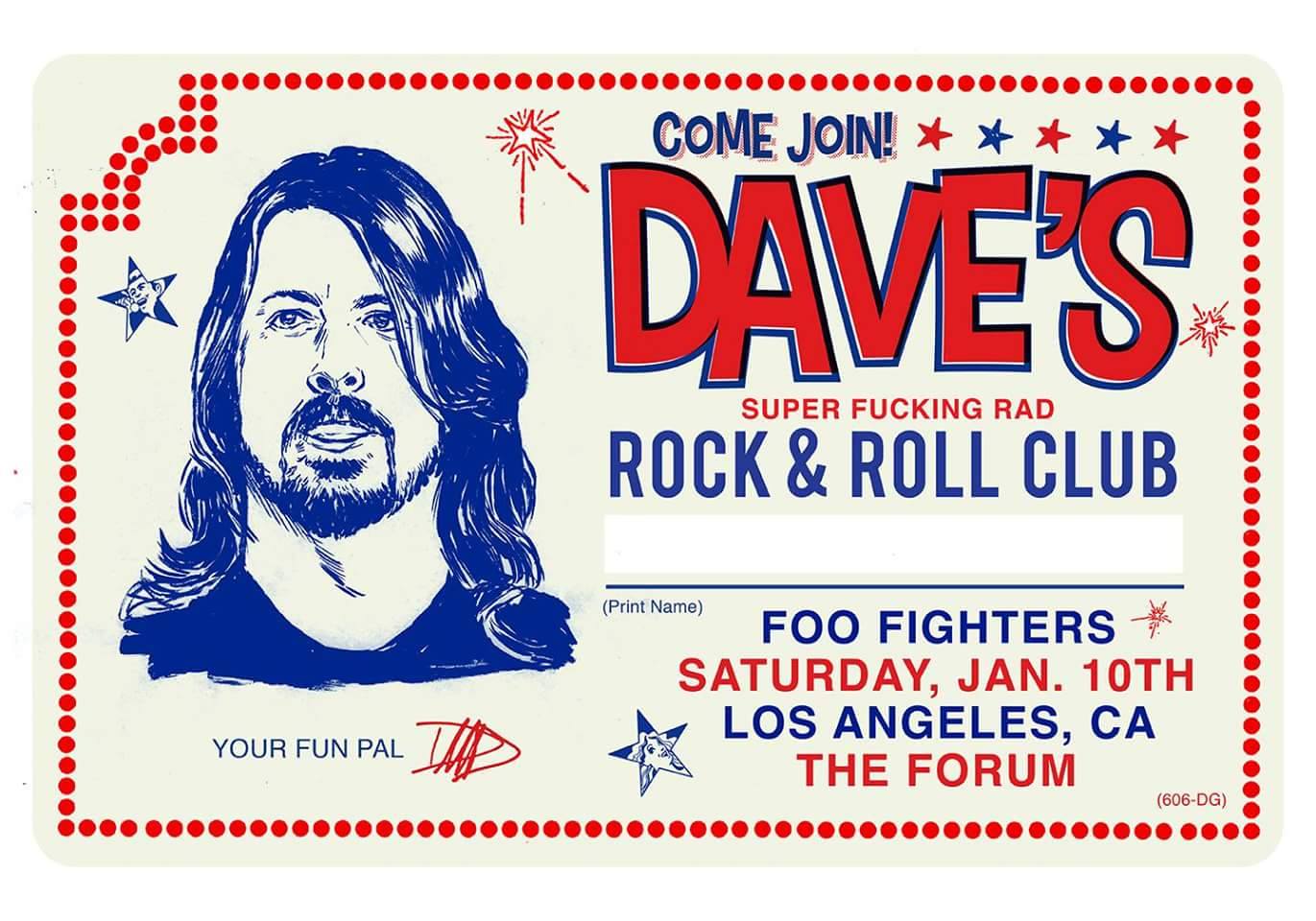 fuckin' guests tonight, so let's get stared now", and with that, he called out KISS front man Paul Stanley. The familiar strains of the KISS classic "Detroit Rock City" sent the crowd into fist -waving bliss, and it was on!Stanley also sang "Do You Love Me", also from the 1976 Destroyer LP, and, to a huge applause, disappeared down the ramp, as Grohl gushed. After a few well received FOO FIGHTERS songs, including the terrific track "Rope", the band welcomed more guests, this time it was TENACIOUS D members Jack Black and Kyle Gass, along with guitarist Slash, to perform the QUEEN classic "Tie Your Mother Down" and a rousing version of LED ZEPPELIN's "Immigrant Song", with Black clearly having a ball channeling Robert Plant and company.
FOO FIGHTERS then played two of my favorite songs of the set. "Congregation", from their latest Sonic Highways TV show soundtrack, which was originally done along with the ZAC BBROWN band in Nashville (watch the FOO FIGHTERS Sonic Highways HBO TV show for an in-depth look at the recording of it...) as well as probably my favorite FF song, "Walk", from 2011's excellent Wasting Light release, that had most of us in the audience jumping around and screaming the chorus.
A huge onstage "Solo Cup" filled with bottles of champagne kept the band members in a happy mood throughout the set, in particular guitarist Pat Smear, who was grinning from ear-to ear (I'm a poet and didn't know it...) as he truly was having a blast. It was time for more fun, as joining the band next was none other than the legendary Alice Cooper, sporting a "Coop" adorned letter sweater, and rocked with the FOOS on his classics "Schools Out" and "Eighteen", again driving the crowd into a frenzy.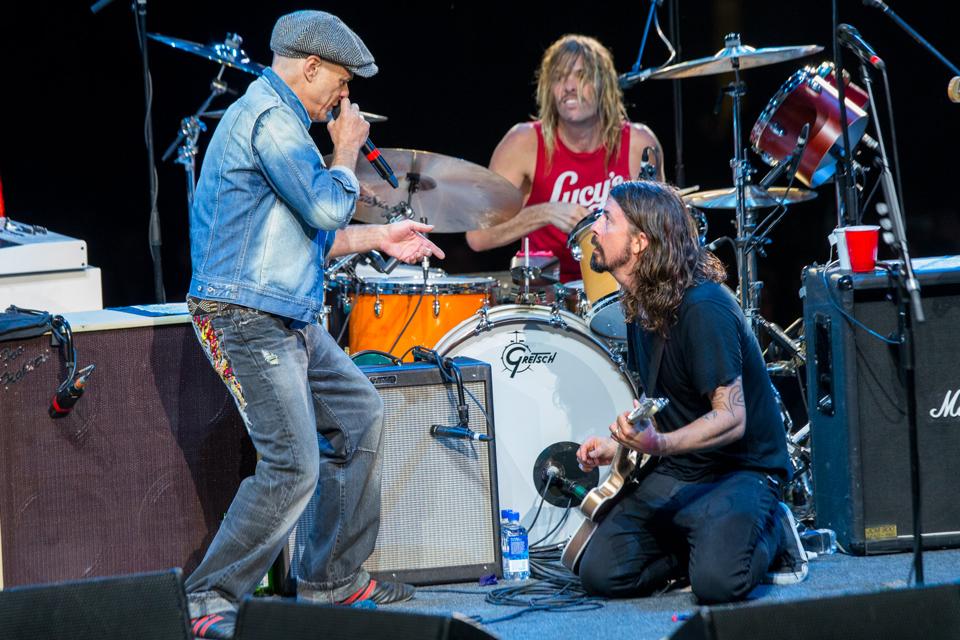 After 2 more FF songs, the Taylor Hawkins penned "Cold Day In The Sun", and a sing along version of "Monkey Wrench", it was time for more guests. Next up was a real surprise, as was the material. "Ladies and gentlemen, from QUEENS OF THE STONE AGE please welcome Nick Oliveri", was Grohl's spirited intro. And with that he joined the band for an absolutely killer version of the Roky Erickson classic "Two Headed Dog", completely nailing it in every way.
Grohl and company continued to dole out the hits, with a rousing "Learn To Fly" as well as an earthshaking "White Limo", and interacting with the audience and striking "rock star poses" along the huge ramp that lead from the stage. Clearly enjoying himself, Grohl said something to the effect that this was "like a backyard kegger, and all my friends are invited", keeping with the whole birthday party theme. After a nice version of "Arlandria", again from 2011, BLACK LABEL SOCIETY guitar god Zakk Wylde joined the band onstage, to blast through the BLACK SABBATH classics "N.I.B" and "Fairies Wear Boots". Again the band regrouped and kept the hits-a-comin'. "Times Like These" is such a great song and really seemed to sum up the night for the now 47 year old Dave Grohl. "Outside", another great song from Sonic Highways followed and was well received from the already blown away Forum crowd. There was lots of love in this room tonight and it was given back by the beaming members of the FOO FIGHTERS after each and every number.
Explaining to the crowd that "without this band there would not even BE a FOO FIGHTERS", the band welcomed JANE'S ADDICTION singer Perry Farrell to rock with the band, and he sprinted down the ramp and leaped into JA's "Mountain Song". Looking fit and thin and showing off his finest stage moves, Farell then launched into a rather sloppy version of the ROLLING STONES 1976 hit "Miss You", but the band started to feel the groove, as did the crowd, and the technicalities took a back seat.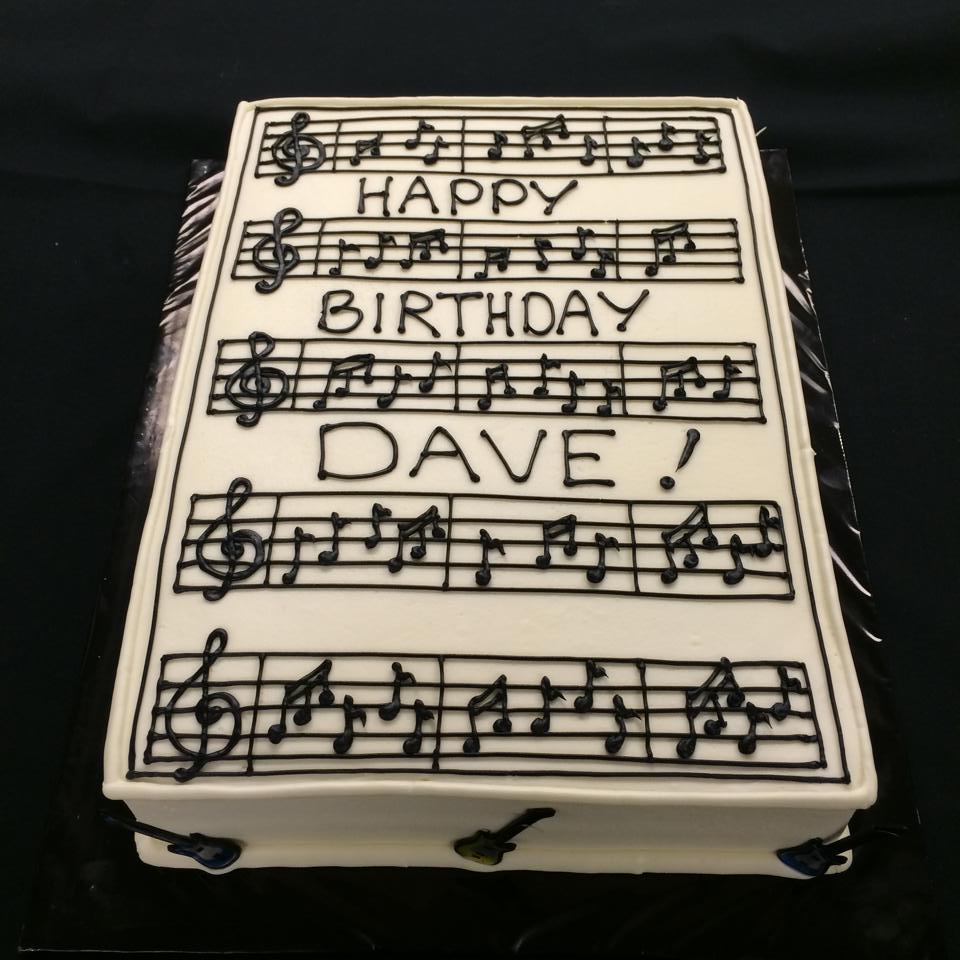 During FOO FIGHTERS next set of songs, came what I thought was the highlight, for me anyway, of the evening. For those that are unaware, "FOO FIGHTERS: Sonic Highways" is a an HBO series that focuses on the band travelling to a different city and writing and performing with the local musicians of that city. One episode in particular that is my favorite is the New Orleans episode. I fell in love with that city the first time I visited, and the first night I was in town I got to experience the talents of a very young "Trombone Shorty", who was a big part of the Sonic Highway episode. Naturally, he came out and completely schooled the band and the crowd with an epic performance during "This Is A Call". I can only describe him to the unaware as the Jimi Hendrix of trombonists. What he does with that instrument has got to be seen to be believed. I'm sure he made a lot of new fans, with this performance, and rightly so. After a very honest version of the FF hit "Best Of You", it was time for more magic. Dave Grohl said one of the guys on his "bucket list" of people to jam with was ready to come out and blow the roof off the place. And indeed it did. Joining the band was none other than Diamond David Lee Roth!
Appearing shirtless, with a denim jacket, baggy pants and his lately trademark "newsboy" cap covering up a shockingly shaved head, Roth shucked and jived his way up the ramp and lead a fun version of "Panama" from VAN HALEN's 1984 classic release. Struggling to find his range it seemed, he actually made reference to a "Freudian Slip" during the breakdown part of the song. It was interesting to see the still fit rocker sporting huge body tattoo's on his ribcage, and whenever he took his cap off like during "Ain't Talkin' Bout Love", you could see what seemed like the scars of long ago scalp surgery on his now shaved head. Just an observation, not judgement. The band, as well as myself, and the rest of the crowd were absolutely thrilled to have him in the building, much less performing onstage, and I'm pretty sure he got the biggest applause of the evening.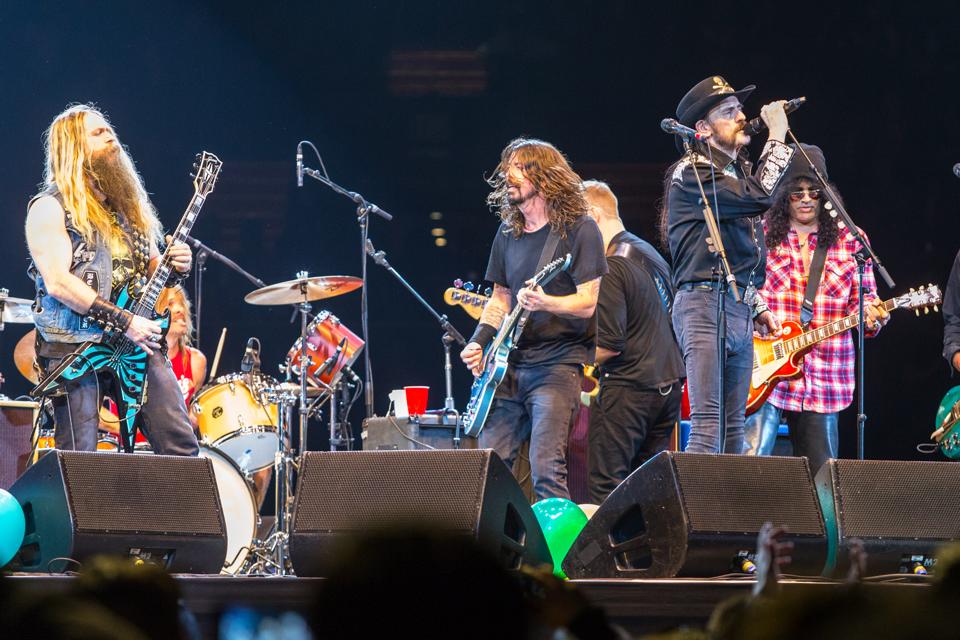 It was now approaching midnight, and the always affable Dave Grohl thanked the crowd and told them how much he appreciated them for coming, even taking time to acknowledge a girl in the crowd who held a sign that she drove 15 hours to see the show. It is that kind of personal interact with his audience that makes Grohl the kind of "every man" that people identify and love so much. The band then launched into "Everlong", probably their biggest hit, and, naturally the sing-along continued. But this night had to end on an incredible high note. To do so, there was only one guy who we had not seen yet. He has been sick, and it's been well documented that he is Dave Grohl's friend and idol, so when Lemmy Kilmister from MOTORHEAD ambled up onstage, I was not surprised. He was also joined by Slash and Zakk Wylde. "What song is it that you would like to sing, Lemmy?' is what Grohl asked. And Lemmy and company blasted out a rockin' version of the Chuck Berry classic "Let It Rock", which was the perfect cap to a killer evening at the Fabulous Forum. Not one person in the building could say they were not blown away by the nearly 4 hours of non stop rock. It was a "totally rad birthday party" in every sense, as well as quite a showcase on how tight a band the FOO FIGHTERS are. My hats off to the band for truly showing the normally jaded Los Angeles audience what a true rock show is all about. And of course, a big Happy Birthday to the great Dave Grohl. Keep it up, sir, your presence is surely appreciated by me and all who love the rock! My thanks to the lovely KLB and Shauna D for helping me attend.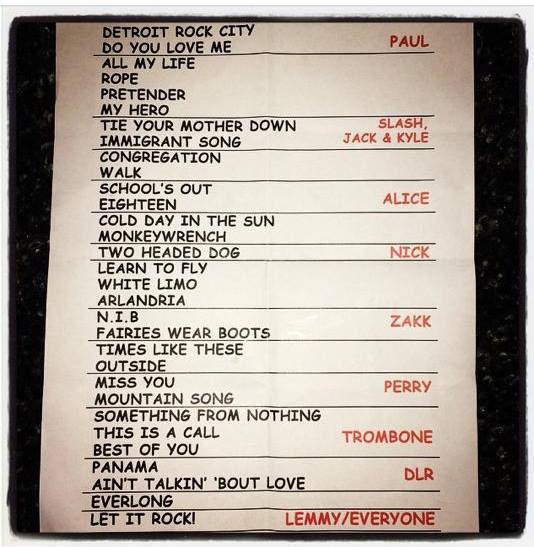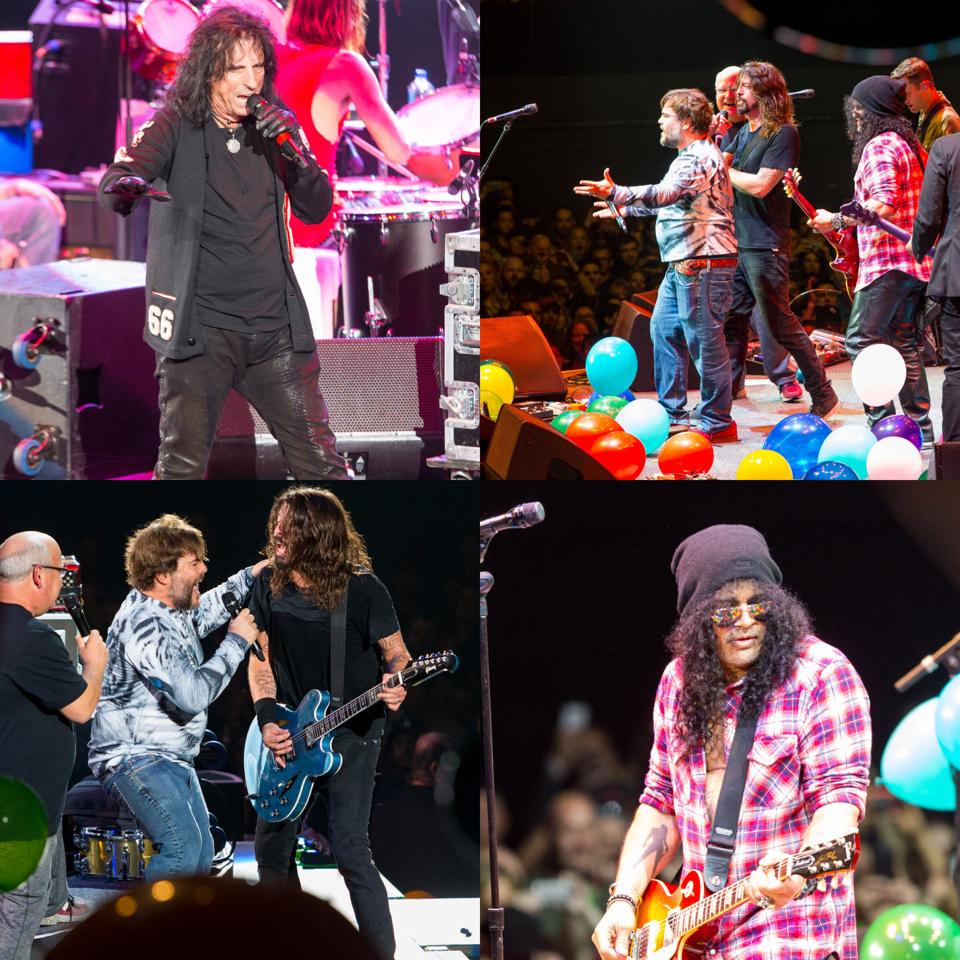 Please log in to view RANTS