THRESHOLD For The Journey


By Cary Gordon, Metal Geek
Tuesday, January 20, 2015 @ 4:36 PM


| | | |
| --- | --- | --- |
| | | |
THRESHOLD
For The Journey
Nuclear Blast





The release of a new album from these progressive metallers hailing from England is always cause for celebration. THRESHOLD is one of those special bands to these ears. I definitely understand that they are an acquired taste, but if you just lose yourself to the music, then you will be in for an enjoyable audible experience. This is the second album featuring the return of original vocalist Damian Wilson after the untimely death of Andrew "Mac" McDermott a few years ago, and Wilson delivers another tour de force performance. Admittedly, this album is not as good as his return album, 2012's March Of Progress, but it has solidified itself as a top album for 2014 in just a few short listens. There is something about the music, the guitar tones and the melodies that elicit an emotional response that no other band can quite do. Sure, they are for example, the track, "Unforgiven", which is a poignant journey filled with amazing melodies, great hooks, and dripping with emotion. One of the stand out tracks on the album is the third cut on the album, the almost twelve minute epic "The Box", which weaves in and out of piano driven acoustic pieces, heavy and in your face guitar tones, and keyboard ladened prog, all the while filling your ears with beautifully harmonic choruses.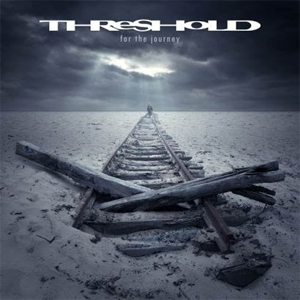 This album feels much more moody and somber in nature, and is everything you would expect from a THRESHOLD album. One of the things that make THRESHOLD stand out from contemporaries in the scene is that THRESHOLD knows how to write exceptionally great music, catchy, heavy, emotional, and never feel the need to be overly wanky. Yes, I am calling out DREAM THEATER. This is such a great and balanced album, heavy when it needs to be, proggy when it feels it has to be, and melancholic in all the right places. There are times when it can feel a bit overproduced, but I in all honesty, feel that is some of the charm of the band. There are electronic elements thrown in here and there, yet they really work with the style of the band. Call me a fan boy, or whatever, but THRESHOLD is one of those bands that I hold in high regards, and look forward to every new release!
4.5 Out Of 5.0
Grab your own copy of For The Journey in the KNAC.COM More Store right HERE




Please log in to view RANTS

If you don't have a username, click here to create an account!