DAVEY SUICIDE World Wide Suicide


By Wendy Jasper, Black Metal Aficionado
Tuesday, January 20, 2015 @ 4:52 PM


| | | |
| --- | --- | --- |
| | | |
DAVEY SUICIDE
Worldwide Suicide
Standby Records





Industrial Metal darling Davey Suicide has done it again and lovers of the genre are in for a real treat. Worldwide Suicide was released in late 2014 and has continued to gain momentum into the new year. A tour with BLOOD ON THE DANCE FLOOR propelled the early promotion of the release and in 2015 we will see more tour dates and fan fanaticism.

The CD kicks off with Suicide's typical verbal intro via "Your Honor The Asshole" and rages into the title track, "World Wide Suicide". His anti-establishment angst is a recurring theme and it speaks to an audience that needs an outlet for the release of pent up rebellion. I would say that the average fan is a young adult, but having been to several of the artist's shows, I can say with certainty that his fan base is diverse in age and culture.

"Until We're Dead" and "The Hole Is Where The Heart Is" are up next and these songs remind the listener of that 1980's glam metal era while still cranking out the grungy, edgy beat of techno-metal. The post-apocalyptic feel continues as we progress deeper into the record with songs like "The Devil Inside", "Only Human" and "Underdosed".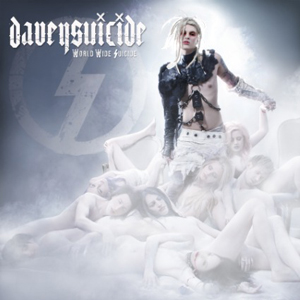 Lovers of bands like ORGY and MINISTRY will hear their influence laced into the fabric of the songs on this CD. Like Suicide's first album, this one is dark in its emotional content and continues to push the boundaries of the singer's unapologetic "be yourself" attitude. The music appeals to a multitude of listeners because of the variety. If you like industrial music or glam metal, or both, then this is the band for you.
Rounding out the record is "Nothing Is Sacred", "Imperfect", "Dirty Rotten Filthy Rich" and "Kamikaze Culture Shock". From start to finish the music is entertaining. It's sleazy and gritty, yet vibrant and energetic. On top of all of that, the orchestration is lush, and Suicide can actually sing. He doesn't bark, yell, or talk over the music. He has just the right combination of clear and growling vocals to keep your attention. He's wild and untamed, yet the listener can make a connection.
Fans of MARILYN MANSON, STATIC X, DOPE and ORGY will love this album.
5.0 Out Of 5.0 =)

Please log in to view RANTS