SCAR SYMMETRY The Singularity, Phase 1: Neohumanity


By Metal Mark Mihalo, Tulsa Contributor
Thursday, February 5, 2015 @ 12:00 AM


| | | |
| --- | --- | --- |
| | | |
SCAR SYMMETRY
The Singluarity, Phase 1: Neohumanity
Nuclear Blast Records




Another epic metal band to hail from Sweden, SCAR SYMMETRY has been on the scene since 2004 with great success with their blend of melodic death and progressive styles of metal. Gaining significant popularity in the U.S. with their last album The Unseen Empire, released in 2011, they are back with the first of a trilogy of albums entitled The Singularity. This multi-release will be based on the concept of transhumanism, which is incorporating technology to greatly enhance human intelligence and ultimately the transformation into posthumanity. The first of this trilogy, Phase I: Neohumanity, takes us on a journey into the not so distant future where "artilects" are run by super computer artificial brains to control humanity and the fight for those who oppose it. This release is unique in that Per Nilsson does the majority of the work. From songwriter to vocals to lead guitar and keyboards, Per is an amazing musician.

The mix of clean and growl vocals seem to be the norm for a lot of bands lately, but SCAR SYMMETRY seem to have it down to a fine art. Mixing up the sound with three different vocalists (Lars, Roberth and Per), and combining that with the well-orchestrated music, Neohumanity delivers a tremendous punch to the face. The opening track "The Shape Of Things To Come" is short and tranquil in its blend of clean harmonies which slams you right into "Neohuman". Don't be fooled by the synthesizer techno intro, this song will grab your nuts and twist them 'til they pop with the relentless pounding rhythm and driving guitars.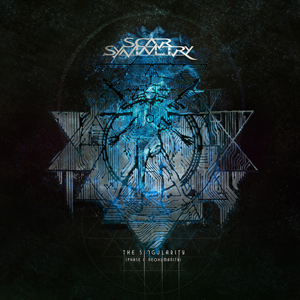 Per does an outstanding job delivering clean, soaring solos while the keyboards add that nuance of enchantment throughout. Next and probably my favorite track on this album is "Limits To Infinity". The crunching guitars and earthquake beats from Henrik on drums have more of a power metal sound than the other songs but takes on the familiar death sound in the middle leading again into the chorus at the end. "Children Of The Integrated Circuit" is a two and a half minute guitar instrumental and is a harmonious interlude toward the end of the album. All the songs are great, but I'll just touch on one more here; "Technocalyptic Cybergeddon". Like any movie trilogy, there has to be a cliff hanger leading to the next release. Coming in at over ten minutes, this brutally heavy song is a great ending for this album and leaves you wondering what's to come for mankind's future. The ending of the song comes a full 360 from the opening track with references of being "as tears in rain, lost to the void" as the "artilects" take over and we become digital. Is mankind doomed?
The beautiful melodic choruses throughout this release are a hallmark of SCAR SYMMETRY, and the blend with the death metal elements makes this their best release to date. The guitar work on this album is just fucking amazing. Hopefully that trend will continue with Phase 2 and 3. If there was a new genre of metal called Progressive Sci-Fi Melodic Death, SCAR SYMMETRY would fit the bill for sure.
4.8 Out Of 5.0
Grab your copy of The Singluarity, Phase 1: Neohumanity in the KNAC.COM More Store right HERE




Please log in to view RANTS

If you don't have a username, click here to create an account!





LOU DIBELLO Heat Wave

DRIVE IDEFI (A Tribute To David Earl Taylor And Rick Chavez)

Dimevison 2: Roll With It Or Get Rolled Over

TARJA From Spirits And Ghosts (Score For A Dark Christmas)

BEYOND THE BLACK, KOBRA AND THE LOTUS, BEAST IN BLACK In Cologne, Germany With Photos!

ATROPHY Live In Ottawa, Canada With Photos!

NIGHT LEGION Night Legion

IRON SAVIOR Reforged- Riding On Fire

BUTCHER BABIES Lilith

GREAT WHITE In Houston, TX With Photos!

ARCH ENEMY, TRIVIUM In Portland, OR With Photos!

QUEENSRYCHE In St. Petersburg, FL With Photos!

SORCERER The Crowning Of The Fire King

SWEET & LYNCH Unified

MORBID ANGEL Kingdoms Disdained

BABYLON A.D. Revelation Highway

RIOT Through The Storm Reissue

SAMMY HAGAR AND THE CIRCLE In Clearwater, FL With Photos!

PRIMAL FEAR Best Of Fear

GWAR, U.S. BASTARDS, HE IS LEGEND, GHOUL In Portland, OR With Photos!

ALARM FOR WAR Enemies Of The State