Watchtower
Demonstration In Chaos


By Frank Meyer, Contributing Editor
Wednesday, October 9, 2002 @ 1:55 PM


| | | |
| --- | --- | --- |
| | | (Monster Records) |
Wow! This is some of the most extreme metal I have ever heard… and it was recorded almost 20 years ago!!!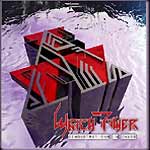 Watchtower were one of those bands that few saw or heard, but those that did were inspired to form bands and push metal to the next level. Though right alongside Slayer, Anthrax, Armored Saint, and the others in the underground metal movement of the early '80s, Austin's Watchtower only barely scratched the surface of success and until recently were only a footnote in the Dangerous Toys bio, the band that Watchtower frontman Jason McMaster went on to fame and acclaim with in the late '80s. However, the fine folks at Monster Records have assembled all of the previously unreleased tracks (i.e. everything but the one and only debut record, which fetches a high price on ebay these days) onto one magnum opus Watchtower rarities collection that is sure to delight longtime fans and register wide eyed, open mouth gasps of disbelief from everyone else. "What the fuck is this…?" More than just heavy metal, more than just speed metal, Watchtower were early purveyors of what I guess you'd call Technical Metal. These guys play a million miles an hour but hop, skip and leap around the beat like gully frogs on biker crank, incorporating jazz rhythms and Zappa-like time changes. The result is pretty breathtaking… if not hard a bit to digest. I mean, there is so much going on here at all times. The riffs just fly by like lightening and the vocals are so high-pitched and out of control even Axl Rose or Geddy Lee would blush and keel over trying to keep up. They are tighter than a gnat's ass and have chops for days. The songs are Songwriting-Arrangement 101 nightmares, with so much going on it's hard to keep up, yet the band never loses a beat and it all works in the end. The lyrics deal with the typical metal fodder of the time, nuclear meltdown, insane asylums, scientific murder, future kills, and robotic injustice. You know, the cool stuff that is covered in your favorite comic book or late night flick. Good stuff to be sure. McMaster's air raid siren voice is in top form here. Shit, you think he sang high on Dangerous Toys stuff? You ain't heard nothing yet. Wait 'til you get a load of "Asylum," where the fucker shatters glass and crushes nuts. Original guitarist Billy White is sick fucker, with stop and start riffs that would break the average headbangers neck into chucks and solos that just tear a hold right through ya. Check out the laser precision of "Argonne Forest" or the multi-layered harmonies of the "Social Fears" breakdown. And later-era axesmith Ron Jarzombek ain't no slouch either, he also rips out some tasty leads and has riffs up the wazoo. The rhythm section of bassist Doug Keyser and drummer Rick Colaluca make for a mean team. There is so much double kick fury and flying strings of death you'd think it was friggin' Sonny Cheebah movie. This collection assembles cuts from their 1983 demos, the infamous "Boss tapes," the 1987 control demos, plus demos from 1986 ("Control and Resistance" and "Cathode Ray Window") and 1983 ("Meltdown") and a 1985 live track ("Ballad Assassin" -- best title ever). It's a pretty hearty package and there's not really a bad apple in the bunch, though the quality varies quite a bit and some of the early tracks are pretty rough sounding. However, the songs and performances rise above any sonic disadvantages. In a nutshell, if you dig those old Metal Massacre albums from Metal Blade, love early '80s hardcore metal or just dig unearthing cool new treasures, then this is definitely for you. If you are a longtime Wacthtower fan, than this is definitely for you. If you are a Hoobanstank or Incubus fan, you're likely to shit your pants upon the first 6 seconds of the album. You have been warned; wear a diaper. * * * ½




Please log in to view RANTS

If you don't have a username, click here to create an account!






CRADLE OF FILTH Existence Is Futile

BEAST IN BLACK Dark Connection

MASSACRE Resurgence

DREAM THEATER A View From The Top Of The World

JAY JAY FRENCH Twisted Business: Lessons from My Life in Rock 'N' Roll

BLACK LABEL SOCIETY, PRONG And OBITUARY In Portland, OR With Photos!

GEMINI SYNDROME 3rd Degree - The Raising

DORO/WARLOCK Triumph And Agony Live

BETWEEN WORLDS Between Worlds

ALCATRAZZ V

BEHEMOTH Sventevith (Storming Near the Baltic) Reissue

ALICE COOPER, ACE FREHLEY In Nashville, TN With Photos!

CARNIFEX Graveside Confessions

BLOOD RED THRONE Imperial Congregation

GUS G. Quantum Leap

BILLY IDOL The Roadside EP

AVATAR, MAGIC SWORD In Houston, TX With Photos!

APRIL WINE, MONKEYJUNK At The Ottawa Bluesfest

MINISTRY Moral Hygiene

CRYPTA Echoes Of The Soul

SKILLET In Houston, TX With Photos!

Immortal Axes: Guitars That Rock Book

IRON MAIDEN Senjutsu

GRINDER BLUES El Dos

GEORGE LYNCH Seamless Review #2

IN THIS MOMENT, BLACK VEIL BRIDES In Houston, TX With Photos!

WARLANDO Festival 2021 Photo Gallery

KISS In Ridgefield, WA With Photos!

LAURENNE/LOUHIMO The Reckoning

TREMONTI Marching In Time

ROCKLAHOMA 2021 Day 3 Photo Gallery

ROCKLAHOMA 2021 Day 2 Photo Gallery

ROCKLAHOMA 2021 Day 1 Photo Gallery

CARCASS Torn Arteries

SETH La Morsure de Christ