JOHNNY WORE BLACK Walking Underwater Pt. 2


By Wendy Jasper, Black Metal Aficionado
Monday, February 9, 2015 @ 1:12 PM


| | | |
| --- | --- | --- |
| | | |
JOHNNY WORE BLACK
Walking Underwater Pt. 2
Dead Cherry




Embrace diversity. I always try to tell myself that. So what did I do? I stepped outside my comfort zone to try out a band that would not normally be what I would choose to listen to. I had heard about JOHNNY WORE BLACK from friends, they are represented by a highly regarded publicity firm, and MEGADETH's David Ellefson is a contributor to the music via the writing process and playing bass on much of the album. That was enough to pique my interest.

Released in November 2014, the new CD, entitled Walking Underwater Pt. 2, is not bad. It reminds me of late 80's college rock rather than metal because of the slightly gothic, brooding feel of the songs. I was captured by the first tune, "Firefly", almost immediately. This song set the pace for the rest of the album.

The production on this record is good. The songs are tightly written and the musicians in the band are clearly well trained. Is it possible to be dark and catchy at the same time? If it is, then this band has done it. "A Cut Above" and "Gift Of Desparation" are great songs. Singer Jay (yes, just Jay) has the raspy tenor that somewhat identifies this as a more alternative styled band, but he has great pitch and is a pleasure to listen to.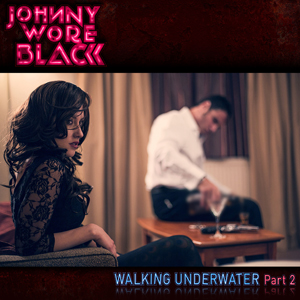 Dave Ellefson steps in on several of the songs, not only contributing his bass playing talent, but as a major writing contributor to the project. It's not his usual flavor of music, which makes it all that much more enticing to analyze.
A particular favorite that stood out to me immediately was "I Do Dissolve" because of the beat and funky tone of the music.
I may have a new non-metal favorite (Sorry, Adam Ant). I give this one 4 Stars.
Track Listing:
"Firefly"
"A Cut Above"
"Comfy Slippers"
"Fallen Angel"
"Gift Of Desparation"
"I Do Dissolve"
"Noise"
"Shine On"
"Whose Children"
"Winter In July"
4.0 Out Of 5.0




Please log in to view RANTS

If you don't have a username, click here to create an account!